After Médecins Sans Frontières' Syria Revelation, Is Obama Ready To Strike Syria?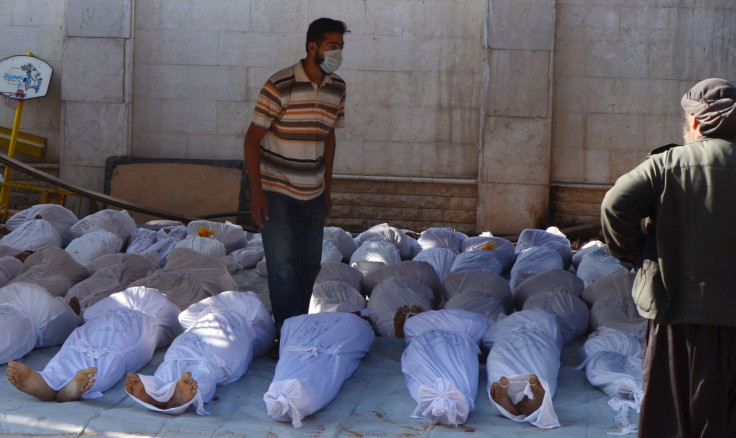 Hours after a medical nongovernmental organization cited three hospitals in the Damascus region as reporting they had about 3,600 patients displaying neurotoxic symptoms in the wake of an alleged chemical-weapons attack Wednesday, the Pentagon is making initial preparations to strike Syrian government forces with cruise missiles, according to a CBS News report on Saturday afternoon.
Any such U.S. military attack would require President Barack Obama's OK. However, the commander in chief -- who on Saturday was commemorating the 50th anniversary of the March on Washington for Jobs and Freedom, where the Rev. Martin Luther King Jr. delivered his historic "I Have a Dream" speech -- was hesitant on Friday about ordering a strike on the Syrian regime.
"If the U.S. goes in and attacks another country, without a U.N. mandate and without clear evidence that can be presented, then there are questions in terms of whether international law supports it -- 'Do we have the coalition to make it work?'" Obama said on the CNN television program "New Day." "Those are considerations that we have to take into account."
Doctors Without Borders, aka Médecins Sans Frontières, or MSF, in French, has close ties to three hospitals in the Damascus region, and it said on Saturday that they had treated about 3,600 patients displaying neurotoxic symptoms in less than three hours on Wednesday, when Syrian rebels say the country's military used chemical weapons to kill more than 1,300 civilians in a suburb outside the city. Among the 3,600 victims, the medical NGO based in Geneva said 355 had died.
"Medical staff working in these facilities provided detailed information to MSF doctors regarding large numbers of patients arriving with symptoms including convulsions, excess saliva, pinpoint pupils, blurred vision and respiratory distress," Dr. Bart Janssens, MSF's director of operations, said in a statement. Janssens also said his organization couldn't identify who was responsible for the attack.
"However, the reported symptoms of the patients, in addition to the epidemiological pattern of the events -- characterized by the massive influx of patients in a short period of time, the origin of the patients, and the contamination of medical and first aid workers -- strongly indicate mass exposure to a neurotoxic agent," Janssens said. "This would constitute a violation of international humanitarian law, which absolutely prohibits the use of chemical and biological weapons."
Videos posted to YouTube showed stunned children convulsing involuntarily, mucus and saliva streaming from their mouths and nostrils. Lifeless bodies lay strewn across the floors of makeshift clinics as medics rush around, shouting "God is great" with exasperation as they struggle to help the dying. In one particularly tragic video, a boy no older than 6 or 7 stares vacantly upward while blood streams from his nose. His lips are blue.
And the international community appears to bear some blame. Although Doctors Without Borders cannot identify who developed the substances used in Syria's weapons, they were likely sold to President Bashar Assad's government, in large part, by Western firms, the International Business Times reported this week. The German firms Schott and Sigri sold materials that could have been used by the Syrians to make the weapons. So, too, did an Indian company.
However, the most recent supplier of Syria's chemical-weapons program was North Korea.
© Copyright IBTimes 2023. All rights reserved.