After Vermont Bill, GMO Labeling Becomes Center Of Debate On Bioengineering's Future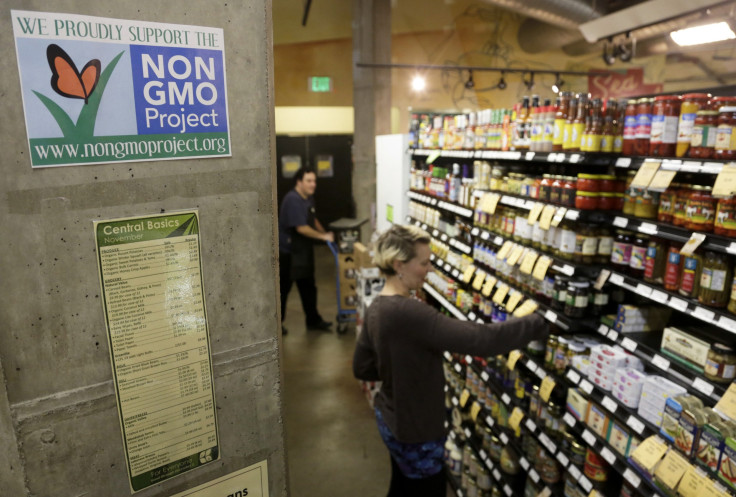 Though its population is less than a million, Vermont could prove to be the tipping point in a national movement to inform consumers about whether their food contains genetically modified ingredients.
The state's governor, Pete Shumlin, is expected to sign a bill that would make the Green Mountain State the nation's first to mandate that companies label products containing GMO products, beginning in July 2016. Shumlin has said he will sign the legislation, which many GMO skeptics see as the most significant step yet in the march toward a nationwide re-evaluation of where genetically engineered products stand in the country's food supply.
As genetically modified ingredients have become increasingly common, controversy has grown over their persistent creep into products as varied as bread, cereal, tofu and beer. The companies that produce the bioengineered seeds from which GMO crops grow maintain that they are safe for the health of both consumers and the environment. But an international grassroots movement that is determined to slow the spread of products containing bioengineered ingredients -- or at least compel authorities to require that such food be labeled accordingly due to concerns about their long-term effects -- is pushing governments from the United States to Vietnam to reconsider their approach to the burgeoning sector.
The Vermont bill is the most recent high-profile development in the GMO regulatory space, but governments from Europe to California have taken, or are considering, measures aimed at instituting mandatory labeling of all products containing genetically engineered ingredients.
The ongoing debate between those who describe GMOs as entirely safe (and one of the world's best hopes for feeding its growing population) and those who describe them as an insufficiently tested potential scourge of mankind has resulted in a hodgepodge of regulations for agriculture companies, farmers and consumers to navigate.
The European Union has taken the lead in requiring GMO labeling, and "since 1997, Community legislation has made labeling of GM food mandatory for: products that consist of GMO or contain GMO; products derived from GMO but no longer containing GMO if there is still DNA or protein resulting from the genetic modification present," the European Commission's website said. Meanwhile, a number of individual countries and localities, including New Zealand, Tasmania and California's Mendocino, Trinity and Marin counties, have banned the planting and cultivation of GMO crops.
Today, neither the U.S. Food and Drug Administration nor federal law regulate GMO labeling directly, but in the past year, Connecticut and Maine passed laws that will require labeling food made with GMOs, but only after a certain number of states pass similar laws. Activists in states like New Hampshire, Colorado and California have tried and failed to get labeling requirements approved by legislative action or ballot initiatives. And H.R. 1699, dubbed the Genetically Engineered Food Right-to-Know Act, which would require genetically engineered foods to be labeled as such, has languished since it was introduced by U.S. Sen. Barbara Boxer, a California Democrat, and Rep. Peter DeFazio, an Oregon Democrat, in April 2013.
Now that Vermont is on track to become the first state in the nation to require GMO labeling, industry observers and experts alike are watching other states closely to see if they'll follow Vermont's lead, and, if they do, if the federal government will be motivated to create its own legislation or regulations to create a consistent national framework for the issue.
Justin Prochnow, a Denver-based regulatory attorney who focuses on food, beverage and supplement issues at the international law firm Greenberg Traurig, called the Vermont bill's approval a "big deal."
"Once a couple of states pass unqualified GMO labeling laws like the Vermont one -- unrestricted -- that's probably going to facilitate more than anything else, some federal legislation," Prochnow said. "Because at the end of the day, regardless of whether companies are opposed to it, they don't want to see different labeling requirements in different states," Prochnow said. He later added, "It's probably something that's inevitably going to happen, it's just a question of how soon it's going to happen, and I think the more of these individual states that pass these GMO labeling laws, it's just going to quicken the time that some sort of national legislation happens."
GMO critics applauded the bill's approval, saying it's just the first in what they hope will be a wave of similar laws passed in statehouses across the country.
"With both the Vermont Senate and House passing H. 112 to require the labeling of genetically engineered foods and ingredients, we have reached an historic moment in the battle toward national GE labeling," the advocacy group Just Label It said in a statement. "Once signed it will be the first state labeling law to pass with 'no strings attached.'"
However, major bioengineering companies generally oppose state-level laws that require GMO labeling, and some, like BASF Corp., the U.S. arm of German- based BASF SE (FRA:BAS), are encouraging the federal government to address the issue in a way that pre-empts such state laws. These companies feel that a nationwide law governing GMO food labeling would to help them avoid compliance headaches and confusion.
"BASF believes that any law requiring the labeling of foods that contain GMO ingredients creates extra costs for farmers, food manufacturers, distributors, grocers, and consumers," BASF spokeswoman Fran Castle said via email. "The proposal under consideration in Vermont is especially problematic because it puts these additional burdens solely on Vermont's citizens. If any labeling is necessary, requirements should be done on a national uniform level."
BASF and a number of other leading bioengineering companies support proposed federal legislation like H.R. 4432, dubbed the Safe and Accurate Food Labeling Act of 2014. Introduced earlier this month by Rep. Michael Pompeo, a Kansas Republican, the bill would prevent individual states from passing laws requiring GMO labeling and grant the FDA sole authority to regulate the practice.
Meanwhile, a growing number of food retailers and restaurant chains are taking matters into their own hands, riding the surge in public criticism of GMO products and reducing or eliminating their inclusion on their shelves and in their products.
The Chipotle Mexican Grill Inc. (NYSE:CMG) restaurant chain is quickly transitioning to all non-GMO ingredients, and Whole Foods Market Inc. (NYSE:WFM) has committed to being fully transparent about GMOs, including adopting new plan to label any products that contain bioengineered ingredients accordingly.
However, bioengineering firms say the concerns are overblown and based on faux science, and they point to studies that counter the narrative that GMOs are harmful to human health.
Karen Batra, a spokeswoman for BIO, a trade group representing major biotech players like Swiss-based Syngenta AG (VTX:SINN) and Monsanto Co. (NYSE:MON), said that bioengineered foods, which she calls "the most rapidly adopted technology in the history of agriculture," are a necessary part of the world's food system going forward. She noted that bioengineered foods are gaining popularity, particularly in developing countries.
"There have been a number of scientists and experts around the world that say that in order to increase global production of food for a population of basically 9 billion people within the next couple of decades, biotech has to be part of our food system," she said.
But the outcry over GMOs has been raging in environmental circles for years after achieving widespread recognition resulting from popular works examining their potential dangers, such as Michael Pollan's best-selling book "The Omnivore's Dilemma" in 2006 and documentaries like director Robert Kenner's Oscar-nominated "Food, Inc." in 2009.
But awareness of the issue broke into the global mainstream in March 2013, when large swaths of the public became aware of a provision in an American federal spending bill that was dubbed the "Monsanto Protection Act" by opponents and would have shielded bioengineering companies from certain regulatory actions. Monsanto, which describes itself as "the largest developer and grower of vegetable seeds in the world," has become the synonymous with the debate over GMOs, food labeling and related controversial topics, despite the myriad of other companies, including DuPont, Syngeta and the Dow Chemical Co., which also create and sell genetically modified products.
The backlash culminated in a millions-strong international anti-GMO protest called the "March Against Monsanto" in May 2013. A similar march, which will take place again in numerous countries around the world, is slated to occur this May.
Despite the prominence of such protest movements, Prochnow said that GMOs will continue to be an integral part of the world's food system. Countries will catch up with their spread, he said, by codifying laws in coming years to regulate how they are used and identified.
"GMOs aren't going away," Prochnow said. "Whether you want them to be labeled so people know what they're eating, I guess that's fine, but they're here to stay," he said. "It's just a question of whether people want to know what's in there, and it depends on what information you want to believe."
© Copyright IBTimes 2023. All rights reserved.