Aged ex-Monarch Addresses Romanian Parliament After 60 Years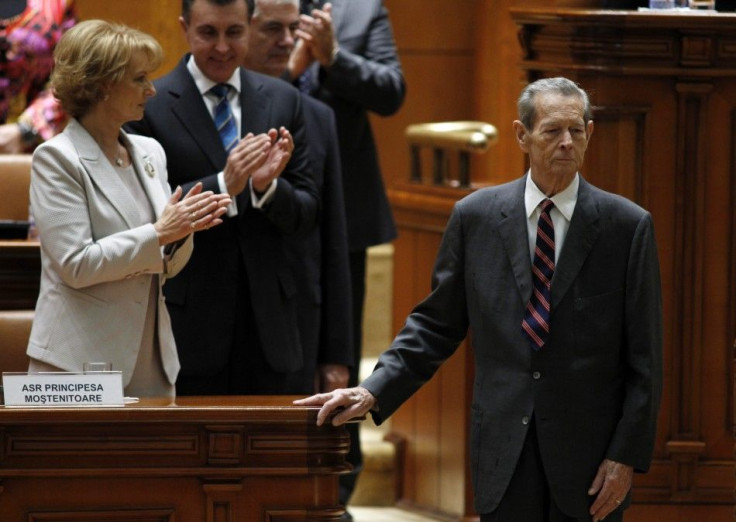 In a startling show of contrast between past and present, the former king of Romania addressed parliament in Bucharest for the first time in more than 60 years.
King Michael I, celebrating his 90th birthday, was forced to abdicate the throne in 1947 when Communists seized power in Romania and threatened carry out mass executions.
He had previously reigned from 1927 to 1930, and then from 1940 to 1947.
The king asked parliamentarians to upgrade democracy in the country and restore the dignity of the people.
Referring to the fall in 1989 of the Communist dictatorship of Nicolae Ceausescu, the king said: The last 20 years have brought democracy, freedom and a beginning of prosperity. The time has come after 20 years to... break for good with the bad habits of the past [such as] demagogy, selfishness and attempts to cling to power. It is within our power to make this country prosperous and worthy of admiration."
He added: We cannot have a future without respecting the past. The royal crown is not a symbol of the past but a unique representation of our independence, sovereignty and unity."
While most MPs cheered the ex-monarch's speech, not everyone was happy with his appearance – among others, the President of Romania, Traian Basescu, boycotted the event.
Indeed, the ruling Democrat-Liberal (PDL) party opposed the king's presence.
Other members of European royalty also attended and helped the ex-king to celebrate.
Nonetheless, there are no plans to restore the monarchy to Romania.
Crin Antonescu, the leader of Romania's Liberal Party (which reportedly invited the ex-king to speak) told Associated Press: We want to honor and to celebrate an important person of our history and of contemporary history. It is a symbolic gesture that has no connection to the idea of changing Romania's status as a republic."
Mircea Geoana, speaker of Romania's upper house of parliament, told media: This speech by the king] is a gesture of normality. His Majesty's presence 64 years after his last speech in parliament is proof that the communist era is a closed bracket.
After his forced exile from Romania, Michael I and his family settled in Switzerland, effectively banned from their native land for half a century.
Following 1989, the government of Romania blocked several attempts by Michael to return. By 1992, he was able to visit, but did not regain citizenship until 1997.
© Copyright IBTimes 2023. All rights reserved.