Ahead Of Merkel Visit To China, Germany Sends Dogs To Help Boost Police Canine Units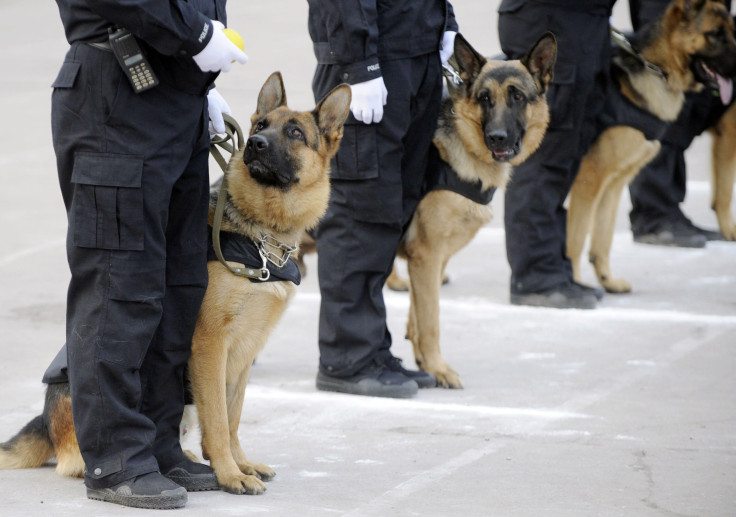 German Chancellor Angela Merkel arrived in China this weekend for trade talks and to boost the burgeoning relationship between the two countries. But ahead of her arrival, a separate team of 27 German VIPs was also brought in to promote relations with the Chinese: They were dogs.
According to a newspaper owned by state-run Xinhua News Agency, Modern Express, a contingent of 27 German police dogs arrived in the eastern city of Nanjing ahead of Merkel's arrival from Frankfurt on the invitation of the Nanjing Police Dog Research Institute, which is part of the national Ministry of Public Security. The 17 German shepherds, six Belgian malinois, two English springer spaniels, a Labrador retriever and a Doberman Pinscher were sent on the 11-hour journey from Germany to improve China's breeding stock of police dogs.
The five dog species are said to be easily trained, amiable and extremely intelligent, ideal for training to be military or police dogs and service guide dogs. (A Malinois named Cairo was part of the U.S. Navy SEAL team that killed Osama bin Laden in 2011.)
The dogs are also reportedly valued at $284,000 — and they were treated as such. As so-called VIP guests of Wang Shuiming, the head of the Nanjing airport's animal customs, they traveled in unprecedented canine luxury, being placed in oversized individual cases, fully supplied with food and water.
Though China may have a bad rap for its treatment of animals, particularly because of the long-running and controversial dog meat festival, the government spends a lot of time, effort and funds into maintaining its canine force.
According to a report by China Radio International, the role of a police dog can range from bomb detection to helping the blind. At one Beijing training facility, many of the dogs are imported from abroad, specifically Germany. Training for police dogs begins as early as six months, as dogs are generally regarded as unsuitable to be trained after two years of age.
Beyond canine relations, Merkel's trip was focused on fostering economic relations between the two nations. China has become the top destination for German foreign investment, and Germany is now China's biggest trade partner in the European Union.
© Copyright IBTimes 2023. All rights reserved.