Ahead Of Nigeria Election, Boko Haram's Suicide Bombers Are Increasingly Women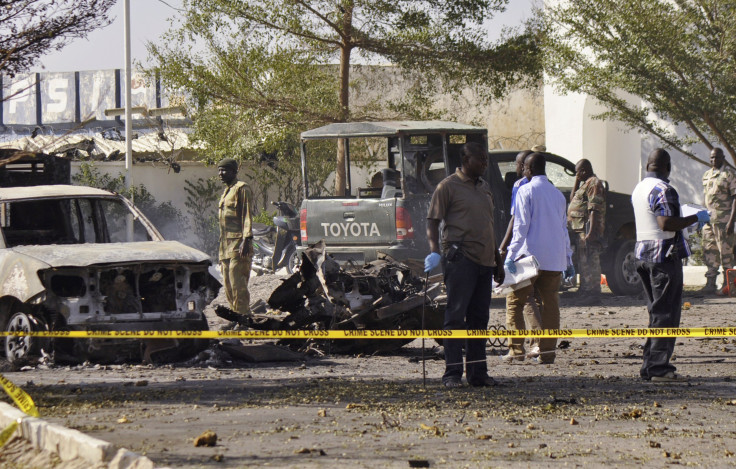 No more than 10 years old, a girl with explosives strapped to her small frame walked into a market in Maiduguri, Nigeria, one day last month. Minutes later, the girl, whose name is still unknown, had killed at least 19 people, including herself. She was just one of an estimated 20 young females Boko Haram enlisted to escalate its campaign of violence in advance of the country's elections Feb. 14. The Islamist militant group is using more and more women as suicide bombers, a tactic that sets it apart from every other terrorist organization.
"The [bombings] started in June last year, and there have been two waves since then," said Elizabeth Pearson, an expert at the Nigeria Security Network, a group that focuses on the Boko Haram insurgency in Nigeria. "It is a very deliberate tactic being used by Boko Haram."
The Maiduguri market bombing in December was just one example of how Boko Haram is deploying women -- and girls -- to carry out attacks. In 2014, Pearson said, 85 percent of all female suicide-bomber attacks in the world took place in Nigeria. Since June alone, she said, 20 women have taken part in 16 suicide bomb attacks in Nigeria.
"These bombings are significant as they all took place outside the three key states Boko Haram targets," Pearson wrote in a blog post. "The female suicide bomb campaign is not an act of desperation but a show of strength."
However, it is conceivable the uptick in female suicide bombers in Nigeria during the past six months could signal the group is lacking recruits, according to Mia Bloom, an expert on female terrorists at the Center for Terrorism and Security Studies at the University of Massachusetts Lowell.
"Usually when you see lulls in recruitment, you look to women," Bloom said. "When groups move from attacking hard military targets to soft targets like clubs and restaurants, that's when women operatives are introduced into the conflict because they are able to blend into the target."
Last April, Boko Haram kidnapped more than 200 girls from a school in Chibok in Borno state. The terrorist group is still holding them, but their location is unknown. Some analysts have speculated they are the women and girls involved in the suicide bombings, but Pearson said there is "absolutely no evidence" to suggest the schoolgirls were involved in the recent attacks on civilians.
Analysts say it is frequently difficult to tell when women are coerced into commiting acts of terrorism or when they volunteer.
"Sometimes there is coercion by family members, and other times women, especially older women, volunteer. But is usually a mix of both," Pearson said. She added that terrorist organizations such as Boko Haram often establish female wings, where older women train incoming members.
Boko Haram, which the U.S. designated as a terrorist group in 2010, now controls most of Nigeria's Borno state and a vast swath of the country's northeast. Its territory is nearly impossible to reach from the western part of the country, and Nigerian authorities are virtually invisible in the area. Mobile-phone service is down, and few can access the Internet. Boko Haram's battle-hardened fighters are now on the doorstep of Chad and Cameroon.
Boko Haram has been killing civilians in Nigeria since 2009. Data compiled by the Armed Conflict Location and Event Data Project, a research effort mostly focusing on African conflict, show the extremist group has killed 2,400 people since the beginning of 2015. More than 1,700 of those were residents of Baga, the town where the militants carried out a slaughter last month. Wednesday alone, the militant group reportedly killed at least 100 civilians in Cameroon.
Boko Haram violence is escalating with Nigerian elections a little more than a week away. The suicide bombings are part of the militant group's campaign to intimidate voters and to change the landscape of domestic politics, analysts say.
Nigeria's incumbent President Goodluck Jonathan is facing challenger Muhammadu Buhari. The retired general, who ruled Nigeria at the head of a military junta from 1983 to 1985, is ahead in the polls on a platform of increasing military presence in northeastern Nigeria to fight Boko Haram.
An earlier version of this story stated, incorrectly, that Boko Haram suicide bombers were almost exclusively women. It has been amended to reflect that women are a fast-increasing percentage of Boko Haram suicide bombers, but not a majority.
© Copyright IBTimes 2023. All rights reserved.
FOLLOW MORE IBT NEWS ON THE BELOW CHANNELS