Ahead Of Trump Inauguration, Japan's Shinzo Abe Vows To 'Fortify' Washington-Tokyo Alliance With President-Elect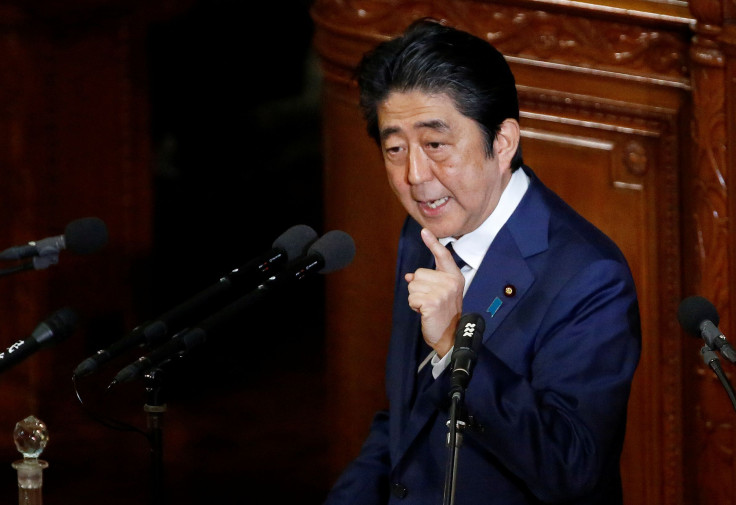 Hours before President-elect Donald Trump takes office, Japanese Prime Minister Shinzo Abe vowed Friday to work with the incoming president to "fortify the alliance" between Tokyo and Washington. Abe, who visited Trump in his New York home last November, said he will visit the real estate mogul once again after he assumes power.
"The Japan-U.S. alliance has been, is and will be the cornerstone of our country's diplomatic and security policies. This is an immutable principle," Abe reportedly said in a speech at the start of Japan's regular parliament session. "I am aiming to visit the United States as soon as possible to further fortify the bond of alliance together with new President Trump."
Abe did not specify when he will visit the incoming president but he is likely to make the trip late January, the Associated Press reported citing local reports.
Trump, on the campaign trail, had said he would make Washington's allies pay more for the security provided by American forces and criticized the Trans-Pacific Partnership trade agreement (TPP), threatening to pull out of the deal.
In his Friday speech, Abe reiterated his support for the TPP, which is likely to collapse if the U.S. pulls out of it.
"As a flag bearer for free trade, we will build an economic system of the 21st century based on fair rules. The TPP agreement sets the standard for that purpose and serves as the foundation for future economic cooperation," he said.
However, one of Abe's senior advisers warned that Japan would retaliate if Trump bases his decisions "on wrong economics."
"There is some danger if he bases his decisions on wrong economics without listening to good advisers, and if he thinks that he could manage national economic matters as he does his real-estate company," Koichi Hamada, emeritus professor of economics at Yale University and cabinet adviser to Abe, told Reuters on Thursday.
"If the United States were to be led by a near-autocrat and if Japan cooperates just to please him, that would break the whole world system," he added.
During Abe's November "unofficial" visit, the Japanese leader announced he was "convinced that Mr. Trump is a leader in whom I can have confidence."
The meeting with Abe was Trump's first in-person meeting with a foreign head of state since winning the election. Photos released by the Japanese government revealed that Trump's daughter Ivanka, her husband Jared Kushner and retired Lt. Gen. Michael Flynn, now Trump's national security adviser, were also present at the meeting.
© Copyright IBTimes 2023. All rights reserved.