Ahmadinejad's Photographer Defects To US During UN Trip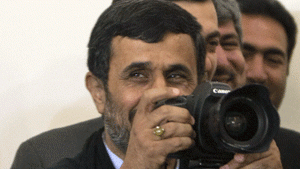 Rather than return to a country whose leader called for a "new world order" during his speech to the U.N. General Assembly and who denies the Holocaust, official Iranian presidential videographer and member of President Mahmoud Ahmadinejad's 140-person entourage, Hasaan Gol Khaban, applied for asylum while accompanying the Iranian President on his visit to the U.N. General Assembly.
Khaban's lawyer, Paul O'Dwyer, confirmed the defection and told the Daily News and New York Post that he "wasn't in any trouble," but that "the regime wanted him to do things he didn't want to do … to report on particular things, and he was not comfortable."
On Thursday, when the Iranian delegation went to the airport, Khaban simply did not accompany them, the Telegraph reported. An hour before the delegation was to check out of the Warwick Hotel, O'Dwyer told the Post, Khaban slipped out under the pretense of going to the drug store and did not return.
"At the point at which he said, 'I'm going to get pharmaceuticals,' he knew he wasn't going back," O'Dwyer said.
O'Dwyer also told the Telegraph that Khaban's asylum application had already been submitted to the State Department.
Ahmadinejad obviously trusted Khaban; Khaban had accompanied the Iranian President on his last visit to New York, and reportedly worked for the Iranian news agency Islamic Republic of Iran Broadcasting for several years. Now of course, Khaban is not considered to be so regime-friendly.
"He's perceived as not being a supporter, or being an opponent of the Iranian Regime," O'Dwyer told CNN. "[He is] somebody who has betrayed the regime and who can no longer be trusted by them"
As of Monday Khaban was in an undisclosed location, and was expecting to be reunited soon with his wife and two daughters, who slipped out of Iran last week while he was in New York, before he even applied for asylum. O'Dwyer would not say where the family was, but that "we're in the process of trying to get them to the U.S. now."
© Copyright IBTimes 2023. All rights reserved.