Ai Weiwei Launches New Exhibit, Says Still Trying To Understand Studio Demolitions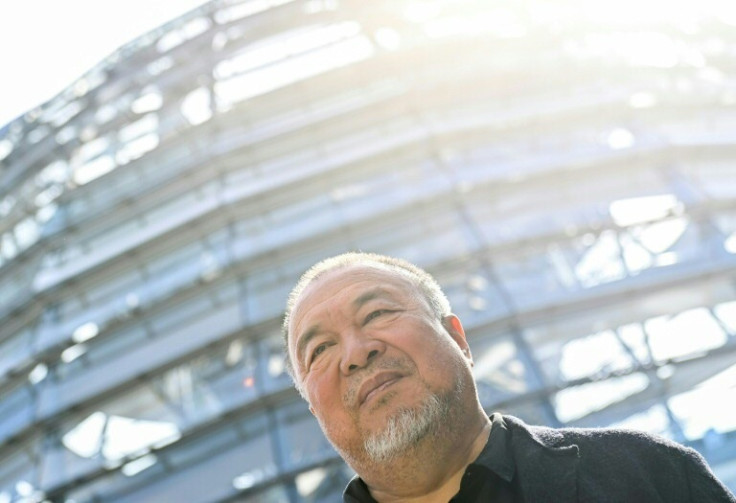 Dissident artist Ai Weiwei on Monday said the Chinese state's razing of his studios still fails to make "any sense" to him, as he launched his first design-focused exhibition, due to open in London in April.
Ai's love of artefacts and traditional craftsmanship will be at the heart of the show which will feature hundreds of thousands of objects collected by the Chinese artist since the 1990s -- from Stone Age tools to Lego bricks.
The pieces will be laid out on the floor in five "fields" to be seen in the context of "China's rapidly changing urban landscape", London's Design Museum said.
Among them will also be thousands of fragments from Ai's porcelain sculptures which were destroyed when the bulldozers moved in to dismantle his studio in Beijing in 2018.
Ai, who has lived in Europe since 2015, remains perplexed by the destruction of his studios -- another in Shanghai was reduced to rubble in 2011.
"Still it doesn't make any sense why they have to do it... they just wanted to do something to punish me," he told the launch of his Making Sense exhibition in a pre-recorded interview from his studio in Portugal.
"But punish me for what? As an artist they're punishing the individualism, they (are) punishing the freedom of speech," he continued.
"They are punishing anybody trying to make a question or argument about their legitimacy."
He has previously spoken of gentrification of whole neighbourhoods and the pushing out of migrant workers as possible reasons for the demolition.
The son of a poet revered by former communist leaders, 65-year-old Ai is perhaps China's best-known modern artist and helped design the famous "Bird's Nest" stadium for Beijing's 2008 Olympics.
But he fell out of favour after criticising the Chinese government and was imprisoned for 81 days in 2011 and eventually left for Germany four years later.
Design Museum chief curator Justin McGirk said the destruction of the studios and the loss of cultural memory was "very much one of the themes of this show".
The studios were demolished "by the state as a kind of punishment for his activism", he said.
"The tension between handmade and industrial made is really the change that's happened in China over the last 30 years, the tremendous scale of urbanisation and development, which brought with it a lot of destruction a lot of devaluing of history, a lot of wiping away of traditional streetscapes and architectures," he added.
Objects due to go on display include 1,600 Stone Age tools, 10,000 Song Dynasty cannon balls retrieved from a moat and donated Lego bricks which the artist began working with in 2014 to produce portraits of political prisoners.
Ai said that although "in one sense we are more advanced" now, humans were losing touch with the way things are made.
"We lose the emotions, the whole sensitivity, the whole touch, the texture, the smell, the shape of things made by hand," he said.
The exhibition will also feature a number of large-scale works installed outside the exhibition gallery.
They include a piece entitled "Coloured House" featuring the painted timber frame of a house that was once the home of a prosperous family during the early Qing Dynasty (1644-1911).
The exhibition will run from April 7-July 30.
© Copyright AFP 2023. All rights reserved.