Airbus Wins Orders For 31 A350 Jets From Japan Airlines In A Blow To Boeing Monopoly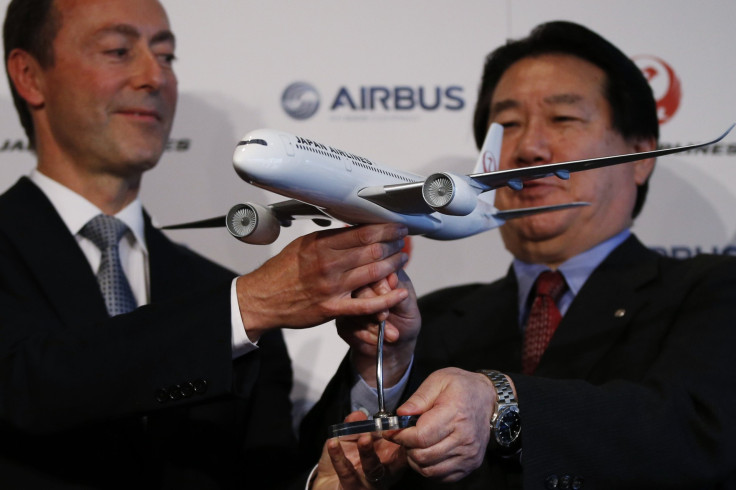 Airbus won its first order from Japan Airlines Co Ltd, or JAL (TYO: 9201), for 31 A350 jets worth $9.5 billion at list prices, dealing a blow to The Boeing Company (NYSE:BA), which had enjoyed a near monopoly in selling wide-body planes in the Japanese market for decades.
Japanese carriers ANA Holdings Inc (TYO: 9202) and JAL operate the world's first- and second-biggest fleet of Boeing 787s, and the order, which will help Europe's Airbus break into Japan's commercial airliner market comes at a time when its American rival is beset with technical problems in its latest Dreamliner 787 plane.
"This is the blue-chip order Airbus was hoping for," Will Horton, an analyst at CAPA Centre for Aviation in Hong Kong, told Bloomberg.
Boeing estimates that the market for mid-sized long-haul passenger airplanes will be worth $1 trillion over the next 20 years, and Airbus and Boeing are vying to grab a larger slice of that market, according to a Reuters report. Airbus positions the A350 to exploit the market between Boeing's 777 and the 787 Dreamliner, and promotes it by comparing the A350's fuel efficiency to the larger version of Boeing's Dreamliner.
ANA and JAL were the first to report burnt batteries on two of their Dreamliner planes in January, which prompted the U.S. Federal Aviation Administration, or FAA, to ground the aircraft before it resumed flights in the second quarter of 2013.
However, Yoshiharu Ueki, the president of JAL, noted that the Dreamliner's troubles were not the reason behind the airline's decision to switch vendors.
"We are sorry for the troubles we have caused our customers with the 787, but the decision on the aircraft was considered separately from that issue," Ueki said at a press conference in Tokyo, Kyodo News reported, adding that the A350 was chosen because it was the "best match for our needs."
Airbus has recorded more than 750 orders so far for its A350 XWB family aircraft from 38 customers worldwide including the latest order from JAL and an order placed in September by Germany's Deutsche Lufthansa (ETR: LHA) for 25 A350-900s along with options for 30 more, Airbus said in the statement.
The company expects to boost production of A350 planes before the earliest round of deliveries begin in late 2014, which would involve high upfront costs but would also bring in more revenues.
"The order certainly opens the door for follow-up orders at Japan Airlines. If ANA orders Boeing, it will have to stress why the Boeing deal was better -- the market will now be sensitive to who you order from," Horton told Bloomberg.
© Copyright IBTimes 2023. All rights reserved.