Alabama Crimson Tide vs. Clemson Tigers: Prediction For The 2016 College Football National Championship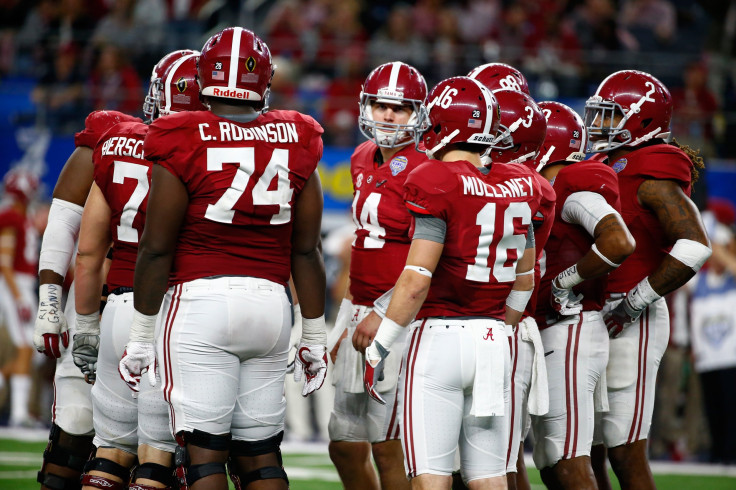 It's only fitting that No.1 Clemson and No.2 Alabama will meet in the 2016 College Football Playoff National Championship. The Tigers are the only team to go undefeated this season, while the Crimson Tide have been the sport's most successful team over the last decade. Clemson and Alabama grabbed the top two spots in the CFP rankings in Week 11 and haven't relinquished them since, prompting a title match with two very deserving teams.
Both teams breezed their way through the semifinals on New Year's Eve. Clemson found themselves losing to Oklahoma at halftime of the Orange Bowl, but they quickly took the lead in the third quarter and shut out the Sooners in the second half of their 37-17 victory. After a slow start Alabama routed Michigan State in the Cotton Bowl, 38-0.
Alabama enters the championship game as a heavy favorite. Can Clemson pull off the upset?
Heisman Finalists
The nation's top teams are led by two of the best individual players in college football. Alabama running back Derrick Henry won the 2015 Heisman Trophy, and Clemson quarterback Deshaun Watson finished third in the voting. Monday's game could come down to which player has the better performance, as both players try to lead their teams to a national championship.
Jake Coker has been solid as Alabama's quarterback, but Henry is the catalyst, accounting for 36.2 percent of the Crimson Tide's offensive production. Rushing for 2,061 yards and 25 touchdowns, Henry ran for over 200 yards on four occasions. He faces a Clemson defense that ranks 23rd against the run, and the Tigers have done a good job when facing top running backs. Clemson held Notre Dame running back C.J. Prosise to 50 yards on 15 carries, and limited North Carolina running back Elijah Hood to 65 yards on 14 carries in the ACC Championship Game.
Watson does it all for Clemson. Throwing for 3,699 yards and rushing for another 1,032 yards, he totaled 43 scores in 2015. The sophomore has come up big for the Tigers when they've needed it most, totaling more than 400 yards in the ACC title game and rushing for a season-high 145 yards in the Orange Bowl. Alabama hasn't faced a quarterback with the skillset of Watson this season, and he's had terrific games against top defenses like Boston College and Florida State.
Scoring on Alabama
Clemson is led by two of the nation's best offensive players in Watson and running back Wayne Gallman. But despite the amount of success they've had this season, the Tigers could be in for a long night against the Crimson Tide defense, which hasn't allowed more than 16 points in the last seven games.
If Clemson hopes to have any success on the offensive end, it will likely come down to the passing game. Alabama has the nation's best run defense, leading the country in opponents' rushing yards per game (74.0), yards per carry (2.4) and touchdowns (six). LSU running back Leonard Fournette, the nation's No.3 rusher, averaged just 1.6 yards per carry against Alabama. Arkansas' Alex Collins ran for 1,577 yards this season, but only 26 of those yards came as a result of his 12 attempts against the Crimson Tide.
Ole Miss quarterback Chad Kelly is the reason why Alabama doesn't have a perfect record. Kelly threw for 341 yards and three scores in a win over the Crimson Tide, but Watson might not come close to duplicating those numbers. Heisman trophy candidate Connor Cook completed less than half of his passes for no touchdowns and two interceptions against Alabama in the Cotton Bowl, and he was sacked four times by college football's best defensive line.
Underestimating Clemson
It's easy to see why Alabama is such a heavy favorite, considering the team is led by a Heisman Trophy winner, an incredible defense and the sport's best head coach. But the Tigers have dynamic players and a top head coach, as well, and they can't be counted out.
Watson gets most of the praise, and rightfully so, but head coach Dabo Swinney has a few standout performers on offense. Gallman is among the nation's best running backs, ranking 15th with 1,482 yards on the ground. Wide receiver Artavis Scott's 89 receptions tie him for 14th in the country, and tight end Jordan Leggett could play a key role on Monday, having found his way into the end zone seven times. Leggett could be an important target against Alabama, who has allowed just 11 touchdowns in 25 red zone opportunities.
Alabama's defensive line stands out in Monday's game, but Clemson also does a terrific job of sacking the quarterback. They've done so 43 times, which ranks fourth in the nation. Shaq Lawson and Kevin Dodd have combined to total 42 tackles for a loss and 19.5 sacks.
Prediction
Alabama provides a very difficult matchup for Clemson. The Tigers aren't likely to get much going on the ground, and the Crimson Tide defense is playing so well that it will be difficult for Watson to have much success through the air. Clemson's defense could keep it close for a while, but Alabama should be able to pull away in the end.
Alabama over Clemson
© Copyright IBTimes 2023. All rights reserved.