Alex Cora Hired As New Boston Red Sox Manager, Career Stats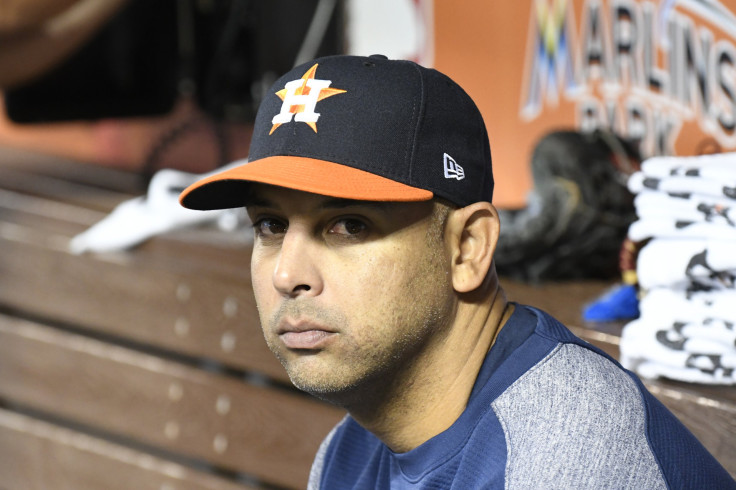 The Boston Red Sox have hired Alex Cora as their new manager, the team announced Sunday.
Cora, agreed to a three-year deal with a team option in 2021.
"I am extremely honored and humbled to be named manager of the Boston Red Sox and I want to thank Dave [Dombrowski], John Henry, Tom Werner, and Sam Kennedy for giving me such a tremendous opportunity," said Cora in a statement. "Returning to the Red Sox and the city of Boston is a dream come true for me and my family and I look forward to working towards the ultimate goal of winning another championship for this city and its great fans."
This will be Cora's second stint with the Red Sox, he played for the team between 2005 and 2008. This past season Cora, 42, served as the Houston Astros bench coach. The Astros beat the New York Yankees Saturday night 4-0 in the American League Champion Series which will send the team to the World Series against the Los Angeles Dodgers.
Dombrowski, the team's president, also released a statement Sunday. He who made the hire just a week after interviewing Cora.
"We were very impressed when we interviewed Alex," said Dombrowski. "He came to us as a highly-regarded candidate, and from speaking with him throughout this process, we found him to be very knowledgeable, driven, and deserving of this opportunity. He is a highly respected and hardworking individual who has experience playing in Boston."
The Red Sox finished the season with a 93-69 record, good enough to win their division, the American League East. The Red Sox were then swept by the Astros in the American League Division Series.
The team fired their previous manager, John Farrell Oct. 11. Farrell joined the team in 2013 and won a World Series in his first year as manager. Farrell followed up the World Series title with two seasons as last in the division.
Cora will be the 47th manager in Red Sox history and the 22nd manager who was a former player for the team. His own career stats include a batting average of .243, with 35 home runs, and 486 RBIs. He played as an infielder and retired in 2011, after having won a World Series with the Sox in 2007.
© Copyright IBTimes 2023. All rights reserved.