Alexander Basketball Academy Brings Foreign Talent To The NCAA: Global Squad Goes To America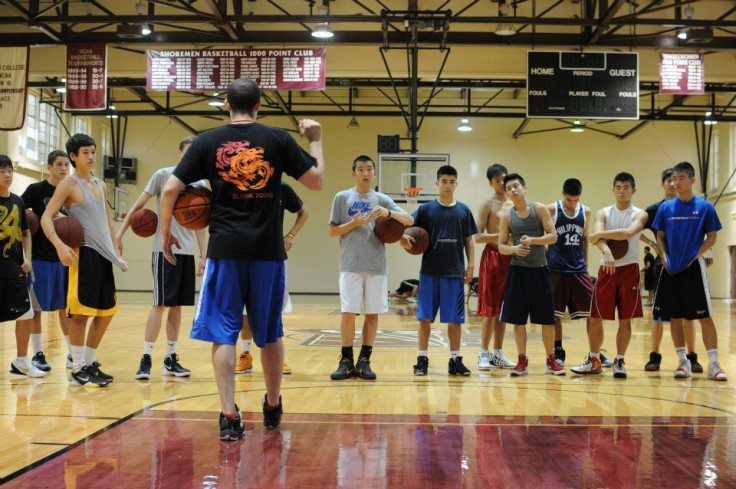 POTTSTOWN, Pennsylvania -- A gym in suburban Pennsylvania doesn't sound like the most obvious place to be for a young Mongolian-Canadian student with dreams of making it big in sports. But that's where Jacob Tala spent all of July, perfecting his basketball game.
"You know, we're descendants of Genghis Khan," Norma Tala, Jacob's mother, says excitedly, keeping a watchful eye on the court. She erupts in applause as her son sinks a basket against the Philadelphia Vipers. His purported ancestor's famous drive to conquer the world seems mirrored in Jacob's bid to make his name in a foreign land. He wants to be a basketball star in America, and if he makes it, he will have a small basketball academy in Pennsylvania to thank.
The 17-year old is one of the youths from 12 countries spending part of the summer at Alexander Basketball Academy, a monthlong sleepaway camp for international high school talent from countries ranging from Denmark to China.
Tala is one of the emerging international players who are changing the face of the sport in America, some of them originally from countries, like Mongolia, where basketball has catapulted rapidly from an oddity into one of the most popular sports.
His parents have achieved the immigrant dream: After leaving their native Mongolia, they are naturalized Canadians, and are currently living as expats in Shanghai, China, where Jacob's father, Tony, is a successful businessman. Now Jacob, the elder of their two children, is chasing a dream of his own: playing Division I college basketball in the U.S.
Three summers at the camp have transformed "two-point Tala," an unfortunate moniker he got after scoring only two points in his entire first summer session, into a prospective collegiate-level basketball player.
The place where he turned into a contender for American basketball is Alexander Basketball Academy, held on the perfectly manicured grounds of the Hill School, 40 miles (70 km) northwest of Philadelphia.
Every summer John Alexander, the camp's 33-year-old owner, and his fellow coach Kevin Breslin, an entertainment basketball player for the Washington Generals -- the team that famously tours with, and loses to, the Harlem Globetrotters -- bring 45 young men here for a shot at college-level play.
For most international prospects, getting into the American college basketball system and reaping the benefits of college-level play and exposure is not easy. Typically, NBA scouts pluck out only foreign players who have already had experience in their own national leagues and have grown a thick enough skin to survive a transition to the NBA. This means young players like Tala would never get in front of an NBA international scout.
Like Tala, the rest of Alexander's recruits are largely unknown within their countries, let alone internationally. While the NBA is busy looking for ripe talent, the Alexander operation spends its time developing it. "The camp is for students that would probably never have been seen," Alexander says. For inexperienced kids from around the world, even just getting a chance to be scouted is "unfamiliar territory," he says.
In four years of operation, Alexander has established himself as a pioneer of a new method of international recruitment. With the help of a dozen coaches, most of whom played college basketball themselves, the academy houses and trains four teams divided into two levels. Golden Dragon athletes are players with basketball experience and fundamentals, but who need the finesse and exposure to play at a college level; and the Red Dragons, the camp's younger group, usually are rising high school freshmen or sophomores who are still working on gaining time on the court and learning fundamentals.
Collectively, they are known as Global Squad -- and Alexander was once just like them.
Along with his two brothers, Jeremy and Joe, he used to be a high school student playing basketball in China, pursuing hoop dreams long before the now-basketball-crazed country was a blip on the NBA's radar. The process is personal for the three brothers, who went through the same struggles to get noticed by American college scouts while living as expats and playing at the International School of Beijing.
Though they excelled on their Beijing team, they quickly realized that college basketball programs weren't going to notice them in China. After moving back to the U.S., John and Jeremy were able to secure spots playing Division III basketball at Washington College, while Joe, the youngest and the best player of the three, earned a spot on West Virginia's Division I team. The process wasn't easy -- Joe had to do an additional year of prep school to eventually get noticed by West Virginia. In 2008, his dreams were realized when he was drafted to the NBA by the Milwaukee Bucks.
His brother John says his business is born from his first-hand experience of the setbacks and tribulations of a young player who wants to make it in America and can't rely on NBA scouts, the people who, as Grantland columnist and former Ohio State basketball player Mark Titus puts it, "occupy the most dreaded position in the business."
Today, while some American high school students are opting out of the NCAA's famously stringent rules by looking for opportunities overseas, Alexander spends his time developing a business that helps student-athletes from abroad go in the opposite direction. For now, John is the academy's only permanent, full-time staff member, putting in the legwork year-round, sending information to college scouts, and flying overseas to high school tournaments. On these trips John watches kids play and seeks out young talent with the potential to succeed.
That's how the academy found Jacob Tala, who in 2012 was a 5-foot-7 combo-guard who had just finished the eighth grade at the Shanghai American School.
"Have you heard about the Legend of Jacob Tala?" asked Christian Matthews, a former Washington College forward who began coaching with Alexander in 2012. Sitting at a local watering hole where the academy's personnel gather, fellow coaches chimed in: "You gotta hear this!"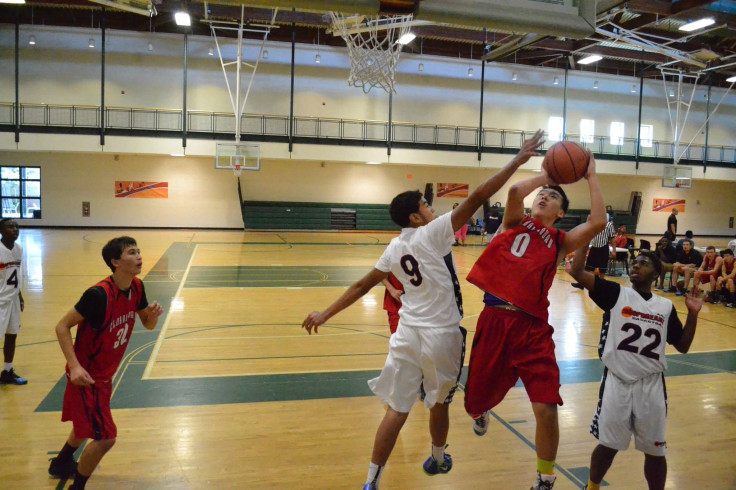 The freshman was the youngest player and one of the smallest at camp that year. At first, Tala stood out for the wrong reasons. "To be totally honest, he was a chubby kid. Just wasn't very good," Matthews said. That was the summer when he scored exactly one basket. But Tala wasn't discouraged. He was hungry. He became a gym rat, spending hours before and after school, year round, on the hardwood court, most times by himself. Over the winter holidays his high school gym would close, but that didn't stop him either. "I would just play outside in the rain and the snow, alone, until it got dark," he said.
The following summer, Tala came back to be on the Academy's Red Dragon B team, and showed exponential growth. He was his team's leader in points and three-pointers, scoring 104 points by the end of the month. Suddenly his dream of going to an Ivy League university and playing for its basketball program was not so far-fetched.
He would be following in the footsteps of Global Squad alumni like Nasser Al-Rayes, a 6-foot-9 Qatari-American center who found himself playing for Cal Tech, where he enrolled in the mechanical engineering program after leaving the academy. This summer Al-Rayes returned to camp, working as part of the staff, taking game stats for his former teammates and also doing some scouting of his own for Cal Tech. According to Al-Rayes, two of this year's Global Squad athletes, Brandon Rogers, a Tokyo-based American, and Yujin Yamamoto, from Osaka, Japan, are likely to join him in Pasadena next year.
Cross-cultural and academically successful, these athletes are a unique breed of basketball players, and they are a good indication of the direction where U.S. basketball is headed: abroad. One-third of this year's first-round NBA draft picks were foreign-born, including the No. 1 pick, Canadian Andrew Wiggins.
International players have grown to be a significant part of the NBA. Thirty-nine countries and territories were represented on NBA rosters during last year's opening games, a record high for the league that has had Dirk Nowitzki, Yao Ming, Manu Ginobili and Hakeem Olajuwon among some of its most famous and prolific players.
Some of them, like shooting guard Nik Stauskas, a Canadian of Lithuanian origin, came to the NBA from the U.S. college system; Stauskas played for the University of Michigan.
Hoping to follow a similar path, this summer the Global Squad attended four tournaments, and were easily the most popular teams everywhere they went. International basketball players are still unusual enough to turn heads in America.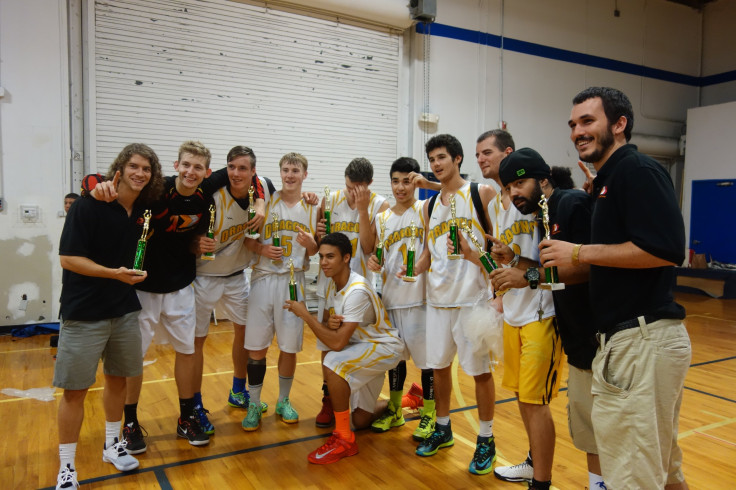 Kasper Christiansen, a 6-foot-9 Copenhagen native, for example, is hard to ignore. Aside from his imposing stature, Christiansen has Division I prospects, with schools like Davidson and Michigan -- the alma mater of eighth-round pick Stauskas -- already asking about the Danish small forward. But at just 16, Christiansen still has a long journey ahead of him to be ready for the NCAA, let alone the NBA. By the end of camp, he already had his sights on next year, vowing to bulk up and fill out his tall frame.
Christiansen is hoping to follow in the footsteps of fellow Dane and academy alumnus Peter Moller, a combo guard who is beginning his collegiate Division I career this fall at Liberty University in Virginia, a program he picked over those at George Washington University, Northeastern and Ohio.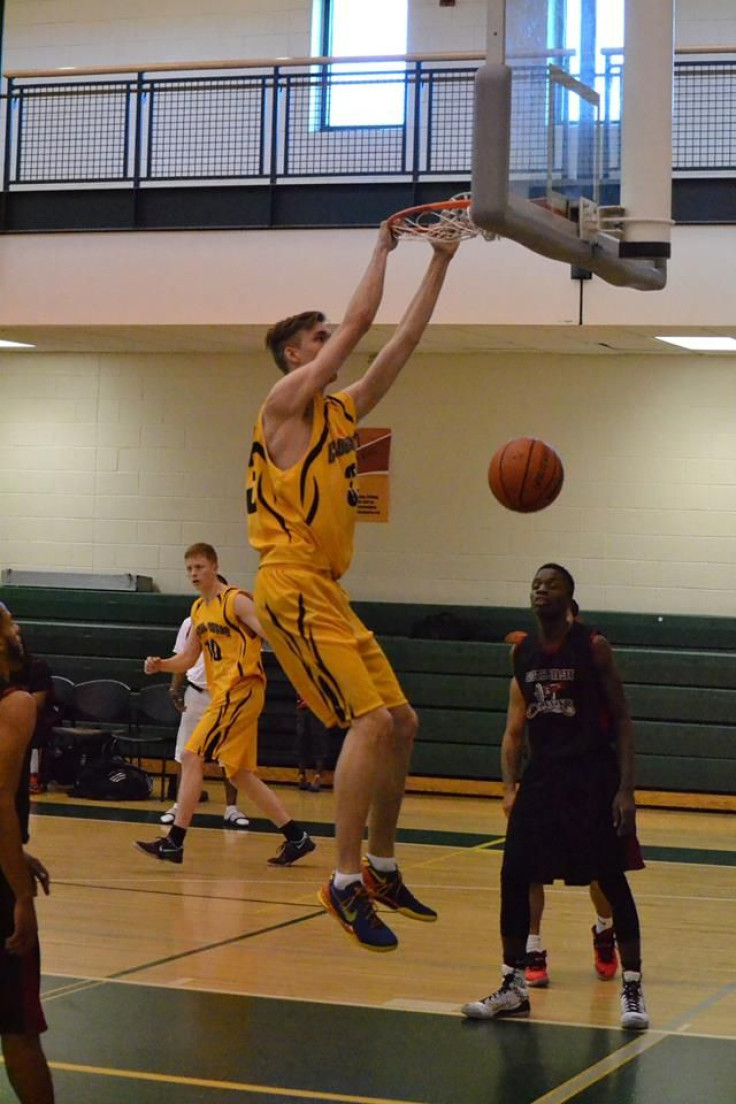 As for Tala, the legend continues. This year, just over a week into camp, Matthews and his assistant coach, current Washington College forward Sean Flanigan, noticed that Tala was consistently outplaying his Red Dragon teammates. So they bumped him up to the next level: the Golden Dragons, one of the Academy's two advanced squads, training to be scouted by college recruiters.
Tala still has a lot of work ahead of him to achieve his dreams of playing at a Division I program, but the prospects are there, and Alexander says that some Ivy League programs have already expressed interest in the rising junior.
In the meantime, Tala is keeping a level head.
"When he moved up to the Golden Dragons, you know what he said to me?" Matthews recounted. "He shook my hand, looked at me and said, 'Coach, it was an honor.' That's the type of kid Jacob Tala is."
CORRECTION: An earlier version of this story referred to the "International Basketball Academy" in the headline. That is the registered trademark of an entity not connected to the Alexander Basketball Academy. The story's headline has been updated to reflect that fact.
© Copyright IBTimes 2023. All rights reserved.