All-Star Center Wants Another Shot With Lakers; Retirement Far From Mind
KEY POINTS
Dwight Howard hopes to return for another run with the Los Angeles Lakers
Howard's performance this season has shown a significant dip in numbers
The next Lakers coach will likely determine if Howard merits another stint
Dwight Howard's third stint with the Los Angeles Lakers did not end in the way he and most expected it to be.
The franchise shockingly missed the playoffs, a development that hoop junkies probably did not anticipate with a star-studded lineup.
Regardless of their misfortunes, the 36-year-old cager shared about wanting to get another chance to play with LeBron James and the Lakers next season.
"I don't want to leave," Howard stated in an interview. "I feel like I got a lot more years in me."
In his third coming to Los Angeles, his production for the season was the worst thus far as he averaged 6.2 points and 5.9 rebounds in 16.2 minutes of action across 60 outings.
These numbers were a far cry from what he produced in the Lakers' 2019-20 NBA title campaign, where the 6-foot-10 center averaged 7.5 points and 7.3 rebounds in 17.3 minutes of action.
Comparing the last two seasons of Howard with the Lakers, it remains to be seen if he will get another call-up.
After signing a one-year deal with the Lakers for the 2021-22 season, Howard is set to become a free agent and can sign with other teams.
However, it seems the one-time NBA champion wants to stay for at least one more run with the Lakers, a place that has become endeared to him.
"Why would I want to leave?" he said to another reporter. "I would really like an opportunity to go out with a bang."
At 36 years old, Howard does not appear ready to call it a career.
Although last season's performance was hardly impressive, the top pick of the 2004 NBA Draft feels he still has some gas left in his tank.
For now, all Howard can do is wait and see if the Lakers offer him a new deal.
Frank Vogel has been dismissed by the team's top management, and they are now in search of a new head coach.
Once a new coach has been named, the possibility of seeing Howard back with the Lakers may get cleared.
But one twist-tied to that is if the three-time NBA Defensive Player of the Year is a good fit for the next head coach's system.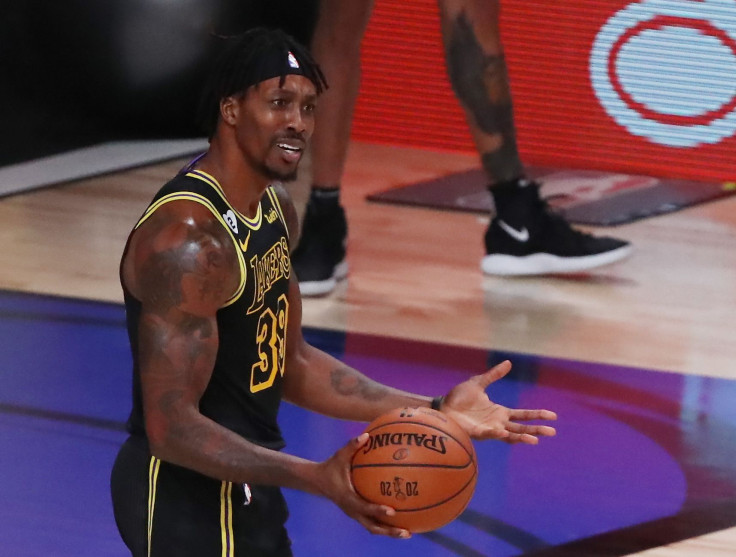 © Copyright IBTimes 2023. All rights reserved.