Amanda Knox Ex-Boyfriend Raffaele Sollecito Admits Bizarre Behavior in New Memoir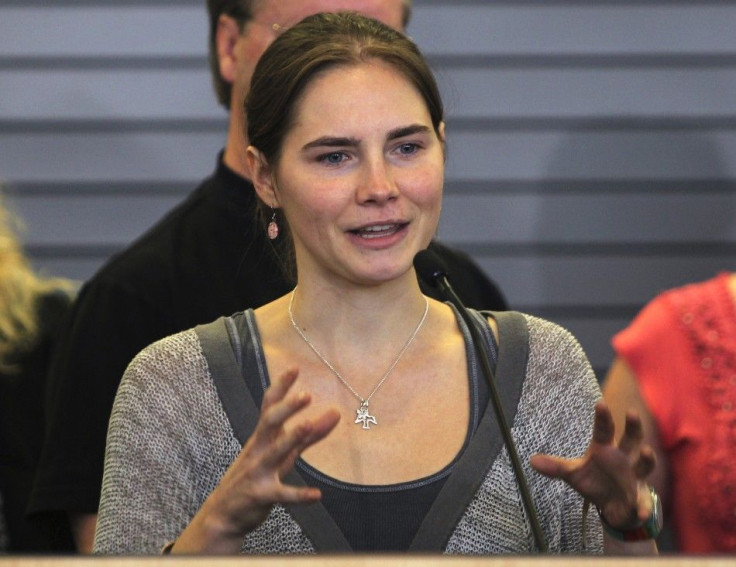 Amanda Knox, the American exchange student who was convicted of murdering her flat mate, Meredith Kercher, while studying abroad in Italy in 2007, has been trying to return to a normal life since being acquitted of charges and released from Italian prison last year.
But details surrounding Kercher's death are being brought up again, this time in a new memoir from Raffaele Sollecito, the Italian student Knox was dating at the time of Kercher's murder.
In his new book, "Honor Bound: My Journey to Hell and Back with Amanda Knox," due for release on Sept. 18, Sollecito maintains that the couple is innocent of the murder charges, but admits that their behavior after Kercher's death may have given the police cause for suspicion.
In "Honor Bound," Sollecito details his first encounter with Knox at a classical music concert at the University for Foreigners, in Perugia, reported the Associated Press, which purchased an advance copy of the book. That night, just one week before 21-year-old British exchange student Kercher would be brutally murdered, Sollecito asked for Knox's number, and later invited her back to his apartment.
According to Sollecito, Knox told him she would be working a shift at a nearby bar later that night, and asked him to stop by. At the end of Knox's shift, the pair left together, kissing and holding hands, and quickly embarked on a whirlwind romance. Knox frequently stayed over at Sollecito's apartment and went grocery shopping with him.
But their behavior came under close scrutiny after news cameras caught them passionately embracing during a police investigation of the crime scene. When Knox was photographed again, less than 24 hours after Kercher's body was discovered, shopping for lingerie, the media began referring to her as "Foxy Knoxy," a nickname she had been given as a child, for her prowess at soccer.
Sollecito said that Knox's sometimes inappropriate behavior made him uncomfortable, as when they were waiting at the police station and Knox climbed on his lap and pulled his arms around her. He also admitted to alternating between "great waves of indignation and a nagging sense of guilt" during his first night in prison, due to his hazy memory of the night, an aftereffect of having smoked marijuana with Knox.
Amanda Knox has also signed a book deal with HarperCollins, for a reported $4 million, to write a memoir that will focus on her side of the story, reported the Guardian. The book, which is currently scheduled for release in early 2013, will give "a full and unflinching account of events that led to [Knox's] arrest in Perugia," said HarperCollins in a statement in February.
"The experience of actually sitting down in a room and talking for an hour, an hour and a half with Amanda made me realize this was a very mature, intelligent woman who had been through an extraordinary experience," said Jonathan Burnham, a publisher for HarperCollins, in a statement.
"She'll write a very thoughtful, reflective and serious book about what happened. And that moves this book away from the world of tabloids, the lurid side, to something more compelling and, in a way, more longstanding."
© Copyright IBTimes 2022. All rights reserved.
FOLLOW MORE IBT NEWS ON THE BELOW CHANNELS