Anders Behring Breivik Makes Nazi Salute At Makeshift Court As He Sues Norway Over Violating His Human Rights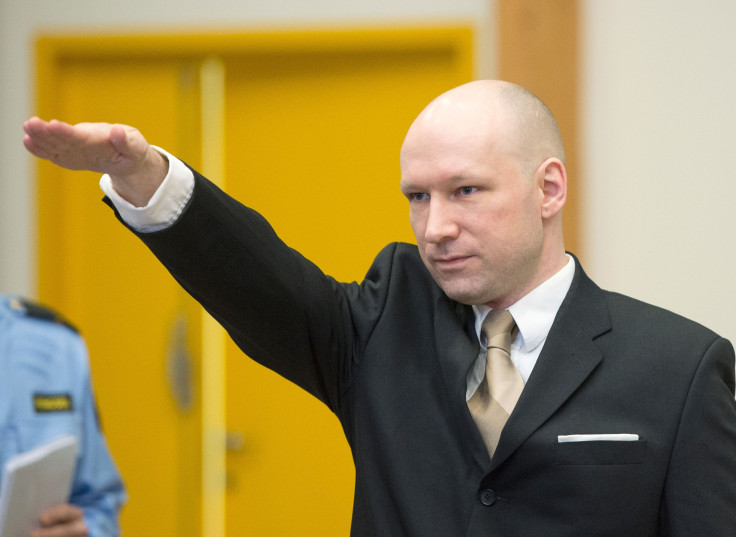 Norwegian mass murderer Anders Behring Breivik made a Nazi salute as he arrived in a makeshift court Tuesday for the first day of hearing over the lawsuit he filed accusing the government of violating his human rights by holding him in isolation. The right-wing extremist killed 77 people in Norway in 2011 after he bombed central Oslo before going on a shooting rampage at a Labor Youth camp on the island of Utoya.
Breivik, who was sentenced to 21 years in prison in 2012, has sued the state for breaching two clauses of the European Convention on Human Rights — prohibition of "inhuman or degrading treatment or punishment," and guarantee of the right of respect for "private and family life or correspondence."​
Breivik's lawyer Oystein Storrvik said in his opening statement Tuesday that the 37-year-old's punishment was worse than death penalty, which is outlawed in Norway, BBC reported.
Storrvik told Agence France-Presse that his client had been "very stressed due to his isolation" in Skien prison, located about 60 miles southwest of Norway's capital city, Oslo.
"One of his main things to do [in prison] was to study and he has stopped that now, and I feel that is a sign that isolation has been negative to his psychological health," he said, according to BBC.
However, the government has rejected the claims, saying that Breivik is being treated humanely and with dignity despite the graveness of his crimes.
The court hearing is being held in the gymnasium of the Skien prison and is expected to continue until Friday. Breivik will testify Wednesday, according to reports.
At Skien prison, Breivik has access to a computer, which is not connected to the internet, as well as his own television and a PlayStation. He is reportedly held apart from the rest of the prison population and his contact with the outside world is strictly controlled.
Last September, Breivik reportedly protested his treatment in prison by threatening to starve himself to death.
© Copyright IBTimes 2023. All rights reserved.