Ankara Bombings: Turkey's Interior Ministry Suspends 3 Top Officials To Conduct 'Healthy Investigation'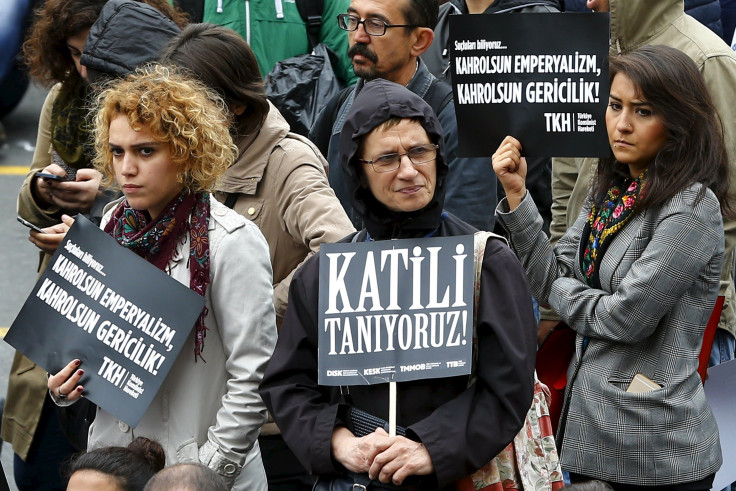 Turkey's interior ministry suspended three top officials of Ankara police, intelligence and public security departments late Tuesday to conduct a "healthy investigation" into Saturday's blasts in the capital Ankara, Daily Sabah, a local newspaper, reported. The twin suicide bombings at a peace rally killed 97 people and injured at least 246.
The ministry took the decision of suspending the officials upon the request of chief investigators of the case, the newspaper reported, citing a statement from the ministry's website. Ahmet Hakan Arikan, the deputy police chief of Ankara, will act as the interim police chief, according to Daily Sabah.
Meanwhile, Turkish President Recep Tayyip Erdogan paid homage at the bombing site Wednesday, Agence France-Presse (AFP) reported. Finnish President Sauli Niinisto, who is in the country for an official visit, was also present at the ceremony.
The Ankara bombings, considered the deadliest attacks in modern Turkish history, occurred outside a train station during the rally attended by leftist, pro-Kurdish and union activists. On Monday, Turkish Prime Minister Ahmet Davutoglu said the Islamic State group, also known as ISIS, was the "No. 1 priority" of the investigation.
In an interview with Turkish broadcaster NTV, Davutoglu said the attack was aimed to "cast a shadow" over Turkey's parliamentary election on Nov. 1 and an attempt to sway the results.
The officials have been concentrating on possible parallels or links to a July 20 suicide bombing that killed 34 people at a peace rally in Suruc in the southeastern Sanliurfa province on the Syrian border, AFP reported.
© Copyright IBTimes 2023. All rights reserved.