Anthony Davis Rumors: Celtics' Jayson Tatum Offer Would Trump Any Lakers Package
The Boston Celtics will be going head-to-head with the Los Angeles Lakers if the New Orleans Pelicans, ever agree to trade Anthony Davis. And including one player alone in a package will likely help them trump any Laker offer.
That particular player is Jayson Tatum, who established himself as one of the best young prospects in the league during his rookie year last season as he helped a Boston side reach the Eastern Conference Finals without the injured duo Kyrie Irving and Gordon Hayward.
In fact, the 20-year-old could have even led them to the NBA Finals if not for LeBron James, as they were just one win away against the Cleveland Cavaliers from reaching the final two.
And while the Lakers also have talented prospects in the likes of Lonzo Ball, Brandon Ingram, Kyle Kuzma and Josh Hart that they could offer, none of them compare to Tatum's potential or productivity according to ESPN's Adrian Wojnarowski, who was speaking on the "Dan Patrick Show" on Thursday.
"I think Tatum would be the wild card," Wojnarowski said. "If they were willing to put Tatum in a deal, there's nothing the Lakers could do, there's nothing they could... Brandon Ingram, Lonzo Ball, none of those guys match up to his potential and production so far."
"But I think any deal Boston would do, they would love to be able to keep Tatum. But Anthony Davis is 25 years old and so, I think everything would be on the table if you felt like you had a chance to get him."
A player like Tatum who averages 16.7 points, 6.5 rebounds and 1.7 assists over 30 games this season would certainly help soften the blow of losing Davis. Not to mention, the other players and draft picks that will likely be included in a Boston package.
That is why the Lakers should be aggressive now. It's no secret that they would like for Davis to join James at the Staples Center with the latter even commenting on a potential trade.
"That would be amazing, like, duh," James told ESPN when asked about a potential Davis trade. "That would be incredible."
And unless the Celtics offer Irving in a trade, they won't be able to make a trade for Davis this season because both players are signed to their current deals under the designated rookie scale contract extension, known as the Rose Rule. They will be able to trade for Davis in the summer, however, which is when Irving's deal expires and he is likely to re-sign a new Boston deal.
For now though, the Pelicans simply have no interest in trade talks for Davis, who will only likely enter free agency in 2020, and are actually reportedly engaged in trade talks to improve the Chicago native's supporting cast in New Orleans.
Pelicans manager Alvin Gentry reiterated the same ahead of the Lakers vs. Pelicans game on Friday.
"We're not trading him," he said. "I can say that to the world. We're not gonna trade him, no matter what. That's not an option. It doesn't matter what anybody says or does. We're not trading Anthony Davis."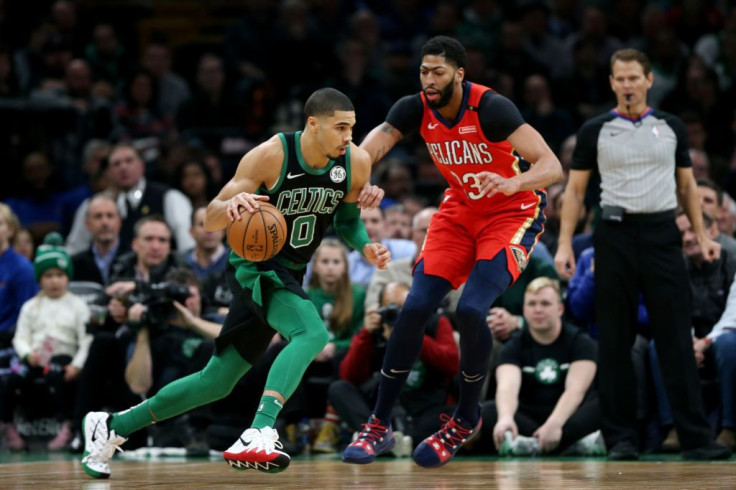 © Copyright IBTimes 2023. All rights reserved.