Anthony Davis Trade Rumors: Forward Likely To Be Traded Before 2019 Deadline
Anthony Davis' patience with the New Orleans Pelicans seems to be wearing thin after their loss to the Brooklyn Nets, which was their seventh in the last 10 games. The team are currently lying in 14th place in the Western Conference and face a hard task to make the playoffs from their current position.
The power forward, who has performed consistently for the team again this season, cut a frustrated figure after their loss to the Nets and believes that the team is much better than their record shows.
Davis has always shown his commitment to the Pelicans in the face of talks about a potential trade before the end of the season. The New Orleans franchise have been clear that they will not entertain a trade and the player also has expressed his love for the team and the fans. However, after the loss against Nets when the question about when his patience with his current employers will run out before seeking a move was put to Davis, he – for the first time – avoided the question.
Get More Sport's veteran NBA reporter Chris Sheridan believes Davis will be traded before this season's trade deadline expires on Feb. 7. The Los Angeles Lakers are said to be in the driving seat at the moment, but there will be no shortage of suitors for the power forward, who again this season is a contender for MVP.
LeBron James has already commented on how it would be amazing to team up with Davis in Los Angeles – and his arrival will instantly make them title contenders. The Lakers, however, will have to give up some of their young prospects like Brandon Ingram and Lonzo Ball.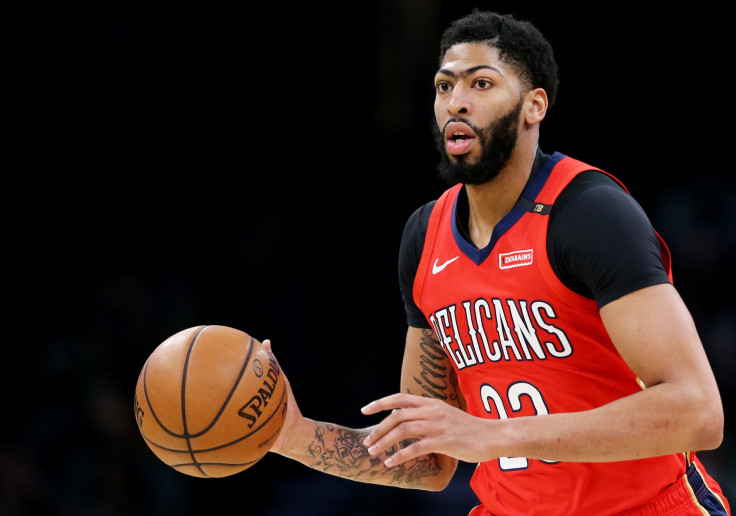 The Boston Celtics, meanwhile, will be the biggest losers if Davis comes up for trade before the deadline this season as they will not be able to make a move unless they give up Kyrie Irving, which they are unlikely to do.
Brad Stevens' team are long-time admirers of the power forward, but because they traded for Irving from the Cavaliers in 2017, they will not be able to make another trade until the off-season when the Celtics point guard opts out of his deal and re-signs with the Boston franchise.
The Pelicans are keen to retain Davis and could reject his wishes for a trade mid-season, but they could likely be forced to trade come next summer if he declines the supermax deal worth $239 million he will be eligible for and will certainly be offered.
And the Pelicans could well wait until the summer as it could end becoming a bidding war, which will benefit them greatly in terms of getting the best deal possible for one of the best in the NBA at the moment.
© Copyright IBTimes 2023. All rights reserved.