Apple Inc. And Google Inc. Sign Major Renewable Energy Deals As Wind And Solar Energy Costs Plunge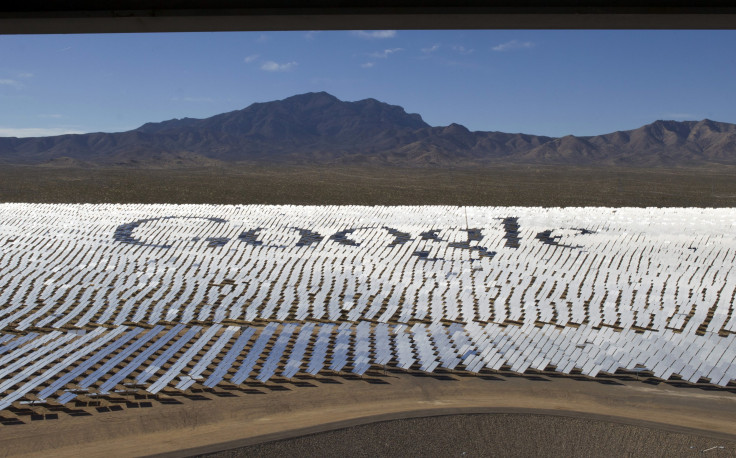 Apple Inc. and Google Inc. have separately announced two major renewable energy projects this week to demonstrate their commitment to fighting climate change. But the deals do more than cast a green glow on the California tech giants -- they also show that solar and wind power are increasingly good financial bets for energy-intensive corporations.
"I think it makes economic and financial sense for these tech companies," said Devashree Saha, an energy policy analyst at the Brookings Institution in Washington, D.C. "As wind and solar markets have grown in the past few years, the cost of building and running renewable energy projects, along with the price of renewables, has come down substantially."
Apple said Tuesday it would spend nearly $850 million to purchase power from a massive solar plant just south of Silicon Valley. Under the deal, the First Solar-owned facility will supply Apple's new spaceship-like campus with 130 megawatts of electricity for the next 25 years. The power purchase agreement, or PPA, is the largest corporate contract of its kind in the solar industry.
The next day, Google agreed to purchase wind power from the Altamont Pass, a large turbine park in the San Francisco Bay Area. Financial terms weren't disclosed, but NextEra Energy Inc. said Wednesday that the 20-year power deal includes 43 megawatts in wind capacity. Google so far has spent $1.5 billion worldwide on clean energy projects and says it uses renewables to power 35 percent of its operations.
Wind and solar prices have plunged in recent years as the technologies improve and developers become more efficient at installing and operating turbines and panels.
The average U.S. price for wind power sales is now about 3 cents per kilowatt-hour, compared to around 7 cents in 2008. Solar prices have plummeted from about 15 cents per kilowatt-hour a decade ago to 5 cents today, said Ryan Wiser, a scientist and electricity markets expert at the Lawrence Berkeley National Laboratory in California.
By comparison, conventional wholesale electricity is around 3 cents per kilowatt-hour on average in key U.S. markets, thanks largely to cheap natural gas prices. But gas is a notoriously volatile commodity, and in the future, the cost of fossil fuel-based power could rise if the Obama administration's rules to curb power plant emissions take effect. With long-term solar and wind projects, the tech giants can insulate themselves from rising grid prices, Wiser said.
The latest Apple and Google deals are "further confirmation that the cost of wind and solar has now dropped to a level that corporations feel it's a good business decision," he added.
The United States has about 66,000 megawatts of installed wind power capacity, enough to power about 18 million average American homes. Solar projects have a combined capacity of about 17,500 megawatts. All told, renewables -- including wind, solar, geothermal, biomass and hydropower -- account for about 13 percent of total U.S. electricity generation, according to federal energy data
Saha said that corporate agreements like Apple's and Google's could play a significant role in growing the nation's overall portfolio of renewables. She noted that about two-thirds of Fortune 100 companies and nearly half of all Fortune 500 companies have made public commitments to shift away from carbon-intensive coal and natural gas to more climate-friendly energy sources. However, only a handful, including Facebook and Amazon, have made big-ticket investments in energy projects.
"The total impact that [companies have] in expanding the renewable energy market in the U.S. is obviously going to be huge," she said.
In the next two years in particular, companies could sign a flurry of power contracts as they seek to tap a critical federal tax credit before it scales down, Reuters reported this week. The Investment Tax Credit for solar projects will drop to 10 percent from 30 percent in 2017 unless Congress steps in to freeze the subsidy. The Obama administration's fiscal 2016 budget request sought to uphold the 30-percent incentive.
"There's going to be a pretty significant transition period if the [solar] tax incentives do go away," Wiser said.
About 14,000 megawatts of utility-scale solar projects are expected to come online in 2015 and 2016, compared to just 1,000 megawatts in 2017, according to GTM Research in Boston.
In the wind sector, the recent expiration of the Production Tax Credit has already dampened new project developments. The U.S. added just 4,850 megawatts in new turbine capacity last year, down from a record 13,000 megawatts in 2012, the industry reported.
But Wiser said both solar and wind power could still be attractive for businesses in a post-subsidy world. If developers continue to curb technology and operations costs, and if natural gas prices climb and federal power plant rules take effect, "that could offset some of the loss in tax incentives," he said. "The industries are at least a little bit resilient."
© Copyright IBTimes 2023. All rights reserved.