Are 'Killer Clowns' Back? Creepy Halloween Threats Likely Planned To Scare People
The creepy "killer clowns" phenomenon that took over the United States and Europe during the Halloween time in the last few years is likely to return next week, the Daily Mail reported. The "killer clowns" were allegedly planning to wreak havoc and terrify innocent people on the streets in the United Kingdom and Australia.
The group Clown Purge Sydney took to Facebook to announce their plans to scare people living in Sydney on Oct. 31. They recently asked on Facebook: "Who's going trick or treating?" This group became famous in 2016 and attracted a social media following as people would make requests for their own homes to be targeted.
Meanwhile, a town in Lincolnshire -- a county in the East Midlands of England - already was gripped by early Halloween horror after a killer clown started knocking on doors and peering in through windows late at night. The prankster dressed in the clown costume terrified locals in Market Rasen area, hinting at more such incident to occur as the Halloween night approaches.
According to the Sun, some people were dreading the clown walking up their path or jumping out on them.
"I have been terrified of clowns since I was a little girl and if he appears on my doorstep I will probably faint and have a nervous breakdown," a local resident Laura Bailey said. "Who is he and why is he doing this? He must be getting some sort of kick out of it but it's an evil thing to be doing."
What started as fun had turned into harassment with multiple reports of people in clown costumes terrorizing rather than just playfully scaring people. The phenomenon first began in 2016 with people dressed as clowns scaring communities across the U.S. and later others in the U.K. doing the same thing.
The first horrific incident took place in August 2016 in Greenville County, South Carolina, where children at an apartment complex said clowns were trying to lure them into the woods. Following these reports, creepy or killer clown sightings were reported in Alabama, Georgia, Maryland, New Jersey, North Carolina and Pennsylvania. The clown trend then spilled onto other countries such as the U.K., Canada and Australia.
Several other states also reported the clown sightings and children were warned against approaching those dressed in clown costumes. These sightings triggered panic in the minds of several residents. Police feared the sightings would increase in the lead up to Halloween at the end of the month.
Another incident took place in the U.K. earlier this month when two young boys were chased down the road by a "clown" carrying an axe. The incident happened in Gadby Road, Chalkwell, Sittingbourne.
"This was happening last year coming up to Halloween as was something going around on YouTube," a representative for the council in the area reportedly said at the time. "I hope it's not something starting again."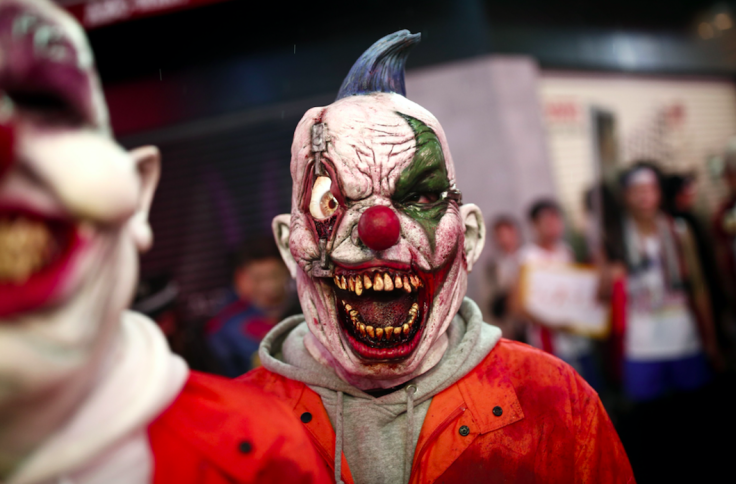 © Copyright IBTimes 2023. All rights reserved.