'Killer Clown' Sightings Global Map 2016: Timeline Of The Creepy Phenomenon Of Threats, Arrests, School Closings And False Alarms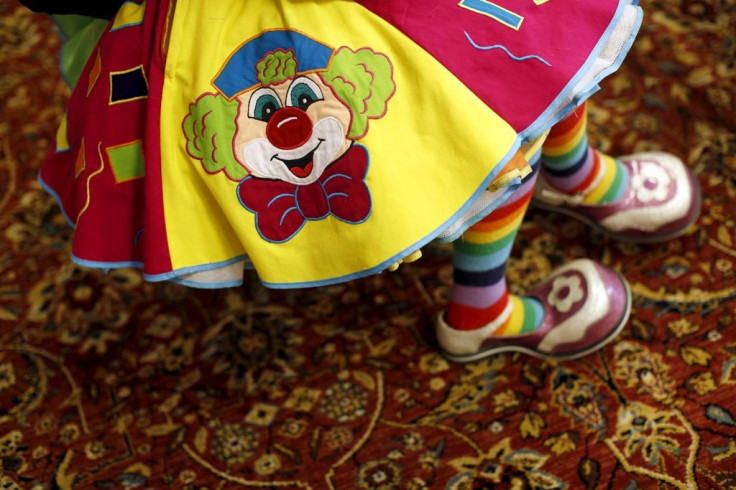 A pattern of people dressed as clowns scaring communities across the United States has spilled over into Europe.
Clowns were sighted in England Sunday, adding to a growing list of clown sightings internationally, including reports in Canada and in Australia. The sightings were first reported Aug. 1 in Wisconsin, when a clown was seen walking with black balloons. The trend really caught on in late August when national news outlets including the International Business Times picked up on local media reports from Greenville County, South Carolina, where children at an apartment complex said clowns were trying to lure them into the woods.
The following map relied on a combination of International Business Times reporting and data from Atlas Obscura.
Here is a timeline of the creepy clown trend:
On Aug. 1, a clown was sighted in Green Bay, Wisconsin, walking around with black balloons. The clown was not arrested.
On Aug. 29, Greenville County, South Carolina, residents reported that clowns were trying to lure their children into the woods. National news outlets picked up the story.
On Sept. 4, police in Winston-Salem, North Carolina, were told clowns were trying to lure kids into the woods.
On Sept. 14, deputies in McDuffie County, Georgia, received a call that a 12-year-old and his little brother were chased by men in clown costumes.
On Sept. 15, schools were put on lockdown and parents were called after a clown in Flomaton, Alabama, wrote threatening posts on social media. A 22-year-old woman, Makayla Smith, was arrested for the threats. Clowns were also sighted near the area's two high schools.
On Sept. 19, clowns were reported in different neighborhoods of Annapolis, Maryland. These sightings were later called a hoax by authorities.
On Sept. 21, a middle school-aged girl in Athens, Georgia, brought a knife to school for protection against clowns and was arrested. In Pottsville, Pennsylvania, on that same day a 12-year-old was reportedly chased by clowns through a park.
On Sept. 24, a woman walking her dogs reported seeing "killer clowns" in Palm Bay, Florida.
On Sept. 25, three people wearing clown costumes reportedly jumped out of a wooded area and chased a child in Phillipsburg, New Jersey.
On Sept. 27, Tennessee officials announced clown sightings and told residents to be vigilant. Police in Phoenix, Arizona, on the same day said that a fast food restaurant was robbed by clown-mask-wearing criminals.
On Sept. 30, a New York Times report said that false claims of seeing clowns had led to 12 arrests in 10 states. In Houston on that day a threatening Facebook post put at least five schools on high alert.
On Oct. 3, sightings were reported in Nampa, Idaho, while police in New Haven, Connecticut, urged schools to ban clown costumes from Halloween this year.
On Oct. 7, clowns were reported in Edmonton, Canada. Clowns were also spotted in Melbourne, Australia.
On Oct. 9, officials in England reported that clowns had been sighted there.
© Copyright IBTimes 2023. All rights reserved.