Arian Foster Returns to Practice, Could Start Against Dolphins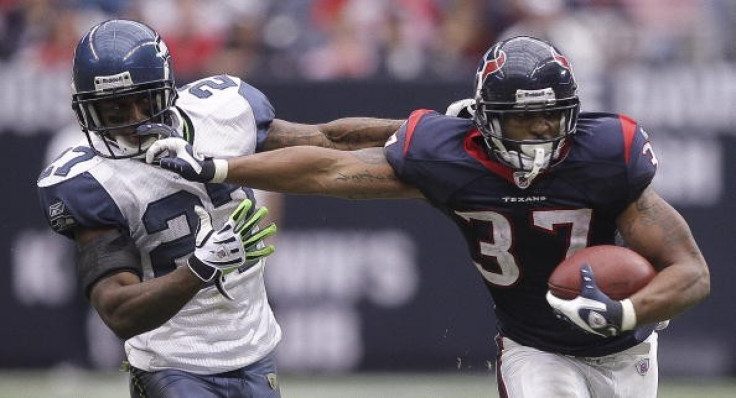 Houston Texans running back Arian Foster returned to practice on Wednesday and could start for the team against the Miami Dolphins on Sept. 18, according to the Houston Chronicle.
Foster missed the team's opening game with an injured hamstring, but Texans coach Gary Kubiak told the Houston Chronicle Foster received a normal Wednesday load for a starter at practice.
Foster rushed for 1,616 yards and 16 touchdowns in 2010, emerging as one of the best running backs in the NFL. Despite Foster's immense skills, the Texans managed to fare plenty well without him in their opening day 34-7 victory over the Indianapolis Colts.
Second-year running back Ben Tate rushed for 116 yards and a touchdown in Foster's spot. The Texans ran for a total of 167 yards against the Colts.
It's still early in the practice week and is possible that Foster could suffer a setback, but right now it appears like the star running back should start for the team against the Dolphins on Sunday.
Fantasy Football Analysis: This is great news for all Arian Foster owners, but you aren't in the clear just yet. If you own Foster, it means you either drafted him very highly or paid a lot of money for him, depending on your draft type, so news that he could be returning as a starter in Week 2 is crucial for your team's success.
But there are a few necessary considerations. First is that Foster still needs to survive a week of practice before Sunday's game against the Dolphins.
Next, some patience needs to be exercised for his first game back, if he does start on Sunday. The Texans saw a lot of success with Tate and Derrick Ward last week, so don't be surprised to see Coach Kubiak ease Foster back into the mix by giving some of his share to Tate.
Tate played too well against the Colts to be completely ignored going forward, so bank on the former Auburn star getting at least some of the carries.
This is a situation worth monitoring going forward if you own Foster, Tate or Ward. For Foster owners it's probably smart to put him in your starting lineup going forward, but you have to scan the injury reports on Sunday to make sure he is definitely starting.
Tate owners should probably hold onto the player going forward. Not only could Foster reinjure his hamstring, but Tate could have a big role in the offense. He's a worthy handcuff to Foster and could be a potential flex play in weeks going forward.
For Ward owners, it might be time to cut the running back. If there is no worthy pickup then feel free to hold onto Ward, but Tate clearly assumed the No. 2 running back role after Ward injured his ankle on Sunday and that's doubtful to change going forward.
© Copyright IBTimes 2023. All rights reserved.