Arizona Freeway Shootings: 'Person Of Interest' Identified, Probe Underway Over Claims Of Multiple Shooters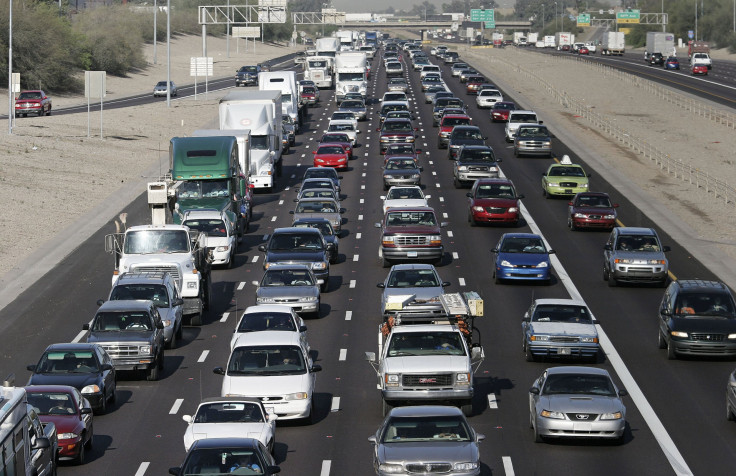 Authorities in Arizona suspect the involvement of more than one shooter in a recent string of shootings on the Phoenix-area freeway. Arizona Department of Public Safety (DPS) Director Frank Milstead's comments came Friday as police swarmed a convenience store near Interstate 10 and detained a man believed to be connected to the shootings.
The man was reportedly arrested and held in jail Friday night on charges unrelated to the shootings, DPS officials said, according to the Associated Press. Authorities identified the "person of interest" as Oscar de la Torre Munoz, 19, of Avondale, and said he was being held at Fourth Avenue Jail on suspicion of marijuana possession. No other information was revealed about the suspect's link to the shootings other than the fact that he was questioned about the incidents.
DPS spokesman Bart Graves said Friday night that the shooting scenarios have varied, with some involving bullets fired at random cars, others involving projectiles -- possibly BBs or pellets -- and one case of road rage. On Thursday, DPS confirmed 11 shootings since Aug. 29. A press release by Arizona DPS details each shooting.
Arizona Gov. Doug Ducey was briefed Friday by a state law enforcement official on the ongoing investigation into the freeway shootings.
In a news conference Tuesday, DPS officer Frank Milstead called the shootings "domestic terrorism."
"Anytime you have multiple shootings against American citizens on a highway, that's terrorism," he reportedly said.
© Copyright IBTimes 2023. All rights reserved.