Arizona Primary 2012: What to Watch For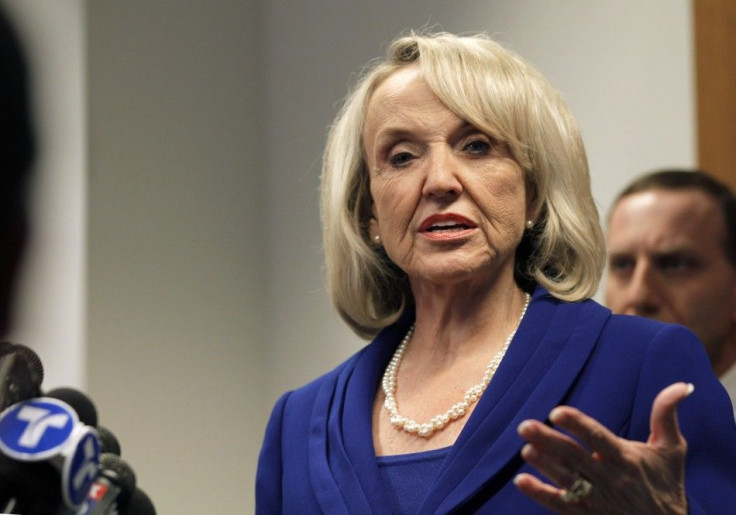 Much of the recent Republican primary coverage has focused on Michigan, where Rick Santorum's late surge threatens to deprive Mitt Romney of a once-presumed win in his home state.
But Michigan is not the only state going to the voting booth on Tuesday. Arizona's 29 delegates are also up for grabs in a winner-take-all contest. While recent polls have shown Romney breaking away from Santorum, the former Pennsylvania senator could still present a formidable challenge to Romney's presidential aspirations. Here are five key dynamics:
1. Fluctuating Polls
Romney has long been the tortoise in a race full of hares, plodding along with consistent if unenthusiastic levels of support while a stream of opponents have flared quickly, then receded. The same is true in Arizona, where Romney has perched atop the polls since the beginning of January while Santorum and Newt Gingrich traded second place.
There were signs that Santorum had all but closed the gap by mid-February -- a CNN/Time poll had Romney beating Santorum 36-32 and a Public Policy Polling survey found Romney with a 36-33 lead. More recent polls by NBC/Marist and by Rasmussen showed Romney's lead to be much wider.
2. The Immigration Question
Arizona's 2010 immigration law sparked a furor among opponents who said the stringent new legislation went too far, but it also won admirers: Arizona's enforcement-first approach became a model for subsequent immigration laws passed in states like Alabama, South Carolina and Georgia. The Justice Department enjoined some of the more controversial parts of Arizona's law, prompting a runway encounter between President Barack Obama and Arizona Gov. Jan Brewer that helped underscore tension between federal and state priorities on immigration.
Republican candidates have been vying to show they are tough on immigration, and Romney and Santorum have led the way. Santorum joined other candidates in excoriating Texas Gov. Rick Perry for offering in-state tuition to undocumented immigrants, and he has fully opposed a bill that would offer legal status to some immigrants that were brought to the country illegally as children (Romney said he would support the measure only for members of the military).
Romney has opposed any type of relief for undocumented immigrants, endorsing a policy of self-deportation in which life becomes hard enough for immigrants that they leave of their own accord. Romney fortified his immigration resume after winning the endorsement of Kris Kobach, the Kansas secretary of state who helped draft Arizona's law and now advises Romney on immigration. Speaking of which...
3. Endorse Here, Please
Prominent Arizona politicians to back Romney include Sen. John McCain, R-Ariz., and Brewer. There was a fair amount of antagonism between Romney and McCain during the 2008 campaign, but by all accounts Romney became a loyal McCain supporter after dropping out and endorsing his former rival. Brewer announced her support on NBC's Meet the Press on Sunday, saying that Mitt is by far the person who can go in and win. The Ariziona Republic has also given Romney the nod.
Santorum has not had as much success, although he did get an affirmation of his social conservatism from the Arizona Right to Life Political Action Committee. He made overtures to immigration hardliners like Maricopa County Sheriff Joe Arpaio, who was accused by a federal investigation of violating the civil rights of Latinos, and recently recalled state senator Russell Pearce, who spearheaded the immigration law, but to no avail.
4. Who's Hosting the Tea Party?
Romney may have cultivated support from party power-brokers, but the Tea Party movement still has the ability to defy the establishment's wishes. Gingrich trounced Romney among Tea Party supporters en route to a resounding victory in South Carolina, an early incubator of the Tea Party movement, but Romney won over all but the staunchest Tea Party supporters in Florida. But unlike in either of those states, polls suggest that Arizona is almost evenly split between Republican voters who do and do not support the Tea Party.
The conservative/moderate divide could prove more decisive -- polls show Romney outpacing Santorum among moderate or liberal voters, while Santorum leads among voters who identify themselves as very conservative or evangelical Christians.
5. Perceived Electability
Still, a candidate's ability to defeat Obama in November is likely to override questions of ideology or voting records. In Florida, Romney won handily among voters who identified can defeat President Obama as the most important quality in a candidate but bombed among the voters for whom is a true conservative was most important. A similar dynamic seems to be in play in Arizona: the NBC/Marist poll found that 63 percent said nominating someone who can beat Obama was paramount, compared to 29 percent who said they were focused on choosing a true conservative.
I don't totally trust [Romney], an Arizona real estate worker named Suzan Money told McClatchy. But despite the self-described very conservative Money liking Santorum a lot, she seemed most concerned with winning.
[Santorum]'s more conservative, Money told McClatchy. But I need electability. We have to beat Obama.
© Copyright IBTimes 2023. All rights reserved.
FOLLOW MORE IBT NEWS ON THE BELOW CHANNELS