Arkansas Football: Scandals Continue For Razorbacks As Three More Are Arrested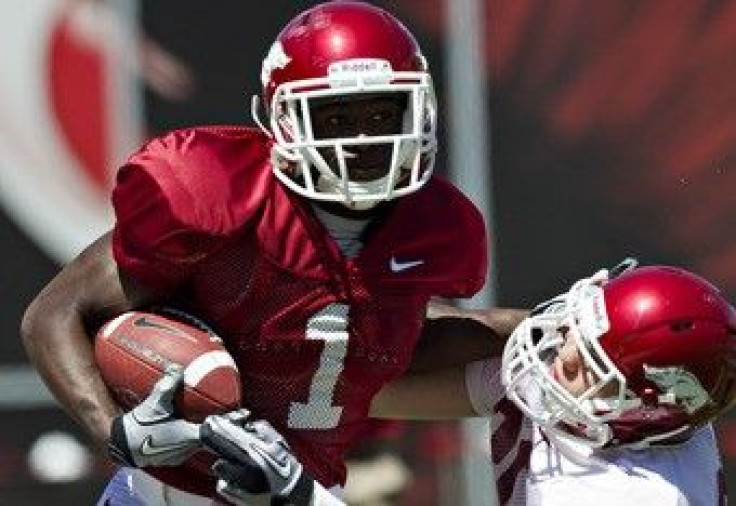 An ugly off-season for the University of Arkansas football team got a bit nastier Saturday when three members of the team, wide receivers Maudrecus Humphrey and Marquel Wade and tight end Andrew Peterson, were arrested and charged with residential burglary.
Humphrey and Peterson were charged with nine counts each, while Wade was charged with only one.
Now six members of the football team have been arrested this off-season, in addition to the scandal that rocked the program and cost head coach Bobby Petrino his job in April.
According to police, the trio had been going through dorms in the Northwest Quad for the better part of a week and broke into at least 10 dormitories. The players were going into unlocked dorm rooms and taking books, DVDs, laptops and cash.
Police say the stolen items were valued at $4,817.
Marquel Wade, Maudrecus Humphrey and Andrew Peterson have been suspended indefinitely, interim coach John L. Smith said in a statement. We have high standards for our student-athletes and I expect them to conduct themselves appropriately. Poor conduct and misbehavior will not be tolerated and is not what we expect from the University of Arkansas football program.
While Humphrey and Peterson did not contribute to the team much last year, Wade had eight receptions for 62 yards and was a key member of the return team.
The Razorbacks were considered a candidate to win the highly competitive SEC West this year, and possibly be in the discussion for the national title, but the hits they have taken this off-season threaten to derail that hope.
© Copyright IBTimes 2023. All rights reserved.
FOLLOW MORE IBT NEWS ON THE BELOW CHANNELS