John L Smith: 10 Things To Know About Bobby Petrino's Replacement At Arkansas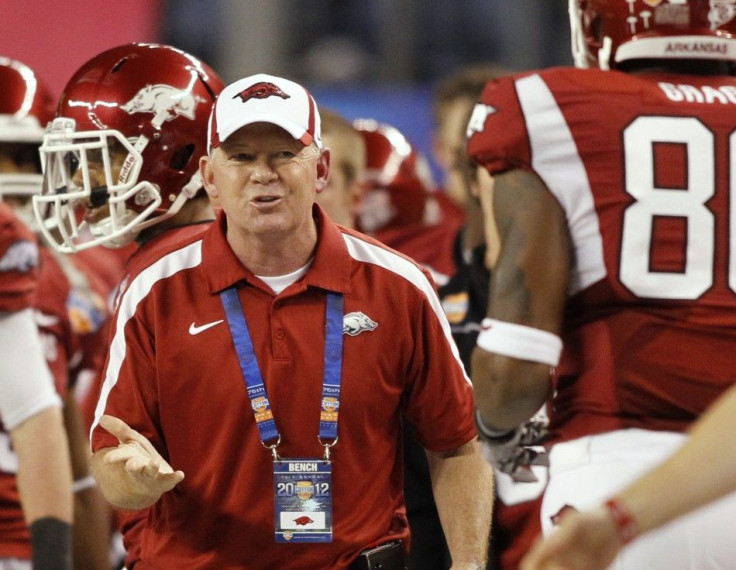 The University of Arkansas has hired Weber State head coach John L. Smith to replace ex-head coach Bobby Petrino on an interim basis, specifically on a 10-month contract, according to CBS Sports. The search for a new head coach ends days after Petrino was fired on April 10 because of lying about an inappropriate relationship with Jessica Dorrell, a 25-year-old football program staffer.
Some may have liked a more high-profile coach to step in and take the reins, but, at the same time, Smith also makes sense because he once served as special teams and outside linebackers coach at Arkansas for the 2009-10 seasons under Petrino, who he had worked with at four different schools to boot. Ironically enough, Petrino was the one who replaced Smith as head coach of Louisville in 2003.
The 63-year-old Smith, still, has some big shoes to fill. Petrino went 21-5 in his last two seasons at Arkansas, molding the Razorbacks into a BCS championship contender. Luckily, Arkansas is expected to compete for both the SEC and national titles this year with the majority of the core team returning.
Smith may be flying under the radar a little, so here are 10 more quick things to know about Arkansas's newest head coach:
Smith was born in Idaho Falls, Idaho on Nov. 15, 1948
He played linebacker and quarterback for Weber State from 1968-1970
He began his head coaching career at Idaho from 1989-1994, and now holds the Idaho record for wins (53)
He has 12 seasons of FBS head coaching experience: he went 16-18 in three seasons at Utah State (1995-1997), 41-21 in five seasons at Louisville (1998-2002) and 22-26 in four seasons at Michigan State (2003-2006)
He was the Big Ten Coach of the Year in 2003 after posting the most wins by a first-year coach in Michigan State history (8-4)
In 2000, Sports Illustrated recognized him as one of Idaho's top 100 athletes of the 20th century, according to his profile while at MSU
He was inducted into the Idaho Athletics Hall of Fame in 2001
Smith married Diana Flora on Aug. 15, 1970, and the two have three children, Nicholas, Kayse and Sam
He is the uncle of San Francisco 49ers quarterback Alex Smith
Weber State, Smith's alma mater, hired him as its head coach in December, so he leaves without ever having coached a game there
© Copyright IBTimes 2023. All rights reserved.