Arsenal 2015-16 Season In Review: Wenger's Optimism Should Provide Little Comfort For Supporters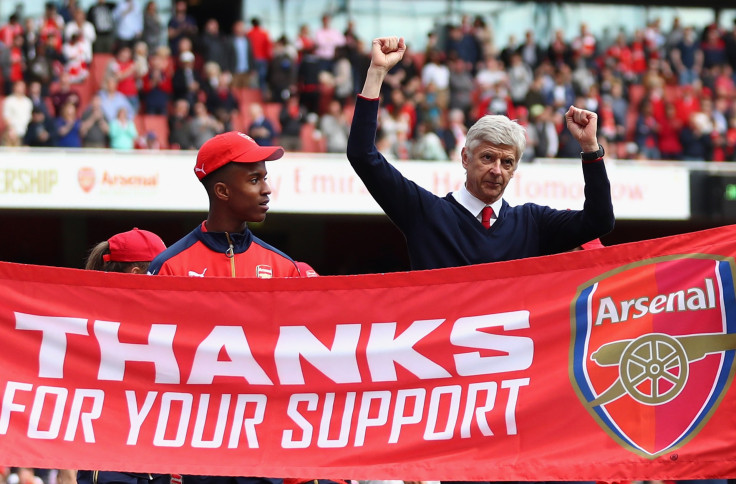 Arsenal ended the season in joyous mood Sunday as a 4-0 win over Aston Villa helped the club finish second in the Premier League and above their north-London rivals Tottenham for a 21st successive season. Olivier Giroud's hat-trick and a fine send off for Mikel Arteta brought jubilation around the Emirates Stadium and a celebratory selfie from Mesut Özil.
Continuing their dominance over Tottenham, a prospect that appeared unlikely a few weeks ago, understandably brings plenty of local pride. And second place is the highest Arsenal have finished in the Premier League since 2005.
Manager Arsene Wenger was certainly full of optimism after the curtain came down.
"We know what our step is now. Last year we finished third and this year second, now let's go one better next season," he said. "I would pay tribute to the spirit of the team. We went through a difficult period they didn't give up and they did fight until the last second. That was very positive."
But to Arsenal fans such words may instead be frustratingly familiar. In each of the last three seasons it has been a similar story: an end of season flourish leading Wenger to talk of lessons being learned and why next season will be the one. At the end of the 2012-2013 campaign, Arsenal had overcome a seven-point gap to Tottenham to grab the last Champions League place. Two years ago they ended their 10-year wait for silverware by lifting the FA Cup. Finally, last season, Arsenal retained the FA Cup and were the best team in the second half of the Premier League season.
On each occasion, though, Arsenal failed to deliver on the optimism the following campaign. There is little reason to think it will be any different this time around. After all, while finishing second represents an improvement, their point total of 71 is actually the club's lowest in four years. And they finished a massive 10 points adrift of Leicester City.
For so long, Wenger, with some justification initially, lamented the gulf in financial resources that made them unable to compete with Manchester United, Chelsea and then Manchester City. Since 2014, though, when Arsenal signed several new big-money commercial deals and could compete for the world's top players in terms of transfer fees and wages, that has no longer been the case. And not only have Arsenal failed to land a first Premier League title since 2004, but in recent years they have seen clubs with lower budgets like Liverpool, Tottenham and Leicester all provide more serious challenges for the title.
This season must surely be the most frustrating. After a last-gasp Danny Welbeck goal to beat Leicester in mid-February, Arsenal trailed the eventual champions by just two points at the top of the table. Against rivals that had never been in such a position before, and possessed a squad built on a fraction of the cost of Arsenal's, the title was there for the taking with 12 matches remaining. Instead, Arsenal lost their next two games at Manchester United and, even more inexcusably, at home to Swansea. Their challenge never recovered.
Of course, Wenger has pointed out, correctly, that Arsenal were not alone in falling short to the fairytale success of Leicester.
"It's not only us who are behind Leicester," he said when asked if this season had been a success. "We have beaten them twice so you should ask that question to all the other teams. We are not happy by being second, but 18 other teams who were behind us would be happy to be in our position."
Manchester City, Manchester United and Chelsea, the other members of four last season's top four, all endured dreadful seasons, worse in many ways than Arsenal's. There are two differences, though, which mean that Arsenal fans have reason to be more anguished than supporters of those clubs. Firstly, all of those clubs have won the title far more recently than Arsenal have, and secondly, they all have already made moves to put things right, or will likely do so.
Chelsea and Manchester City have already announced new managers for next season, bringing in Antonio Conte and Pep Guardiola, who between them have won nine league titles. There continue to be reports that Manchester United will opt for a new manager, too. There is also a strong likelihood that all three clubs will spend big money in the summer to overhaul their squads.
At Arsenal, it is difficult to escape the sense that it will be business as usual. There have been three phases to Wenger's 20-year tenure at Arsenal. For the first nine years, his teams were a breath of fresh air, playing an eye-catching brand of soccer and winning three Premier League titles and four FA Cups. Then came the frugal years as Wenger managed the club's move to the Emirates and the repayment of loans expertly, never falling out of the top four. That Arsenal have qualified for the Champions League for 18 successive seasons is a record that means Wenger is deserving of huge respect.
It is why the Frenchman is the perfect manager for owner Stan Kroenke, the American businessman who in March outlined his philosophy by stating that, "If you want to win championships then you would never get involved." It also may not be a coincidence that Kroenke's NFL team, the Los Angeles Rams, has not fired head coach Jeff Fisher despite four lackluster seasons.
But supporters do not get excited about head-coaching stability and balancing the books. Supporters want to dream and believe that their side can one day deliver the biggest prizes. They want the sort of party that the city of Leicester is currently experiencing. At Arsenal, there is little place to dream, and instead a growing acceptance that second, third or fourth best represents success all the same.
And it is not just in the Premier League. There is a soul-sucking consistency in the Champions League, too. Once again this season, Arsenal finished second in their group and, for the sixth straight season, they crashed out in the first knockout round.
Wenger may simply be attempting to put a positive spin on events, but it reveals a bigger truth about the culture at the club. It is unimaginable to think of the most ruthless winners the Premier League has known, Manchester United, taking a similar approach—of Sir Alex Ferguson welcoming second place or Roy Keane posting a selfie after the club once again finished above Manchester City.
Some at the club have broken ranks with the message emanating from Wenger. Özil admitted Arsenal had "screwed up" their title bid at the start of April, drawing a rebuke from Wenger. Arteta, meanwhile, in his final program notes as captain, admitted that failing to win the Premier League was "not good enough for this club."
Of course, there would be huge risk to dispensing with Wenger, a man who, if nothing else, has the sort of control and influence over all aspects of the club that simply doesn't exist anymore. When the other last manager of that type, Ferguson, departed Old Trafford, Manchester United learned the hard way that it was no straightforward job to replace him. Yet United can provide a lesson of how to manage the transition much smoother.
Yet such discussions are pointless at this time. Wenger is not going to be sacked and there is no indication he will break his long-standing vow and fail to honor his contract, which has one more year left to run.
Thus, Arsenal will have to find other ways to offer supporters hope that next season will be different. That must start in the transfer market. Wenger drew huge criticism for failing to sign a single outfield player last summer, and it is inconceivable that he will do the same again this time.
As many stated at the time, not signing a top-class striker ahead of last season was a major error of judgment. Giroud has his qualities as a back-to-goal striker, but he has shown repeatedly that he is not the clinical finisher for the big occasion. The France international scored a respectable 24 goals in all competitions this season but he failed to score in 15 straight Premier League games as Arsenal's title challenge collapsed. He also couldn't find the net as Arsenal exited the Champions League to Barcelona.
If major reinforcements are not procured then surely it will not take much for the uneasy atmosphere that grew in the closing weeks of the season to return to the Emirates. While a large proportion of Arsenal fans remain behind Wenger, an increasing number have become disillusioned, as demonstrated powerfully against West Brom last month when plenty of seats were empty and many of those who did turn up came to call for the manager's exit.
It is not just the supporters who could lose patience. The two undoubted world-class players in Arsenal's squad, Özil and Alexis Sánchez, are heading toward the final two years of their contracts this summer having not yet been persuaded to commit their long-term futures to the club.
Wenger has plenty of work to do to persuade both fans and his star players that his end-of-season words are not yet another offer of false hope.
© Copyright IBTimes 2023. All rights reserved.