Arsenal Facing Problems with Walcott?s Ankle Issues; Could Miss Start of Season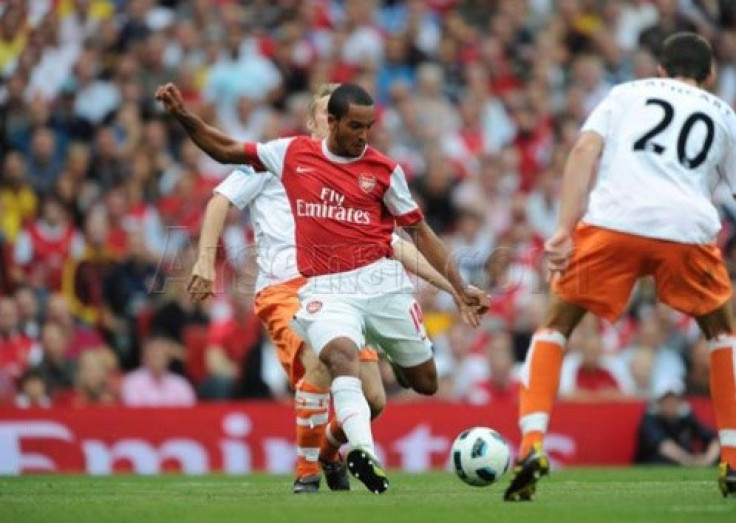 Arsenal manager Arsene Wenger has revealed that an ankle injury has forced Englishman Theo Walcott to make an early exit from the team's Training Camp near Bonn, Germany.
"Theo went home early and was due to have an MRI on Tuesday," Wenger told arsenal.com. "It is an ankle injury that comes and goes."
The English striker sat out the Monday afternoon training session and flew back home the following day. The manager did not say that it was a serious injury but assured that further investigation is required before the start of the new season.
Walcott is likely to miss out the Emirates Cup this weekend when Arsenal play American sides Boca Juniors and Thierry Henry's New York Red Bulls. There are chances that Walcott will also miss the upcoming friendly against Benfica.
"We need some more investigation because sometimes he's completely free of it and sometimes it affects him. But we had to send him back because he couldn't practice anymore," Wenger added.
Arsenal's season starts with an away game against Newcastle United on August 13, according to an arsenal.com report.
Walcott injured his right ankle on September 7 while playing for England against Switzerland, and did not return until October 19. The striker again sprained his ankle in a game against Stoke City which forced him out of the Carling Cup final defeat against Birmingham City as well as the Champions League second leg against Barcelona at the Camp Nou.
Theo Walcott has appeared 114 times for Arsenal and managed to find the back of the net 18 times. The striker debuted for the club on August 19, 2006 as a substitute against Aston Villa and setting up a goal for team mate Gilberto Silva. Walcott's first goal for Arsenal came in the League Cup Final in 2007 against Chelsea at the Millennium Stadium in Cardiff on February 25, 2007.
© Copyright IBTimes 2023. All rights reserved.