Arsenal Transfer News: Fabregas, Villa, El Shaarawy And Wanyama Involved In Latest Speculation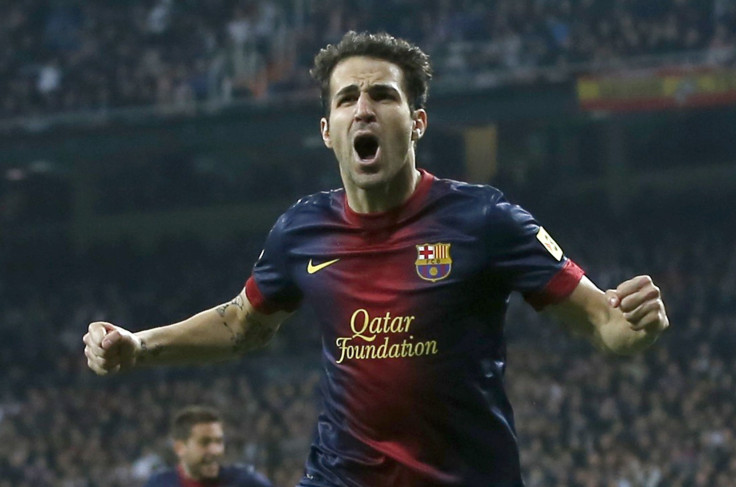 Cesc Fabregas has said that he wants to finish his career with Barcelona, dealing a blow to Arsenal fans who hoped that the midfielder would one day return to the Gunners.
There was reportedly a clause inserted in the deal that took the Spain international to the Camp Nou in 2011, giving Arsenal first-option should Barcelona ever decide to sell. Fabregas' comments last September that he was unhappy with his then inability to hold down a regular place in the Barcelona side fueled speculation of an improbable return.
Since that time, the 25-year-old has become a key presence in Barcelona's incredible start to the season. Commenting, this week, on Barcelona goalkeeper Victor Valdes' decision not to sign a new contract in search of an experience abroad, Fabregas claimed he can understand that desire, but it is already in his past.
"What Victor wants to experience now I went through when I was young and it was fantastic for me," Fabregas said, according to Sky Sports.
"But now I have returned and I want to stay, if I can and if I deserve to, forever."
There has been much talk of late about Arsenal's attempts to sign Fabregas' Barcelona teammate David Villa, but the Gunners' interest could not be over, according to Metro.
While Barcelona had refused to allow the forward to leave in January, there has been widespread belief that Villa could be moving on in the summer.
Having struggled for regular action since his return from a broken leg at the start of the campaign, Villa was forced to visit hospital last week with kidney stones and has since been readmitted after continuing to suffer from the abdominal pain, renal colic.
That wouldn't seem like the type of condition that would dissuade a club from signing a player, but that is exactly what is being claimed by Metro.
It may well be that Arsenal decide to move for younger targets than the 31-year-old at the end of the season, but it is hard to fathom that this recent illness will be a factor in the Arsene Wenger's thinking.
One player that is likely to be prominent in the Arsenal manager's thoughts in the summer is Celtic midfielder Victor Wanyama. The powerful Kenyan could be just what Arsenal need in the center of midfield and the Gunners are thought to have had him watched on numerous occasions.
The Daily Mail reports that a representative from Arsenal was again in the stands to watch the 21-year-old in action for Celtic in the first leg of their Champions League tie with Juventus on Tuesday. Worryingly for Arsenal, also in attendance, according to the Mail, were scouts from Chelsea and Manchester City.
Manchester United have also been heavily linked to Wanyama, who has been valued at £25 million by his manager Neil Lennon.
Finally, it appears that reported Arsenal target Stephan El Shaarawy is set stay at Milan. TalkSport claims that both Arsenal and Manchester City were keen on the 20-year-old rising star.
A move to the Emirates always appeared a long shot, however, with the Italy international already a key figure at Milan and likely to be chased by Europe's top clubs if he ever were made available.
It appears that the forward will be staying put, with Corriere dello Sport reporting that El Shaarawy will sign an extension to remain at Milan until 2018. The story also comments that it would take a bid of €40 million (£34.5m) for the Rossoneri to even considering selling the man, who they hope will form an exciting partnership with new signing Mario Balotelli.
© Copyright IBTimes 2023. All rights reserved.