ARSENAL TRANSFER NEWS: Wenger is Overly Cautious Despite His Comments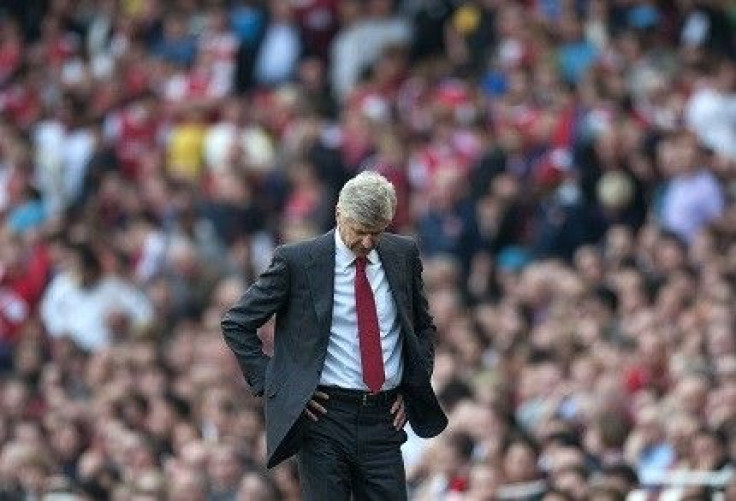 Arsenal fans are tired of the waiting game for Arsene Wenger to make up his mind.
At this point, the Gunners have a great deal of money to throw around after the departure of Cesc Fabregas and the likely exit of Samir Nasri. The transfer deadline is just two weeks away, and Arsenal will need big name replacements.
The problem is, Arsenal are moving very slow, and being cautious won't help their chances of landing a prominent midfielder when at least two are sorely needed. Many clubs are not desperate to sell their top talent, and Arsenal should be desperate to buy. The Arsenal supporters know all this, and Wenger is aware of the fan base's sour disposition.
"We are not frightened to spend money when we think it's right," said Wenger to Sky Sports. "Our fans have more reasons to be proud of this club - the values here, the way the club is run, what the club is built (upon) - than being angry with the club."
Though Wenger is very tight-lipped about mentioning players who the club is targeting to not destabilize other clubs, word leaks very often, as it did with Gervinho earlier this summer.
At the moment, no sources are giving any real indication that Arsenal have made a serious effort to pursue big name midfielders. Eden Hazard, a creative midfielder that deserves to be an obvious Arsenal target, has barely been mentioned in the past month. The same goes for Mario Gotze and Douglas Costa, who both seem to be solid fits at Emirates.
Unless the club is in financial strains that have yet to be disclosed, there is no need to be idle with a large surplus of funds to land star power. Meanwhile, Wenger doesn't seem to have the sense of urgency that is needed at this point.
"When something bad happens to you there is only one way to respond as a club - with unity," he said.
Unity is important, but so is talent. At the moment, Arsenal is more short on talent that they need to be. There are needs that were supposed to be taken care of months ago that have yet to be addressed.
And it gets worse. Arsenal were supposed to be busy searching for attacking midfielders, and an experienced centre back, but have neglected to pursue a defensive midfielder. The club was basically relying on the steady status of Alex Song, and now Song has been banned for three matches after admitting to stomping on Newcastle's Joey Barton in the season opener.
With Fabregas out, Nasri on his way out, Jack Wilshere injured, and Song suspended, Arsenal will be facing Liverpool at Emirates this weekend with a makeshift midfield in only the second match of the season.
It didn't have to be this way. Wenger had all summer to pursue a midfielder, and instead only went after Gervinho, a young defender in Carl Jenkinson, and two young forwards who will likely be used sparingly this season.
Who will replace Fabregas and Nasri? Where is Song's back-up? Where is the experience left back in case injury-prone Kieran Gibbs goes down? Who will partner with Thomas Vermaelen at centre back? Where is the experienced right back to replace Emmanuel Eboue? Is Gervinho the only quality forward Arsenal plan to add? Where is the upgrade at goalkeeper?
So far, Wenger doesn't seem to have an answer for these questions.
Arsenal fans don't currently have the team they want -- they at least deserve answers.
© Copyright IBTimes 2023. All rights reserved.