An art with dead insects; Jennifer Angus shows the way
Jennifer Angus, a textile artist working with an inventory of 30,000 bugs arranges insects into decorative pattern that will probably make you a little queasy.
People roll up their newspaper at the sight of the insects but insects are simply a material of art for Jennifer Angus.
Angus is so comfortable with insects that she'll handle them while eating a bag of chips. "It sounds a bit gross, I know," she told fastcodesign website recently.
A professor in the Design Studies department at the University of Wisconsin – Madison, Angus received her education at the Nova Scotia College of Art and Design (BFA) and at the School of the Art Institute of Chicago.
Her work was exhibited globally including Australia, Canada, Germany, Japan and Spain and she has received several awards including Canada Council, Ontario Arts Council and Wisconsin Arts Board grants.
At the University of Wisconsin-Madison she has received annual grants from the Graduate School as well a Vilas Associate Award, the Emily Mead Baldwin-Bascom Professorship in the Creative Arts and most recently a Romnes Fellowship.
Her exhibition "A Terrible Beauty" at the Textile Museum of Canada was chosen "Exhibition of the Year" by the Ontario Association of Art Galleries in 2006
Angus has been using thousands of bugs to create kaleidoscopic patterns on the wall since 1999.
"Part of my work is the rehabilitation of the image of insects. Insects are needed for decomposition and also to pollinate flowers that, in turn, produce fruit," Angus said.
Angus discovered the decorative potential of insects in the '80s. She has over 30,000 bugs, which cost between 50 cents to $25. She used that insect over and over again in different exhibitions.
She works with bugs like grasshoppers with pinkish-purple wings, electric blue weevils, polka-dot weevils, leaf mimics, and thorny stick insects that can withstand the wear and tear of repeated pinning.
Angus is inspired by the history of the exhibition space while creating patterns for her insects.
Working with a floor plan and photos of all insects to scale on Photoshop, Angus meticulously lays out where each mandala, honeycomb, or zigzag pattern will go.
From there, her well-practiced team installs a grid of thread in each location and puts up an entomological wonderland set in a Victorian-era sitting room in just 7 to 10 days, fastcodesign reported.
Here are some of her art works made up of bugs: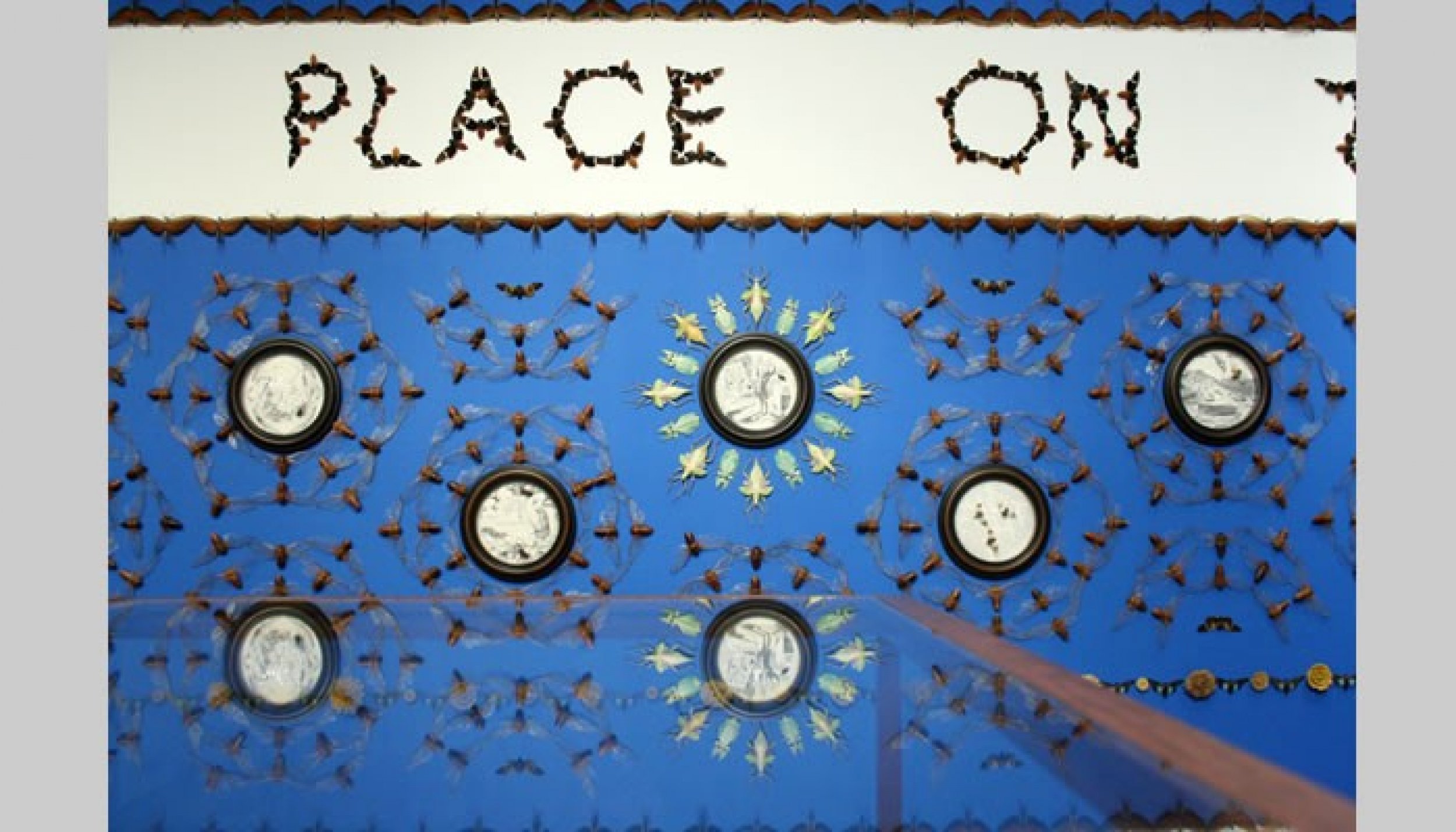 © Copyright IBTimes 2023. All rights reserved.