Asian Shares Rise on Hopes of More Fed Support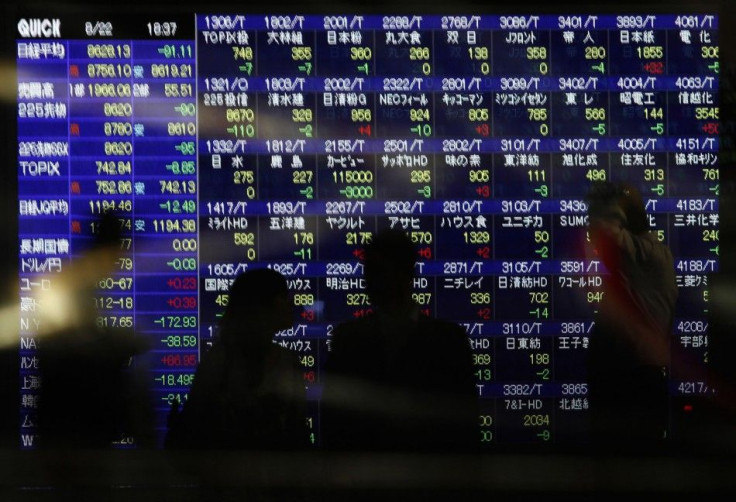 Asian shares rose on Wednesday as speculation the Federal Reserve may signal further moves to support the struggling U.S. economy sustained a modest rebound from this month's sharp sell-off.
Tokyo markets showed little reaction to a downgrade of Japanese government debt by ratings agency Moody's, with the yen suffering a brief wobble and Japanese government bond futures dipping a little.
It's been a while since Japan lost its triple-A status, so it is unlikely that Japan's interest rates will rise sharply, said Fumiyuki Takahashi, managing director at Barclays Capital.
Gold firmed, after tumbling from a record high on Tuesday as investors switched money back into shares, driving U.S. stocks up around 3 percent.
The rally, perversely, was driven by more dismal U.S. economic data, which raised expectations that Federal Reserve Chairman Ben Bernanke will use his speech on Friday at a central bankers' conference in Jackson Hole, Wyoming, to signal a fresh monetary offensive to fend off renewed recession.
Last year, Bernanke used the occasion to prepare the ground for the Fed's second round of quantitative easing, a $600 billion bond buying programme designed to pump cash and confidence into financial markets that became known as QE2.
The market is becoming more pessimistic about the economic outlook and is responding by pricing in a greater chance of QE3, said Bricklin Dwyer, economist at BNP Paribas, in a client note.
Japan's Nikkei share average rose 0.4 percent on Wednesday, as did MSCI's broadest index of Asia Pacific shares outside Japan.
World stocks have been tumbling since the beginning of August on fears the United States is slipping back into recession and as Europe's sovereign debt crisis worsens.
The MSCI index remains down about 13 percent for the month so far, and about 17 percent below is April high.
Moody's announced shortly before Asian markets opened that it was cutting Japan's credit rating by one notch to Aa3, mirroring an earlier downgrade by rival S&P, blaming large budget deficits and a buildup of debt since the global recession of 2009.
The yen dipped initially, but swiftly regained its poise and was trading up a little on the day around 76.80 . Japanese government bond September 10-year futures fell 0.13 point to 142.42, and the benchmark 10-year yield rose 2 basis points to 1.030 percent.
Gold was up 0.7 percent around $1,843 an ounce, after sliding from a record above $1,910 on Tuesday.
U.S. crude oil, which has tended to follow equities in recent months, rose 0.3 percent to $85.72 an ounce.
© Copyright Thomson Reuters 2023. All rights reserved.