Assad To UN On Chemical Weapons: 'We Are Being Framed'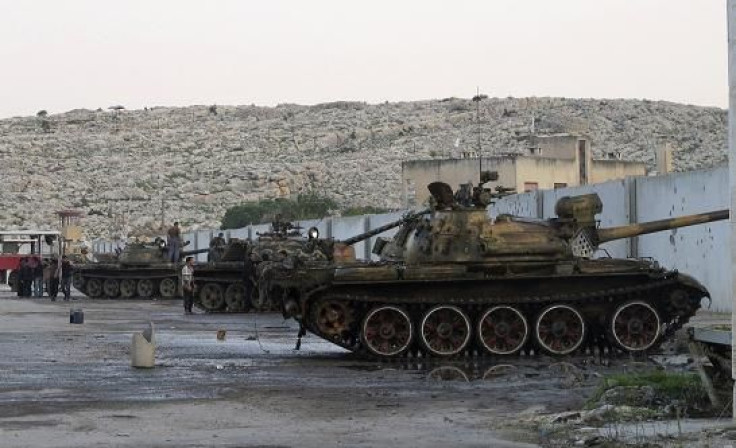 Syrian President Bashar al-Assad's Foreign Ministry sent a letter to the U.N. saying Syria has a "serious fear" of being framed for using chemical weapons.
Published in part by the Syrian Arab News Agency, the Foreign Ministry accused the U.S. of "launching a campaign of allegations on the possibility that Syria could use chemical weapons during the current crisis."
"What raises concerns about this news circulated by the media is our serious fear that some of the countries backing terrorism and terrorists might provide the armed terrorist groups with chemical weapons and claim that it was the Syrian government that used the weapons," CNN translated.
The U.S. says it has intelligence that suggests forces loyal to Assad have been loading sarin gas into shells for use against the opposition. U.S. President Barack Obama has hinted that the use of such weapons would spark U.S. intervention in the Syrian conflict. U.K. Foreign Secretary William Hague confirmed on Monday to the Telegraph that he had seen proof that a chemical and biological "last-ditch defense" was being assembled in Damascus.
"We have seen enough evidence to know that they need a warning and they have received that warning," Hague told the paper, also hinting that the weapons' use could trigger a Western intervention.
U.S. Secretary of State Hillary Clinton voiced concern at a press briefing last week that an "increasingly desperate Assad" would use chemical weapons, either as a last stand or to gain some semblance of control over a situation that is slowly slipping out of his hands.
Jeffrey White, a defense fellow at the Washington Institute for Improving the Quality of U.S.-Middle East Policy, pointed out that if this "desperate Assad" rears its ugly head in an attempt to change the military equation, the regime will try to pass it off as the work of terrorists or other Islamist, rebel groups.
The decision to deploy the weapons, White said, depends on the regime's objective.
"If they want to terrorize the population, to break their will, to show 'We'll go to any lengths to stay in power,' that's one kind of use," White said. "My sense is that they'd try limited use, and claim it was terrorists and outsiders … they will throw up a cloud of confusion."
That seems to be what is happening presently, before the weapons have even been employed. Many other world leaders have been piling onto Assad by pre-emptively condemning him for firing sarin gas, which is considered a weapon of mass destruction, on his own people.
"Let me say it from here today," said European Commission President Jose Manuel Barroso at the Nobel Peace Prize ceremony on Monday. "The current situation in Syria is a stain on the world's conscience, and the international community has a moral duty to address it."
Israeli Ambassador to the U.S. Michael Oren told Chris Matthews on Fox News Sunday that Israel is watching its neighbor to the northwest "very carefully," especially given the risk that the weapons could end up in the wrong hands (read: Hezbollah in Lebanon).
"Syria has a very varied, deep chemical weapons program," Oren said. "It is geographically dispersed as well. Were those weapons to pass on to the wrong hands, Hezbollah's hands, for example, that would be a game-changer for us."
"We have a clear red line about those weapons passing into the wrong hands," he said.
One group not flexing its muscles, however, is the U.N. In a meeting with Russian Deputy Foreign Minister Mikhail Bogdanov and U.S. Deputy Secretary of State William Burns in Geneva, Joint Special Representative of the U.N. Lakhdar Brahimi told the press on Sunday that the Syrian peace process could be saved.
"All three parties reaffirmed their common assessment that the situation in Syria was bad and getting worse," Brahimi said in a statement. "They stressed that a political process to end the crisis in Syria was necessary and still possible."
© Copyright IBTimes 2023. All rights reserved.