Atlanta Falcons vs. Tampa Bay Buccaneers 2016: Prediction, Betting Odds For Week 9 Thursday Night Football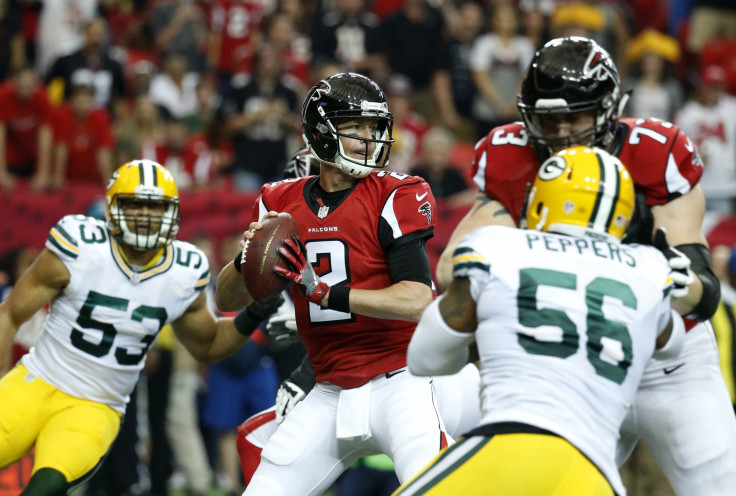 Week 9 of the 2016 NFL season begins with an important divisional matchup that could go a long way in determining the winner of the NFC South. The Atlanta Falcons visit the Tampa Bay Buccaneers on "Thursday Night Football," looking to expand their first-place lead.
With the defending NFC champion Carolina Panthers going 2-5 to start the year, Atlanta has become the clear favorite in the division. The Falcons (5-3) are 1.5 games ahead of the Buccaneers and New Orleans Saints, though Tampa Bay has proven they can beat Atlanta.
The Bucs went on the road in the season opener, defeating the Falcons 31-24. Jameis Winston had his best game of the season, completing 71.9 percent of his passes and throwing four touchdown passes.
Unfortunately for Tampa Bay, last year's No. 1 overall draft pick has not come close to sustaining that level of play throughout the season. Winston has thrown for 10 scores and eight interceptions in six games since, and his 81.9 passer rating ranks 25th among starting quarterbacks.
With an MVP candidate at quarterback, the Falcons have a significant advantage at the game's most important position. Ryan ranks first in passing yards (2,636) and touchdowns (19), and he only trails Tom Brady in passer rating (115.8). On Sunday, Ryan threw for three scores, and he engineered a game-winning drive in the final minute against the Green Bay Packers.
Even in Atlanta's loss to Tampa Bay, Ryan posted a 112.6 passer rating with two touchdowns and no interceptions. He hasn't had a bad game all season, going without an interception in half of the Falcons' games and never being picked off more than once in a single contest.
Julio Jones is second in the NFL with 859 receiving yards, and running backs Devonta Freeman and Tevin Coleman have combined to total 1,299 yards from scrimmage. Atlanta leads the NFL with 32.8 points per game, and it's hard to believe that the Buccaneers will be the team that slows them down.
In their 30-24 overtime loss to the Oakland Raiders in Week 8, the Bucs allowed Derek Carr to throw for 513 yards and four touchdowns. Carson Palmer threw for 304 yards and three touchdowns against Tampa Bay in Week 2. Tampa Bay ranks 26th in opponents' passer rating, and they've surrendered nine touchdowns with no picks in three games against top-10 quarterbacks.
For some reason, the Bucs have been successful against the Falcons in the last two years. Tampa Bay went 2-0 against Atlanta in 2015, and they defeated their rivals handily in Week 1.
But Week 1 was likely an aberration for the Bucs. They have not looked anything like a playoff team since then, losing four out of six games. Their only wins have come against the San Francisco 49ers and the Panthers, who were without Cam Newton.
Atlanta is a three-point favorite at Las Vegas and online sportsbooks, via OddsShark, and they are only giving Tampa Bay a field goal because they are playing on the road. But the Falcons have been terrific away from the Georgia Dome, and the Bucs appear to have very little home-field advantage.
The Falcons have wins on the road against the Denver Broncos and Oakland Raiders, who are both 5-2, and they nearly won at Seattle, which might be the most difficult place for any visiting team to play. Tampa Bay is 0-3 at home, and they have a 3-17 record in their last 20 games at Raymond James Stadium.
Tampa Bay was able to keep up with Atlanta's explosive offense in Week 1, and the San Diego Chargers upset Atlanta in Week 7 by playing the same way. Thursday should be another high-scoring contest with the final score potentially surpassing the over/under of 51.5 points, but the Bucs likely don't have what it takes to defeat the Falcons for a second time in 2016.
Prediction: Atlanta over Tampa Bay, 33-24
© Copyright IBTimes 2023. All rights reserved.