AT&T CEO: Spectrum, FCC Challenges for Telecommunications Company in the Future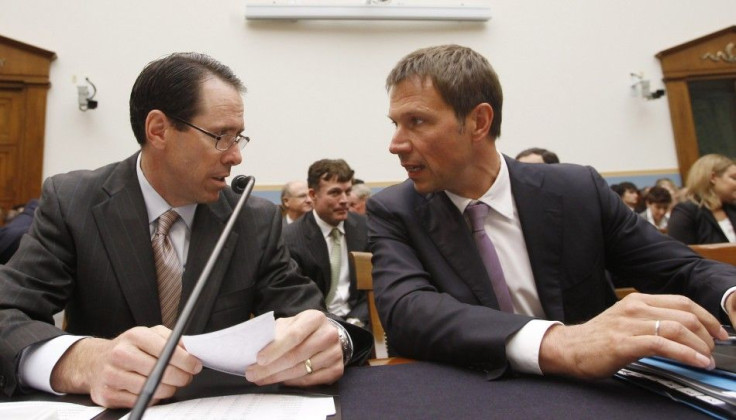 Wireless spectrum for smartphones and how the Federal Communications Commission deals with it are the major obstacles facing AT&T, CEO Randall Stephenson said Thursday.
Dallas-based AT&T sold about 25 million smartphones in 2011, 9.4 million of them in the fourth quarter alone. Fifty-seven percent of post-paid customers currently use smartphones. AT&T expects to sell as many as 25 million more this year.
Mobile providers seek to acquire more wireless spectrum to meet the data-intensive demands of the smartphone, and the FCC regulates its distribution. Relations between the FCC and AT&T have been frosty, especially when the FCC opposed last year's abortive bid to acquire T-Mobile USA. In November, an FCC report rebutted claims AT&T didn't have enough spectrum.
We are sitting here and we don't know how much spectrum we can hold and who we can do business with, Stephenson said in an investor conference call.
Legislation in Congress may help AT&T get the spectrum it desires. A bill, introduced by Rep. Greg Walden, R-Ore., would allow the FCC to auction wireless spectrum licenses that currently belongs to broadcasters. The legislation would require spectrum to be auctioned off to the highest bidder.
Opponents, including FCC Chairman Julius Genachowski and some congressional Democrats, contend the FCC should have the power to deny sales if it believes large telecommunications carriers would take an unfair share of the spectrum, leaving small carriers unable to compete.
A broad range of America's top experts on auctions agree that it would not be wise to prejudge or micromanage FCC auction design and bandwidth plans, Genachowski said two weeks ago. Doing so could significantly diminish the value of the spectrum auctions, and stifle mobile innovation.
Analyst Jeff Kagan believes the FCC will eventually set up a system where spectrum will be pooled to ensure smaller carriers can compete for customers who want strong data coverage for smartphones.
This [pooling spectrum] will allow all carriers to provide data plans going forward, which will be good for the marketplace, Kagan said in a previous interview.
Despite the tension between the FCC and AT&T, the commission approved AT&T's purchase of spectrum from San Diego-based Qualcomm for $1.9 billion. AT&T CEO Stephenson said the company had enough spectrum in the short-term to meet its goal of building out its 4G LTE wireless network to 80 percent of the U.S. by 2013.
AT&T reported a fourth-quarter net loss of $6.68 billion, or $1.12 per share, reversing prior-year net income of $1.09 billion, or 18 cents. Excluding one-time charges such as a breakup fee paid to T-Mobile owner Deutsche Telekom, net income fell 20 percent to 42 cents a share.
While smartphone sales helped quarterly revenue increase only $1.1 billion to $32.5 billion, they also reduced the company's profit margins because AT&T had to pay hefty fees to Apple and other smartphone providers.
The company said it added 2.5 million wireless subscribers in the quarter, bringing the total to 103.2 million, up 7.7 million in the past 12 months. AT&T is the No. 2 wireless carrier behind Verizon Wireless, a joint venture controlled by New York-based Verizon Communications with London-based Vodafone.
Revenue for AT&T's wireline unit dropped 1.4 percent to $9.3 billion due to a decline in wireline voice services. However, AT&T said it added 208,000 customers to U-verse TV, bringing the total to 3.8 million. U-verse revenue rose 44 percent compared to the year earlier period.
The company projected at least mid-single-digit growth for 2012.
Shares of AT&T closed at $29.45, down 2.52 percent.
© Copyright IBTimes 2023. All rights reserved.
FOLLOW MORE IBT NEWS ON THE BELOW CHANNELS