Auburn Tigers - Florida State Seminoles: 2014 BCS Championship Game Prediction And Latest Betting Odds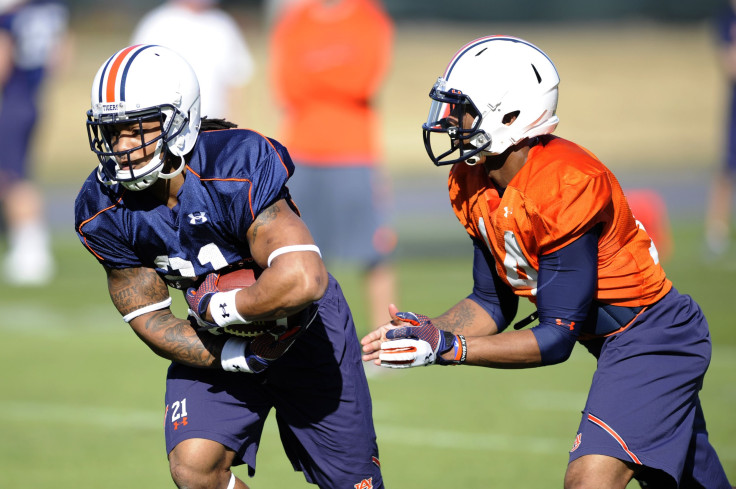 In their first meeting in over 20 years, the No. 1 Florida State Seminoles (13-0, 8-0 ACC) challenge the No. 2 Auburn Tigers (12-1, 7-1 SEC) for the BCS national championship title on Monday night at the Rose Bowl in Pasadena.
The Tigers own the all-time series at 13-4-1, and can pad that mark in what will be the final national title game of the Bowl Championship Series era before next year's playoff system begin.
The programs last met in the regular season in 1990, a 20-17 victory for Auburn. That snapped a three-game winning streak for the Seminoles, which included a 13-7 Sugar Bowl win in 1989.
It will also be the second national title opportunity for Auburn in the last four seasons. The Seminoles put themselves back on college football's biggest stage since their last championship game appearance in the 2000 Orange Bowl.
While both schools certainly earned a shot at the national title, each took very different routes. The Seminoles dominated the competition on both sides of the ball all season and captured the ACC, while Auburn trudged through some difficult and close games in the SEC and needed a last second, 109-yard returned field goal attempt to thwart Alabama in the conference title game.
Boasting the FBS's only undefeated record, the top offense (53 ppg) and defense (10.7 ppg), and this year's Heisman winner in freshman quarterback Jameis Winston, the Seminoles were first listed as 7.5 point favorites when the matchup was decided in early December. Now the line has moved as high nine points in favor of the Seminoles.
Winston won the Heisman in a landslide by passing for 3,820 yards and 38 touchdowns, along with the country's best efficiency rating of 190.1.
The Florida State defense was just as dominant, allowing five touchdowns in the final five regular season games, and just 17 touchdowns and 268.5 total yards per game.
Even with such impressive stats, Florida State won't play reactionary football.
"The thing you'd better do, you'd better play disciplined. All other stuff is irrelevant if you don't play disciplined. Go out and play fundamental football, that's the key," Seminoles defensive line coach Odell Haggins said to USA Today. "Our whole thing is talking about fundamentals. You can't go out and play in the game saying, 'We've got to do this.' You'd better be fundamentally sound. That's the main thing."
The Seminoles secondary, led by freshman defensive back Nate Andrews, senior linebacker Telvin Smith, and senior defensive back Lamarcus Joyner, notched 25 interceptions and 72 passes defended and stand as the school's most dominate defensive weapons.
That impressive and talented core will be asked to prevent breakaway runs by Auburn's Heisman candidate in running back Tre Mason. Partnered with run-first quarterback Nick Marshall, the junior Mason tallied 1,621 yards and 22 touchdowns for the country's leading rushing attack.
Calling the shots for the ninth highest scoring offense in the country, Marshall balanced his 1,023 rushing yards by completing 60.4 percent of his passes for 1,759 yards and 12 touchdowns to five interceptions.
Senior Tigers defensive end Dee Ford was fourth in the SEC with 8.5, and Auburn was third overall in the conference with 28.0 total sacks for a loss of 211 yards.
Ford, along with freshman Carl Lawson (4.0 sacks), can break past a Florida State offensive line that was 10th in ACC in sacks allowed with 29.0.
"I think being battled tested, if it's a close game will definitely help you," Auburn head coach Gus Malzahn said to the school's official site. "There's no doubt that I know how our guys are going to react. They're not going to panic. They're going to believe."
Betting Odds: Florida State favored by 9
Over/Under: 68 points
Time: Monday, 8:30 p.m. ET
TV Channel: ESPN
Prediction: Florida State 45, Auburn 24
© Copyright IBTimes 2023. All rights reserved.