Auntie Anne's To Rename Pretzel Dog In Malaysia After Islamic Authorities Say It Is Confusing To Muslims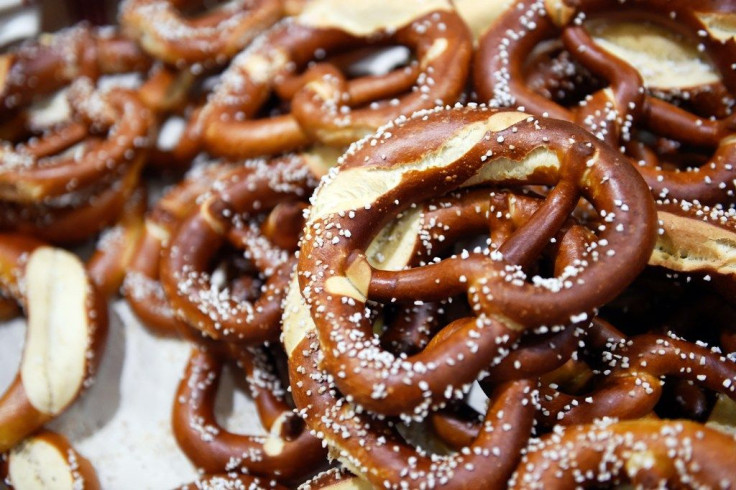 Islamic authorities in Malaysia are at loggerheads with American pretzel chain Auntie Anne's over its popular Pretzel Dog, according to reports Tuesday. The officials have demanded the food chain to rename the dish saying it is confusing for Muslim customers — even though Pretzel Dog does not contain dog meat.
The Malaysian Islamic Development Department has suggested calling the dish "Pretzel Sausage" for the food chain to get halal certification based on Islamic dietary laws. Muslims perceive dogs as unclean.
"It is more appropriate to use the name 'Pretzel Sausage,'" Sirajuddin Suhaimee, the department's halal director, told the Star Online. "The improvement process is being conducted from time to time. Malaysia's good name as a pioneering 'halal global' figure needs to be improved. To avoid this issue at the global stage, the panel has decided not to use such a name."
Auntie Anne's halal executive, Farhatul Kamilah, said on her Facebook page that the chain was declined halal certificate due to the "hot dog" name and other issues. Kamilah added that the food chain has already proposed new names for the dish and is awaiting the department's approval.
Other hot dog outlets in Malaysia have faced similar problems. U.S. fast food chain A&W in Malaysia now sells hot dogs as coneys and franks (frankfurters) and root beer — that does not contain beer — as simply RB.
© Copyright IBTimes 2023. All rights reserved.