Australian Open: 'The Kid Stopped Dreaming,' Medvedev Says After Loss To Nadal [Watch]
KEY POINTS
Nadal defeated Medvedev in a five-setter at the AUS Open final
It was Nadal's record 21st Grand Slam
It was also Medvedev's second loss in AUS Open final
Daniil Medvedev slammed the crowd at the Australian Open in an extraordinary press conference after his heartbreaking loss to Rafael Nadal in the final in Melbourne on Sunday.
Medvedev had his second Grand Slam title well within his reach when he quite easily went two sets up against the sixth-seeded Nadal. Nevertheless, the Russian gave up the lead as Nadal made an incredible turnaround to surpass Roger Federer and Novak Djokovic by claiming a record 21st major title.
"It's going to be a little bit of a new press conference," Medvedev told the reporters after the match, before adding that he was going to tell a story about his tennis dreams as a kid.
Medvedev, who played the Australian Open final for a second consecutive time, spoke about his childhood and dreams at the beginning of his career. He said at times he even doubted if he should continue chasing his dream of achieving big things in tennis.
"I'm just talking about a few moments where the kid stopped dreaming, and today was one of them. I'm not going to really tell why. I'm going to say it like this. If there is a tournament on hard courts in Moscow, before Roland Garros or Wimbledon, I'm going to go there even if I miss the Wimbledon or Roland Garros or whatever. The kid stopped dreaming. The kid is going to play for himself. That's it. That's my story," added Medvedev.
Following this, Medvedev was asked by a reporter if he was referring to issues he had with the crowd throughout the 2022 Australian Open. However, the Russian national refused to answer any questions about it.
"I'm just going to give one small example. Before Rafa serves even in the fifth set, there would be somebody, and I would even be surprised, like one guy screaming, 'C'mon, Daniil.' A thousand people would be like, 'Tsss, tsss, tsss.' That sound. Before my serve, I didn't hear it. It's disappointing. It's disrespectful, it's disappointing. I'm not sure after 30 years I'm going to want to play tennis," a disappointed Medevdev further said.
In the last five Grand Slams since January 2021, Medvedev has made it to the final on three occasions. At the 2021 US Open final, the 25-year-old pulled off an upset as he defeated an in-form Djokovic to deny the Serbian a chance to go ahead in the list of most major titles.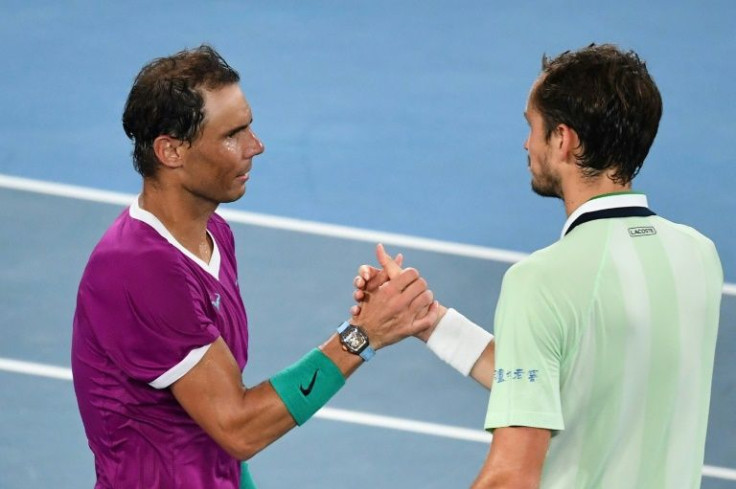 Alas, Medvedev couldn't do the same with Nadal, who had defeated the Russian player in the final of the 2019 US Open.
"Again, the kid that was dreaming is not anymore in me after today. It will be tougher to continue tennis when it's like this," Medvedev said.
© Copyright IBTimes 2023. All rights reserved.