Avegant Glyph: Kickstarter Headset Sets The Stage For Highly Immersive Wearables
Glyph Personal Viewer: Q&A With Avegant CEO Edward Tang About The 3D Kickstarter Success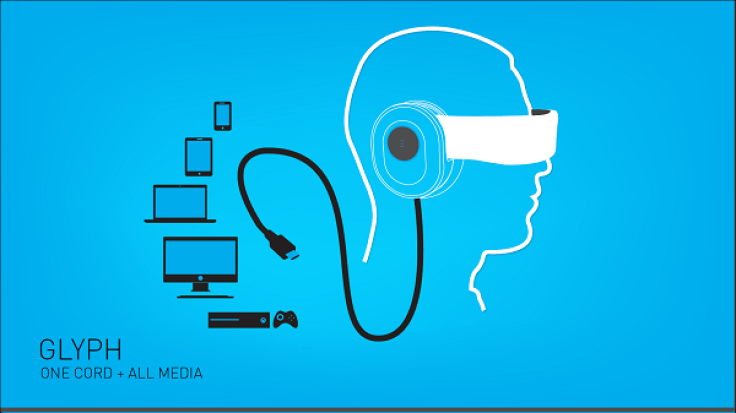 The Avegant Glyph looks a bit like a pair of Beats headphones, with one major difference. Pull the headband down to eye level and you're looking at a floating movie theater projected directly onto your eyes.
Using a similar digital light processing, or DLP, technology developed by Texas Instruments and used by most cinema screens worldwide. It is making waves on Kickstarter, and shows no sign of slowing down. Kickstarter gives campaigns 30 days to reach their goals, and many do not. The Glyph reached its goal in about four hours.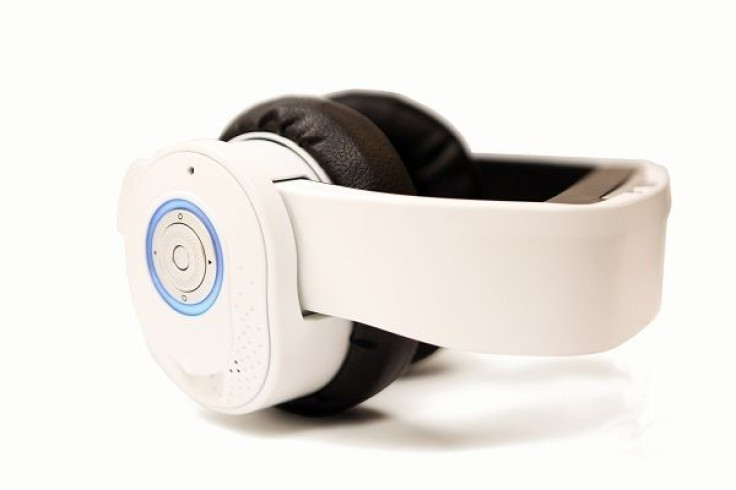 In under 48 hours, Avegant had doubled its goal with the Glyph, and as it currently stands on Kickstarter, the $500 "mobile personal theater" has raised more than three times its goal, with 23 days left to go.
The International Business Times spoke with Avegant CEO Edward Tang about the Glyph, and about debuting a product on the crowdfunding platform. Tang went in-depth about the Glyph, how far it has come from its enormous early prototype, what it will be and where it is headed.
"It has been a wonderful surprise. We knew we had something cool, but we definitely didn't expect the huge level of response that we've been getting. It's been incredible."
Why is crowdfunding such an important platform for Avegant, and products like the Glyph?
"Crowdfunding is a very good process for trying to sell a product," Tang says. "It's not like an online store where you just sell a product and then you're done. We're trying to tap into the community, not just for funding support but for other kinds of feedback too."
What sort of feedback are you looking for?
"To make sure there's a market that people are going to buy [the Glyph], before we take the Plunge," Tang says. "We're getting people involved with this journey -- and it really is a journey. ... These people aren't just buyers, they're backers, and supporters. We receive comments through Kickstarter or they're sending us as messages. That kind of feedback is extremely valuable.
People are doing more things on their phones and tablets. The functionality is there, but they're losing that home theater audio-visual experience. We want to give that back to people.
How did Avegant (and the Glyph) come about?
"[Avegant] co-founder Alan Evans created the tech doing research. ... We started the company about a year ago. And we originally started with these proof of concepts -- the Glyph was the size of a coffee table. You had to stick your head in it," Tang says with a laugh.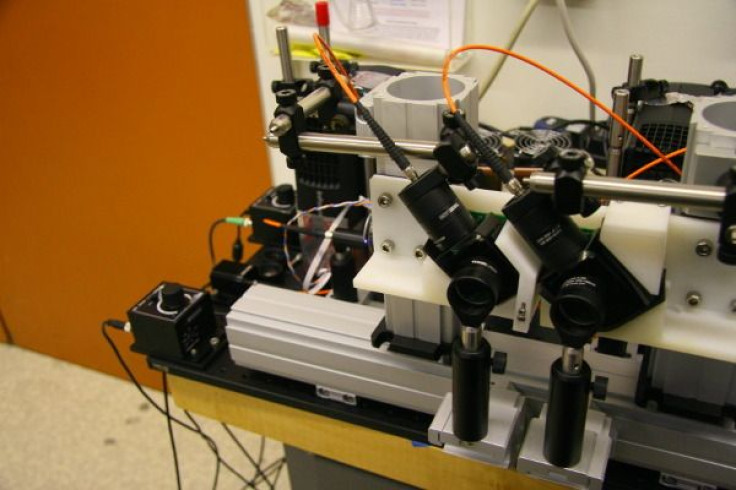 "It was like we built an eye doctor's office in our lab. But the quality was there -- it was a stunning experience. It allowed us to go to our friends and family and networks and say 'we think we have something cool here, how could we make it more realistic?'"
Where did it go from there?
"The second generation was a pair of bulky glasses, but something you could put on your face. That was when we realized that we were really on to something. When we went to build a product, we really changed our direction. We had to explore how people behaved with these wearables -- what to watch, what devices they were watching them on."
"Mobile platforms are really taking off, for the types of media that traditionally were at-home media. Movies, TV, video games," Tang says. "But now that there's a transition -- TV use is kind of diminishing. People are doing more things on their phones and tablets. The functionality is all there, but they're losing that audio-visual experience they would have with a home theater. We want to give that back to people, make it even better."
How will you make the experience better?
"With the Glyph, we can offer the level of quality people have always wanted. It is superior to any display you've seen in your life," Tang says. "85 percent of people spend most of their time on these devices."
"If you're using only the headphones, listening to audio on the Glyph, then it will outlast your phone. You can get continuous video for about 3 hours."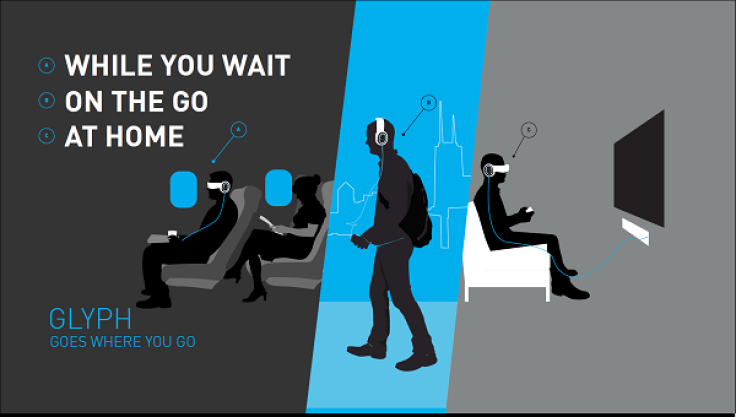 Display brightness on a smartphone or tablet is often one of the biggest battery drains. How does the Glyph last so long?
"Our display, the amount of power it consumes is very low," Tang says. "The actual brightness is low. Because we're so close to the eye, we don't have to overcome an ambient environment. If you are outdoors with a phone, you have to overcome the sunlight. Because it's projected onto your eye, it doesn't require intensely bright lights. The Glyph is beautifully brilliant and bright wherever you are."
How does the audio in the Glyph compare to, say, a pair of high-end headphones?
"A bunch of us in Avegant are huge audiophiles. When we went with a headphone-replacement style and designed the audio, we wanted to be able to put it up against any headphones on the market. We wanted to make sure that if you owned Beyer Dynamics, Audio Technicas or Beats, that you would put the Glyph on and still be wowed by the sound quality."
How does the 3D work?
The Glyph "presents two completely independent images, which allows it to present a much more realistic 3D. Thanks to the resolution and brightness, it looks incredibly real. People have very emotional responses to it. We've shown quite a few people with eye conditions, that prevented them from seeing 3D, and they loved it."
How does 3D on the Glyph compare to existing technologies?
"The two main types of 3D -- active and passive -- that create the illusion through either polarization or shutters. While they do work for most people, they have a couple of problems. 1 out of 7, or 15 percent of people, can't even see the 3D. We have addressed those issues.
"The quality that you get [with passive and active 3D] is actually pretty poor. That's because you're going to get interlace, one eye is seeing every other line – and therefore each eye only half the resolution. You also get a fair amount of crosstalk -- your right eye sees a little bit of what your left eye is getting, which can cause headaches."
How does the Glyph experience compare to a 4K display or other home theater tech on the market?
"Pixellation doesn't exist on the Glyph. There's no screendoor effect. Even though the inputs might only be 720p, people perceive it as up to 4K. 3D content looks significantly better, it's mind-blowing how realistic it looks. People sit there with their jaws open.
"We are doing a road show where we show people, backers or not, how things look on the Glyph from a variety of different inputs, from Netflix on an iPhone to a 3D Blu-ray. So far, the 3D experience has been disappointing.
"I encourage people that don't like 3D to come out and try the Glyph on our road show. It's comfortable. You don't get those weird sensations, like eye fatigue or headaches. And the Glyph doesn't block out peripheral vision.
How does the Glyph compare to other headsets on the market, like the Oculus Rift or the Sony Personal 3D Viewers?
"Other types of super immersive headsets, we felt, are not the right solution for the general public right now. They're not really portable. When it comes to the Oculus Rift, we're not seeing VR [virtual reality] really catching on, or becoming available for people to experience yet.
"The Glyph offers superior display technology to anyone else on the market. As the VR market starts to grow, we will address that market as well. We are huge VR fans. We included a wireless Bluetooth head tracker in the device, that allows it to track where you turn your head, to create that kind of experience. So we're going to give developers the tools to create new technology based on the Glyph.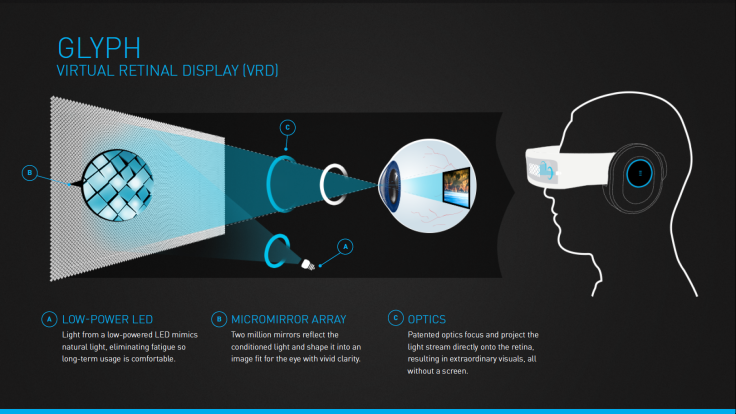 "Imagine streaming ESPN watching your favorite football game, and turning your head and looking around the stadium. That's what we're thinking about. The Sony -- the ergonomics are so poor on that device. If it messes up my hair I don't want to wear it, especially not on-the-go. It has an external control box, with a wire for power, another for video from the box, and then you have to add headphones to the mix. You can call that portable, but with the Glyph you only have one wire. It has a built-in battery so you only need the HDMI to connect it to what you want to watch.
"The people we show it to, in their minds, it makes the technology transparent. It becomes almost a real thing, not a screen that your viewing but a very immersive near-reality."
IBTimes will go hands on with the Glyph in a couple of weeks for an in-depth review. In the meantime, Tang notes that the Avegant Glyph will ship to backers on a first-come, first-served basis.
© Copyright IBTimes 2023. All rights reserved.