Baker Mayfield Suitors Possibly Down To Three; Seahawks' Level Of Interest Wanes
KEY POINTS
Three NFL teams are linked to Baker Mayfield
The Panthers loom as the top destination for Mayfield
Mayfield moving to Tampa Bay hardly makes sense with Tom Brady still actively playing
Baker Mayfield continued to wait on where he will be playing next NFL season, with critics believing that it will no longer be with the Cleveland Browns.
The Seattle Seahawks were mentioned as a logical place for the 27-year-old to go.
However, a report by Ian Rapoport of the NFL Network suggested that Seattle was never seriously interested in the former top pick.
Hence, this hints that the number of NFL teams interested in Mayfield may be down to three.
Moreover, this could pave the way for the Carolina Panthers to move in on the No. 1 pick of the 2018 NFL Draft.
But according to a report by sports journalist Michael Balko, other teams in the race for the services of Mayfield now include the Tampa Bay Buccaneers and Detroit Lions.
Between the two teams, the case of Tampa Bay is interesting.
Looking at their roster right now, Tom Brady remains their top quarterback barring any sudden changes.
Mayfield could end up becoming a backup, at least for the coming season.
Should Brady finally decide to retire, there is a chance that the Buccaneers may turn to Mayfield for starting quarterback duties.
However, there is a chance that Mayfield may not be willing to play as a backup for the coming season.
This may place the Panthers ahead of the pack, assuming that the financial side of things is ironed out.
The Panthers wanted Cleveland to pay $13 to $14 million, so that they would only be obliged to pay only about $5 million to $6 million according to the Charlotte Observer.
Mayfield is set to make $18.8 million in salary, an amount that needs to be addressed in any deal.
Some feel that the Browns could gamble and retain Mayfield, especially with uncertainty looming on the future of Deshaun Watson.
The NFL is reportedly considering handing the three-time Pro Bowler a lengthy suspension, one that could see him possibly miss the 2022-23 NFL season.
Given the strained relationship between Mayfield and the Browns' management, it would be hard to foresee him mending ties and quarterbacking for Cleveland from here on.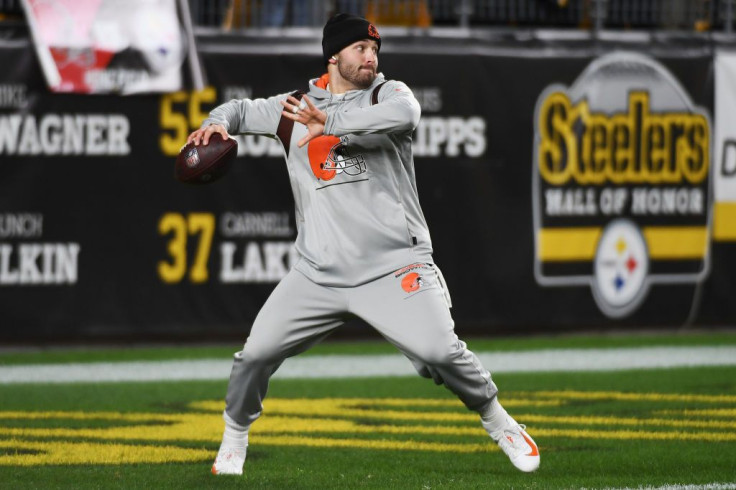 © Copyright IBTimes 2023. All rights reserved.