Baltimore Ravens Personnel Highly Optimistic About J.K. Dobbins' Outlook
KEY POINTS
J.K. Dobbins made his return to the Ravens a year after tearing his ACL
Running back Mike Davis hints at Dobbins being ready for Week 1
Injured Gus Edwards is also nearing a return
The Baltimore Ravens are hopeful that the football gods are on their side this NFL season as they start to welcome back players that they sorely missed from last season.
Chief among them is running back J.K. Dobbins, who was carted off in the first half of their final preseason game against the Washington Football Team after tearing his ACL.
Almost a year since the injury, Dobbins was back on the practice field as he rejoined the team on Monday, August 8 for training camp.
Head coach John Harbaugh noted that the Ohio State product "looked pretty good in individual [training]" while also adding that they are not entirely in a rush to bring him back to speed until he feels fully ready.
Running backs coach Craig Ver Steeg mentioned that the Ravens' medical team have a plan in place for Dobbins to be ready to take on the strains of NFL football and how he has been most excited to play again.
When asked by the media about Dobbins playing in Week 1, Ver Steeg was non-committal at best.
"I'm not going to even go there, because my job each day is to go out there with J.K. [Dobbins] and get him to that point... There are seven guys. Two are working their way back, five are out there. I see Number One potential in every guy," he stated.
The two that Ver Steeg mentioned was in reference to Dobbins and Gus Edwards who also suffered a torn ACL during practice in early September of last season.
Baltimore's running back group took the brunt of the injury hits last season, but it looks like all hands will be on deck by as early as Week 1 except for Edwards.
As excited as Ravens fans are for Dobbins' nearing return to the field, their fellow running backs are also ecstatic to welcome them back.
Eight-season veteran Mike Davis hinted during the press conference that Dobbins may just be ready enough to play in the preseason.
"I talked to him; I think he said he's playing in the preseason, so you're going to have to talk to him about that," Davis stated.
Third-stringer Justice Hill was of the same opinion as the coaches in their assessment of Dobbins.
"My man looks great. He's been looking great. We've been working out here in the offseason, too, and it's his time. He's ready to come back and show what he can do. Coming off of an injury is a big thing for me, him, Gus [Edwards]. So, when we get out here, we just want to show that we're good and ready to go," Hill mentioned.
Hill was the third running back to be placed on injured reserve last season when he tore his Achilles tendon two days before Edwards' ACL tear.
With the Ravens' running back group having about a month left before their Week 1 game against the New York Jets, the AFC North is on pace to be one of the NFL's most must-watch divisions this season.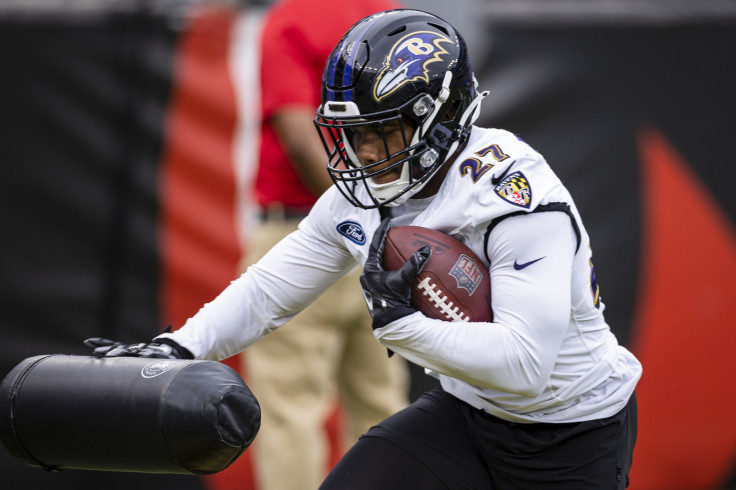 © Copyright IBTimes 2023. All rights reserved.