Baltimore Riots 2015: Schools Closing Sparks Free #BaltimoreLunch Movement For Students After Freddie Gray Protests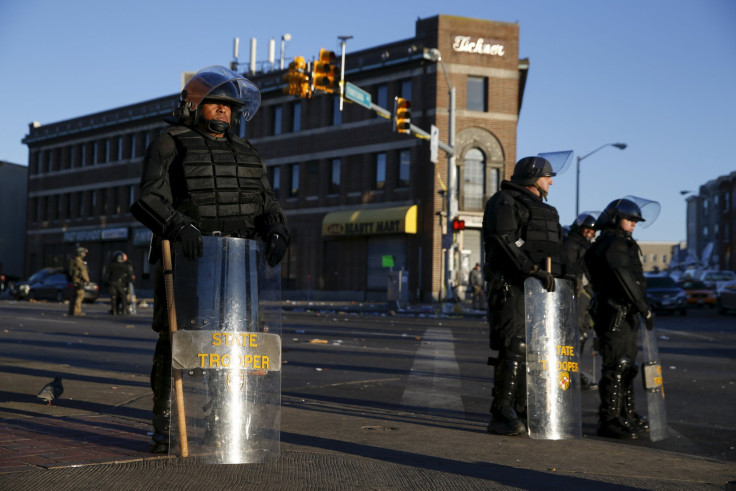 Baltimore City Public Schools were closed Tuesday after riots against police brutality erupted in the streets Monday night, but community leaders were banding together to make sure students from low-income families could eat. Several groups were organizing around the Twitter hashtag #BaltimoreLunch to serve children who rely on schools for food.
About 84 percent of Baltimore students receive free or reduced-price meals, the school district's website says. That caused many residents to worry when officials with the 85,000-student school system made the call Monday to cancel Tuesday classes. In a statement, the district cited a "heightened responsibility to our students, families and school communities." Baltimore has seen 202 arrests, 144 vehicle fires and 15 building fires in the past day as residents protested the death of Freddie Gray, a 25-year-old black man who died from a spinal cord injury he suffered while in police custody earlier this month.
On Tuesday, several local churches opened their doors to function as cafeterias and counseling centers. Social justice group Operation Help or Hush planned to distribute hot lunches at three locations, and vegetarian restaurant Red Emma's declared itself a safe space for youth to hang out and eat.
Some organizations offered services instead of food. Penn North Community Resource Center offered to care for children whose parents had to work. Baltimore's Enoch Pratt Free Library was open, as were the city's recreation centers.
On Twitter, some users wrote that they were worried about what would happen if students weren't kept occupied. Fifteen police officers were injured in a "clash with school-age children" that started after school Monday, the Baltimore Sun reported. Police Commissioner Anthony Batts said that students had gathered and lobbed stones at law enforcement officers, CNN reported. "I think they thought it was cute to throw cinder blocks at police," he said.
The free lunch and safe space movements in Baltimore were similar to those in Ferguson, Missouri, from last year. When riots broke out after a grand jury decided in November not to indict former Ferguson police Officer Darren Wilson for fatally shooting Michael Brown, Ferguson's library made headlines for being one of the only public places to stay open. Schools there also canceled classes but set up counseling, lunches and lessons at nearby churches.
Here's where Baltimore students can eat for free Tuesday:
Metropolitan United Methodist Church, 1121 W Lanvale St.
Northside Baptist Church, 1100 Earth Northern Parkway
Red Emma's, 30 W North Ave.
Pleasant Hope Baptist Church, 430 E Belvedere Ave.
Bentalou Recreation Center, 222 N Bentalou St.
St. Marks Institutional Baptist Church, 655 N Bentalou St.
© Copyright IBTimes 2023. All rights reserved.