Bangladeshi Garment Workers' Wages Expected To Be Raised Soon, But Factory Owners And Government Differ On Rate Of Hike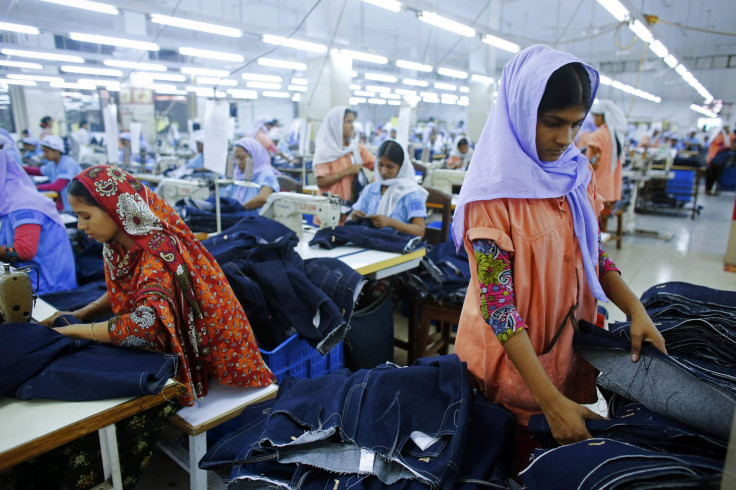 Bangladesh's garment factory owners are expected to agree to raise the minimum wage of workers by about 50 percent to 80 percent, and will charge buyers more to offset the additional input cost, in an effort to put an end to a wave of strikes and protests demanding better pay that affected the output of a fifth of the nation's factories in September.
Bangladesh's government and garment exporters have been under increased pressure to improve living standards and working conditions of garment factory laborers, after a factory building collapsed in April, killing more than a thousand workers and triggering widespread international outrage over workers' safety and rights in the poor South Asian country. Workers seek a 170 percent increase in wages, but factory owners have formally offered a meager hike and are expecting the government to increase wages by a maximum of 83 percent.
"These workers' rights are being discussed all over the world now and the government is nervous," Amirul Haque Amin, the head of the National Garment Workers Federation, an umbrella group representing 37 unions, told Reuters.
The current minimum pay for Bangladeshi garment workers is 3,000 takas ($39) a month, which is about half of what garment workers in Cambodia earn, according to Reuters. Bangladesh last revised the minimum wage in late 2010, when the pay was almost doubled, and taking into account the country's inflation rate alone -- averaging about 9 percent annually -- wages should have been increased to more than 3,885 takas a month by 2013.
While factory owners have formally agreed to raise wages to 3,600 takas, sources who spoke to Reuters said owners expected the government to hike wages up to 4,500 takas to 5,500 takas a month, and consequentially buyers are expected to see an increase of 5 percent to 15 percent in garment prices.
Representatives of garment workers, in a set of proposals submitted in August to the chairman of the Minimum Wages Board, operating under the Ministry of Labor and Employment, demanded that the government fix 8,114 takas ($104) as the new minimum monthly wage for garment workers, Dhaka Tribune had reported at the time.
The Bangladeshi garment industry was hit by workers' protests demanding better pay for almost a week in September, bringing down production by almost 20 percent, Reuters reported, citing the Bangladesh Garment Manufacturers and Exporters Association, or BGMEA. A factory owner was held captive in his office for more than 18 hours earlier in October, forcing him to pay bonuses he owed on the eve of the Muslim festival of Eid al-Adha.
© Copyright IBTimes 2023. All rights reserved.