Bank Of Israel Hikes Benchmark Interest Rate 1/2-point In Inflation Battle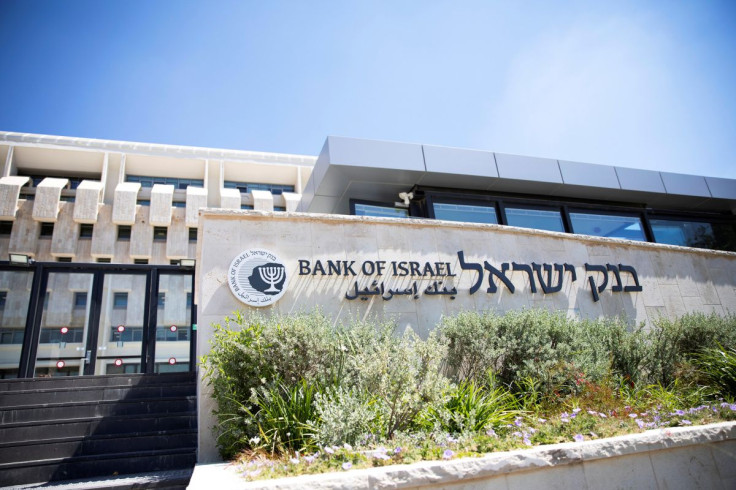 The Bank of Israel on Monday raised its benchmark interest rate by a half percentage point, its most aggressive move in more than a decade and signalled no sign of stopping in a bid to battle rising inflation that has topped 4%.
The central bank lifted its key rate to 1.25% from 0.75%, its third straight increase that follows similar moves from the U.S. Federal Reserve and others. In April, policymakers had kicked off the tightening cycle -- raising the rate from 0.1%, an all-time low where it had stayed for the previous 15 decisions since a 0.15 point reduction at the start of the COVID-19 pandemic.
Israel's annual inflation rate reached a new 11-year high of 4.1% in May, well above the government's 1-3% annual target range, while the jobless rate has dipped to 3.0%, raising concerns of further wage pressures.
The central bank's economists expect inflation to reach a 4.5% rate in 2022 before moderating to 2.4% next year, with the key interest rate projected to peak at 2.75% in the second quarter of 2023.
"We are determined to return the inflation rate to within the target," Bank of Israel Governor Amir Yaron told a news conference.
The half-point hike was the strongest policy move since a similar increase in March, 2011. When asked whether increases of a half-point or more would continue in subsequent decisions to reach 2.75%, Yaron said local and global data would determine the pace of coming hikes.
All 15 economists polled by Reuters had said they expected the monetary policy committee to raise rates, 14 of them predicting a 0.5 point increase while one other projected a 0.25 point rise.
The bank's staff also trimmed its 2022 Israeli economic growth estimate to 5% from 5.5% and its 2023 forecast to 3.5% from 4%.
© Copyright Thomson Reuters 2023. All rights reserved.