Barcelona News: Luis Suarez 'Could Have Stayed' At Camp Nou, Ronald Koeman Says
KEY POINTS
Ronald Koeman says Luis Suarez could have stayed at Barcelona and proved him wrong
The 33-year-old striker signed with Atletico Madrid in September
Suarez claims that Barcelona wanted him away from Lionel Messi
Barcelona coach Ronald Koeman had been clear in his intention not to include Luis Suarez in his plans for the Catalans, but the Dutch manager now says the Uruguayan star could have stayed to prove him wrong.
Contrary to previous reports, Koeman said he did not have any problem with Suarez. He insisted that the 33-year-old would have been treated the same as the rest at Camp Nou if the latter had opted to stay instead of moving to Atletico Madrid.
"In the case of Suarez, it had become very difficult for him to start playing and I made that known to him. He found it difficult, but I never had any trouble with him at all," Koeman told NOS.
"He trained normally, trained well. He finally made the choice to leave and I said: 'If you don't leave, for whatever reason, then you are just one of the group, then you can prove that I was wrong'. He could have stayed, yes," he continued.
Koeman said his choice not to include Suarez in his blueprint for Barca's future was in part due to the star striker's age, with the club slowly setting the table for the youngsters to take over.
"I'm good with Luis, but the club felt that we had to rejuvenate," the 57-year-old coach said. "You can see that now in the team. Ansu Fati plays, he is 17 years old. We have Pedri, 17 years old, who gets his chances. Ronald Araujo is there at the age of 21. Trincao falls in a lot and is 20 years old, and we have taken Sergino Dest, who is 19. Those are all players for the future."
Koeman's statement was a counter to Suarez's recent claim that Barcelona wanted him away from Lionel Messi.
Suarez signed a two-year deal with Atletico Madrid in September in a transfer that was denounced by the Argentine captain. In his farewell post for his friend on Instagram, Messi took a dig at his club, accusing Barcelona of "kicking" Suarez out.
"I think they wanted to remove me from Messi's side," Suarez told ESPN, claiming that there are "a lot of contradictions" in the accounts being stated by Barcelona.
"Maybe it annoyed them that I had a good relationship with Leo," he added. "Perhaps they didn't want him to be with me so much. I can't find any reason to think that would damage the team, though."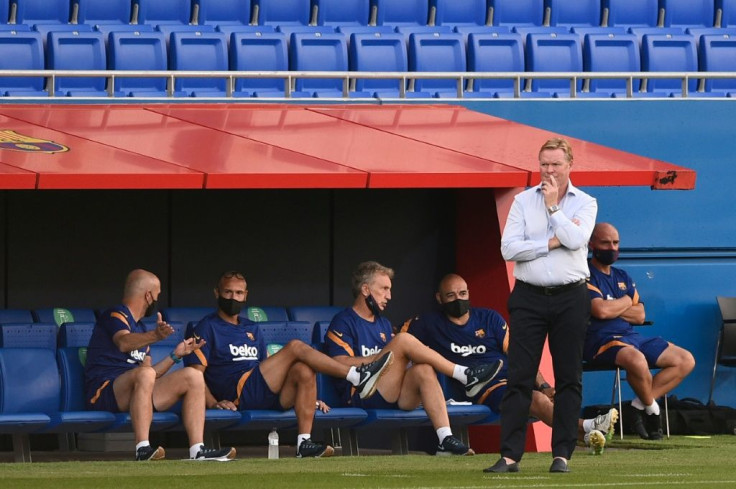 © Copyright IBTimes 2023. All rights reserved.