Barcelona Not Giving Up On Top Transfer Target Despite Expiration Of Release Clause
KEY POINTS
Barcelona stays positive on acquiring Lautaro Martinez despite the expiration of the latter's release clause
Barca and Martinez reportedly had a block "agreement"
Inter Milan CEO Beppe Marotta insists the club has no intention to sell Martinez
Lautaro Martinez's release clause from Inter Milan has already expired, but Barcelona does not appear to be giving up just yet. The Blaugrana has reportedly maintained its confidence in landing the Argentine youngster as some buzzing speculations claim that both parties have already come into terms behind the scenes.
A report from Sport stated Barca has kept its optimism on acquiring Martinez, who has been the club's top transfer target, after allegedly securing a "block" agreement with the rising footballer, which would then make the Spanish club the lone option for the 22-year-old should he decide to put the pressure on Inter Milan to let him go.
"Lautaro is blocked by Barça and no club will be able to get ahead because the player either leaves for the Camp Nou or remains in the ranks of Inter Milan," the report stated.
Martinez's special release clause worth about $125 million expired on Tuesday, placing leverage on Inter in terms of putting the price tag on eventual offers for the budding striker. The Italian club, through CEO Beppe Marotta, however, insisted that Martinez is not up for sale.
"Inter does not want to sell their most important players, we are talking about a 22-year-old boy who is in a period of his career where there are constant rumors that maybe affect him. We admired an excellent Lautaro in the first half of the season. Now he must regain the serenity that will allow him to have the personal satisfaction and make his contribution to Inter like he did in the first part," the executive said, via SempreInter.
Prior reports bared the Nerazzurri had already denied Barca's offer to send Junior Firpo to San Siro and additional cash for Martinez. But Nishant Narayanan of Everything Barca claims an exchange deal remains feasible with Barcelona having the luxury of 10 more players available as transfer assets.
"The Spanish side have 10 more players ready to be sold in order to secure the forward thus giving Inter boss, Conte, the freedom to choose his pick but the manager is keen on keeping ahold of his young superstar as the alternatives are all aging," Narayanan wrote.
Martinez has relatively struggled for Inter since returning from the break, but that has not wavered Barcelona's aggressive chase to sign him. After all, the Argentine has exhibited a stellar year overall, tallying 17 goals in 37 appearances this season for the Italian giants.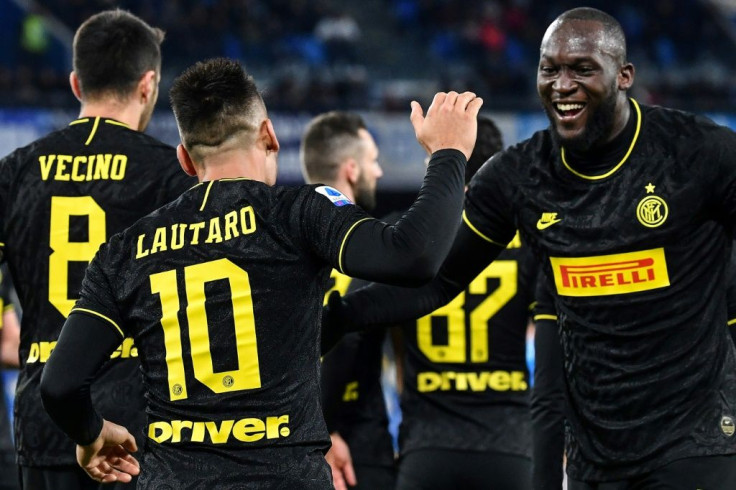 © Copyright IBTimes 2023. All rights reserved.