Barcelona Rumors: Quique Setien Expected To Leave Camp Nou After Season
KEY POINTS
Barcelona is planning to fire Quique Setien after the end of the season
Barcelona has failed to impress since returning from the hiatus
Setien was not Barcelona's choice as a replacement for Ernesto Valverde in January
Quique Setien's days at Camp Nou could be numbered as he is rumored to be axed by Barcelona after this season. With the club management being displeased with how the 61-year-old handles the Blaugrana, the parting of ways seems inevitable.
According to Ruben Uria of Goal, the only way for Setien to retain his job is to spur a "radical improvement" from the Catalans, who have relatively struggled since their return from the hiatus.
"Barcelona are prepared to sack Quique Setien as manager unless results drastically improve and they win the Liga title or Champions League this season," Uria wrote.
The looming firing would cap a rather dismal run in Barcelona for Setien, who was just acquired for the job in January in place of Ernesto Valverde.
"(Setien) has lost the confidence of the Barca dressing room, while the club's board are also unhappy with recent performances," Uria added. "Unless Barca's displays for the remainder of the 2019-20 campaign have a significant upswing, it is understood that it is inevitable Setien will leave his post in the summer.
"Setien has also lost the confidence of the board, who hoped the coach would help smooth things over after Valverde's departure - however poor results and negative football has ensured this has not been the case."
Setien signed a deal with Barca that is supposed to last until June 2022. But just a couple months since the agreed contract, Barcelona has seemingly found grounds to regret its decision.
The added pressure of having arguably the greatest footballer of all time has apparently strained Setien's attempt to show what he is capable of. It has been an open book that Barca's star captain Lionel Messi is at odds with the Spanish manager, who is said to have failed in placing the Catalans on the same page.
"Player power at Barcelona is strong - led by stars such as Lionel Messi and Gerard Pique - and the dressing room has turned against Setien due to confusion at his tactics and unhappiness at his comments in the pres," Uria continued.
Perhaps the bar set in Barcelona is so high that Setien failed to land a mark. There is speculation of bias as the former midfielder turned tactician was not actually the first choice of Barcelona, to begin with in January. But with the 2020 season still underway, the management would want to be proven wrong. As a last-ditch effort, Setien could use that chance the steer his squad as the La Liga and Champions League titles are still well within reach.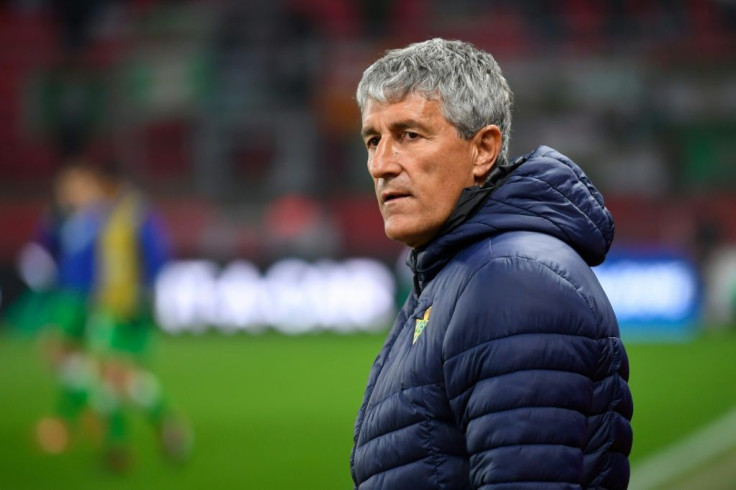 © Copyright IBTimes 2023. All rights reserved.