Barcelona vs. Atlético Madrid 2016: Prediction, TV Channel, Live Stream Info For Champions League 1st Leg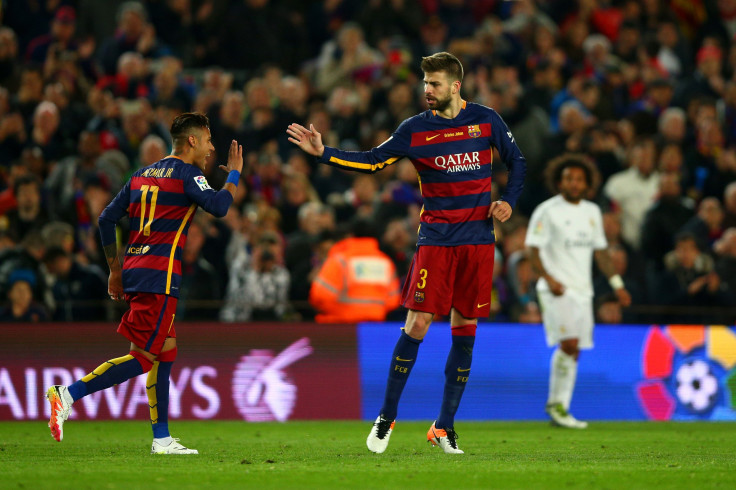 Just 72 hours after seeing their 39-game unbeaten streak ended by chief rivals Real Madrid, Barcelona will be tasked with immediately regrouping for a Champions League quarter-final first leg against the other Madrid giant, Atlético. Despite the hosts having taken the lead, a late Cristiano Ronaldo goal gave Real Madrid a 2-1 victory at the Camp Nou in Saturday's Clásico. And while it allowed Atlético to close the gap to Barcelona at the top of La Liga to six points, the more immediate ramifications could come in Tuesday's first leg at the Camp Nou.
Yet, rejecting the theory that the Clásico loss could deal a major psychological blow, defender Gerard Pique has insisted that it only adds fresh motivation.
"It is always a challenge after a loss," the Spain international said in Barcelona's pre-match press conference. "We want to play again quickly, especially against a rival like Atlético. We want to prove that we are still the team that has won everything. We want to win it all again.
"In terms of morale, Saturday's defeat was a defeat like any other. We hadn't lost for 39 games, but sometimes this happens in football. We are ready again and have a unique opportunity to set the bar high again."
The clash with Atlético is a rematch of their encounter at the same stage of the Champions League two years ago. On that occasion, Atlético triumphed 2-1 on aggregate and went onto reach he final of the competition in a year in which they also edged out the Catalans to take the Primera Division title. Yet since that season, in which Atlético went unbeaten against Barcelona in six matches, the rivalry has been dominated by the Catalans.
With the attacking trident of Lionel Messi, Luis Suárez and Neymar in place, Barcelona have won the last six matchups, including both La Liga meetings this season.
Atlético, though, could hardly be entering this latest clash in better spirits. Taking full advantage of Barcelona's slip-up, Diego Simeone's side brushed aside Real Betis 5-1. There is further good news, too, with influential center-back Diego Godín in declared fit for the Barcelona game having been sidelined since Atlético secured their passage to the quarterfinals with a penalty shootout victory over PSV Eindhoven last month.
Simeone may also have fellow central defender José Giménez back at his disposal, as well as winger Yannick Ferreira Carrasco. And the Atlético coach, who has confirmed that Fernando Torres will start, up front, has explained that he is expecting a closely fought duel against a familiar opponent.
"The teams know each other pretty well and our side often plays well against them," he said on Monday. "They're doing spectacularly well under Luis Enrique and it will be difficult to split the two teams."
"A good result for us at the Nou Camp is a victory."
Prediction: Simeone's defensive systems were once in a thorn in Barcelona's side, but the Atlético coach has yet to find a way to stop the astonishing Messi, Neymar and Suárez trio. Yet a spanner has most definitely been thrown in the works by Barcelona's loss on Saturday. While they may be able to brush off the psychological blow of defeat, it remains to be seen if the physical ailments can be overcome so readily.
Barcelona's front three in particular looked jaded and well below their best following a long trip and two World Cup qualifiers in South America. If they are again below par on Tuesday then Atlético can certainly come away with positive result. Still, some of the intensity so clearly lacking from Barcelona on Saturday should return on Tuesday, and that could be enough to give Enrique's side a narrow advantage.
Predicted score: Barcelona 1-0 Atlético Madrid
Kickoff time: 2:45 p.m. EDT
TV channel: Fox Sports 1
Live stream: Fox Sports Go, Fox Soccer 2Go
© Copyright IBTimes 2023. All rights reserved.