Beijing To Close Last Of Its Major Coal-Fired Power Plants To Curb Air Pollution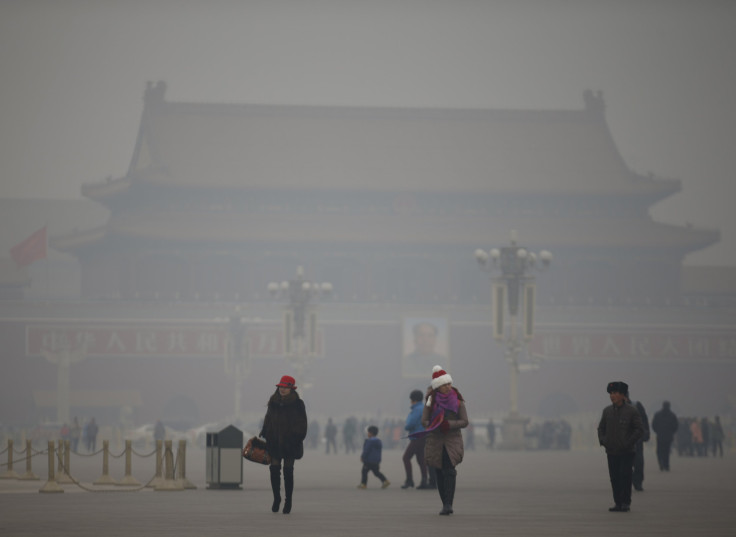 Smoggy, sooty Beijing is set to shutter the last of its four major coal-fired power plants next year in an attempt to curb the city's dire air pollution. The facilities will be swapped with cleaner-burning natural gas stations, the city's economic planning agency said this week.
The coal plant closures in China's capital are expected to reduce carbon dioxide emissions by about 30 million tons, Tian Miao, a Beijing-based analyst at North Square Blue Oak Ltd., told Bloomberg News. Overall, air pollution in Beijing averaged more than twice China's national standard last year, forcing residents to stay indoors or to don paper face masks when they venture outside.
"Most pollutants come from burning coal, so the closure will have a clear impact to reduce emissions," Tian told Bloomberg. "The replacement with natural gas will be much cleaner with less pollution, though with a bit higher cost."
The closures are part of a broader effort by the Chinese to limit coal consumption while developing more natural gas and renewable energy, such as wind and solar power. China is the world's biggest climate-change polluter, followed by the United States.
Last fall, President Xi Jinping pledged to cap carbon output from the nation of 1.4 billion people, with emissions peaking in 2030 and then declining. He also promised to increase China's share of non-fossil fuels to 20 percent of the total electricity mix over the same period.
The push for cleaner energy already seems to be bearing fruit. Total carbon emissions in China fell by 2 percent last year compared with 2013, according to a Bloomberg New Energy Finance review of preliminary Chinese energy data. That decline is a major reason why global carbon emissions didn't rise in 2014 -- the first time in four decades that emissions stayed flat without an economic crisis, the International Energy Agency reported earlier this month.
Beijing planners said this week the city will close China Huaneng Group Corp.'s 845-megawatt power plant in 2016. Two plants owned by Guohua Electric Power Corp. and Beijing Energy Investment Holding Co were shuttered last week, while a fourth facility owned by China Datang Corp. was closed last year, Bloomberg noted. The coal facilities will be replaced by four natural gas stations, which will have nearly triple the capacity of the coal plants.
© Copyright IBTimes 2023. All rights reserved.
FOLLOW MORE IBT NEWS ON THE BELOW CHANNELS