Belgium Terror Threat: Brussels Residents Describe Life Under Lockdown Amid Hunt For Salah Abdeslam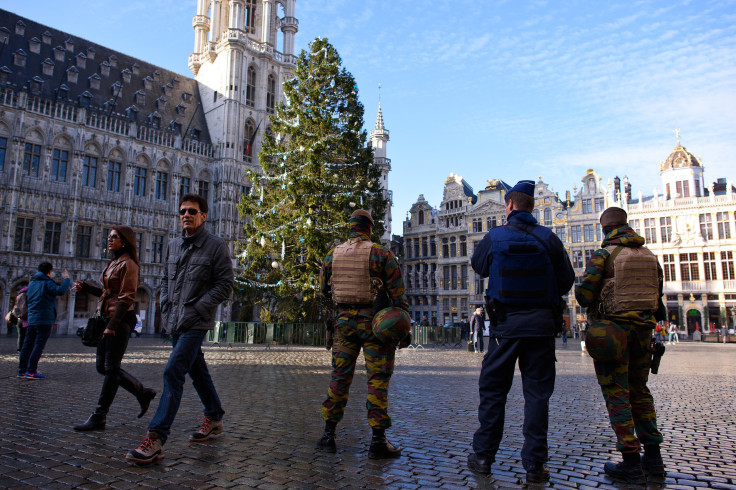 An illuminated 66-foot-tall Christmas tree stands in the ornate Grand Place at the heart of Brussels, where crowds of tourists are normally snapping pictures and visiting the historic buildings that surround the cobbled central square. But Belgium's capital was strangely quiet Monday as soldiers dressed in army fatigues patrolled the city for a third straight day.
"The tree is there, but it's very quiet today. No cars, no more people walking," said Andrew de Mooij, who owns a flower shop less than a half mile from the Grand Place. "I think the dark days are coming for us."
Brussels remained under partial lockdown Monday, with the city on the highest level of terrorism alert due to fears of imminent attacks like those that killed 130 people in Paris 10 days ago. Belgian authorities have arrested 21 people in raids since Sunday, but a suspected Islamic State group militant reportedly behind the Paris attacks was still on the run. Amid the search, the subway system, museums, schools, most cinemas and many shops were closed in Brussels; local business owners who rely on holiday sales and residents eager to venture outside wondered when the lockdown would end.
De Mooij was born and raised in the city, and his family has owned Brussels Flowers on Boulevard Maurice Lemonnier for 33 years. He said this time of year is usually busy for the store, as clients are buying Christmas wreaths, floral arrangements and decorations. City buses were running normally, and some stores were open Monday, but holiday shoppers were scant.
"It's no good. We've never seen it this dead," de Mooij, 50, said. "But we are here because I have fresh flowers."
Authorities were searching for Salah Abdeslam, a key suspect in the Nov. 13 attacks in Paris, who reportedly fled to Belgium in the aftermath and remained at large. There were reports, however, that Abdeslam may have escaped to Germany. Still, troops and tanks patrolled the streets of Brussels day and night over the weekend, and people were warned to avoid large gatherings in the region. Belgium officials said Abdeslam and other suspected terrorists might be hiding in the area with weapons preparing to launch a Paris-style attack.
"We are concerned about an attack similar to the one that was carried out in Paris involving several individuals and maybe targeting attacks on several sites simultaneously," Belgian Prime Minister Charles Michel said Sunday, according to NBC News.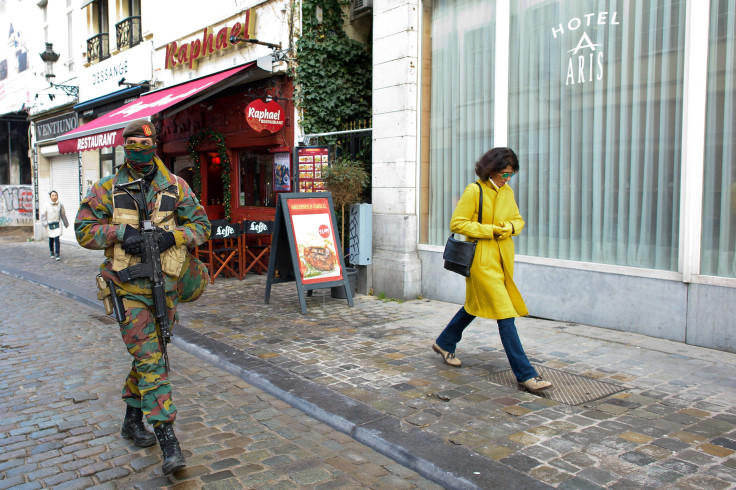 Floris Baker, an IT auditor from South Africa, said most Brussels residents were staying indoors and adhering to the government's warnings. His firm, which is located on the capital's outskirts, gave employees the opportunity to work from home. Baker, 26, said frustration over the lockdown had begun to outweigh fear as he and his friends tried to live their lives normally.
"I believe that people who work or live close to the center of Brussels or near popular tourist areas feel differently," he said. "Most people I have spoken to are more frustrated than in fear, as our day-to-day lives have been interrupted."
It was not immediately clear how long Brussels would remain on lockdown. Some 1,000 police officers were working on the massive manhunt for Abdeslam, who was deemed "dangerous." Authorities searched 20 properties around the European capital Monday, making several arrests but apparently gleaning no clues on the suspect. When asked how it was possible that Abdeslam could still be on the loose, Belgian Interior Minister Jan Jambon told local radio: "He must have a lot of support on our soil."
Tarik Hennen, 33, said the lockdown seemed more like a prolonged strike. And while he felt safe in his home city, he wondered how long the heightened security would last. Hennen hoped Belgian officials would provide more clarity on any potential terror threats in the coming days.
"If we don't know what we are hiding from and we don't know for how long, that will start getting difficult," he said. "For now, it's just like a strike day."
Hennen, co-founder of Smartflats, which offers short-term rentals in Belgium, went to work Monday while his wife stayed home with their 2-year-old daughter because daycare, schools and universities were shuttered for nearly 300,000 students. Although his employees were operating "business as usual," Hennen said the recent Paris attacks and Brussels' continuing lockdown had dealt a blow to his hospitality company.
"I find it very comforting that people are actually working," he said. "But we've experienced many, many people cancel their reservations. You can see that people are worried when they think about Brussels. Perhaps they're more worried than the people living here."
© Copyright IBTimes 2023. All rights reserved.
FOLLOW MORE IBT NEWS ON THE BELOW CHANNELS